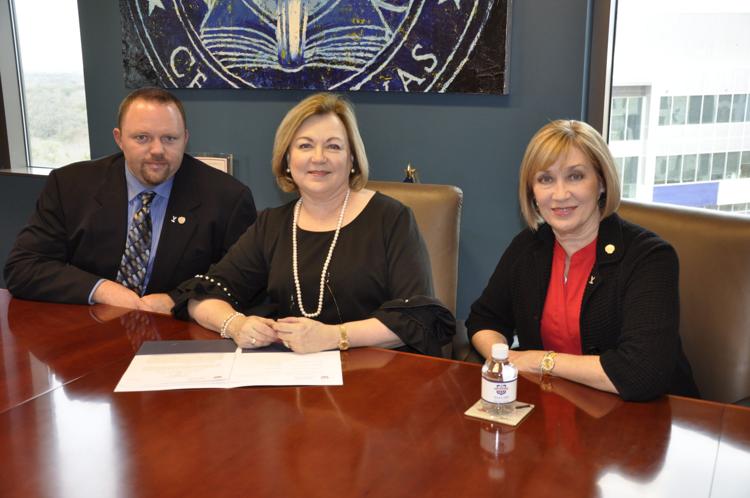 Sunday, Aug 4, 2019
A&M-Central Texas announces the naming of The Bill Yowell Conference Center
Killeen, Texas – Initiated by Texas A&M University System leadership two years before A&M-Central Texas became official, the A&M-Central Texas Foundation was created twelve years ago.
Originally guided by Lt. Gen. (Ret.) Pete Taylor, it began its fundraising activities in earnest, and, in the years between then and now, it has gifted the University with hundreds of thousands of dollars, making the dream of an undergraduate education that much more possible for A&M-Central Texas students.
"Our tuition has always been among the most affordable of all Texas public universities," observed President Marc Nigliazzo. "But we also knew that it would be important to offer as much scholarship assistance as possible."
Sponsoring a variety of fundraising activities over the years, one of the most popular has always been soliciting donors for naming rights in Founder's Hall, Warrior Hall, and most recently, the University's new building: The Beck Family Heritage Hall.
Part of the original naming campaign, A&M-Central Texas Development Officer and former faculty member, Kay Carey, had only just returned from retirement to begin her work with the Foundation when she received word from Foundation Board Chair, Ronald Stepp, that two significant gifts were being negotiated, both of which would be among the most generous gifts ever made to the Foundation.
"I was honored to be a part of the giving process," she said, adding that the whole process was sentimental for her because it was a tribute to someone she had long-admired: Mr. Bill Yowell.
Known for his ardent support for the development of A&M-Central Texas, Yowell and his family were among the many local notables who stood in staunch support of the creation of A&M-Central Texas. But he had a legacy of community service before that – well known in the county and beyond – as a mentor to many, a respected businessman, someone who loved being in service to his friends, and a strong supporter of Ft. Hood and the men and women in service to the U.S. Army.
And so, Carey described, how fitting it was to offer the University Conference Center, formerly known as the Warrior Hall Multipurpose Room, newly-named as The Bill Yowell Conference Center, approved by The Texas A&M University System Board of Regents in Spring 2019.
"Those of us who knew Bill Yowell and his family for all these years know that he would have loved nothing more than to be known for a vibrant place where people come together," said A&M-Central Texas Foundation Board Chair Ronald Stepp.
"He was known for his ability to network and put people together who had common interests as a way of strengthening the community. Putting his name – and his family's name – on this conference center is a very proud moment in our history."