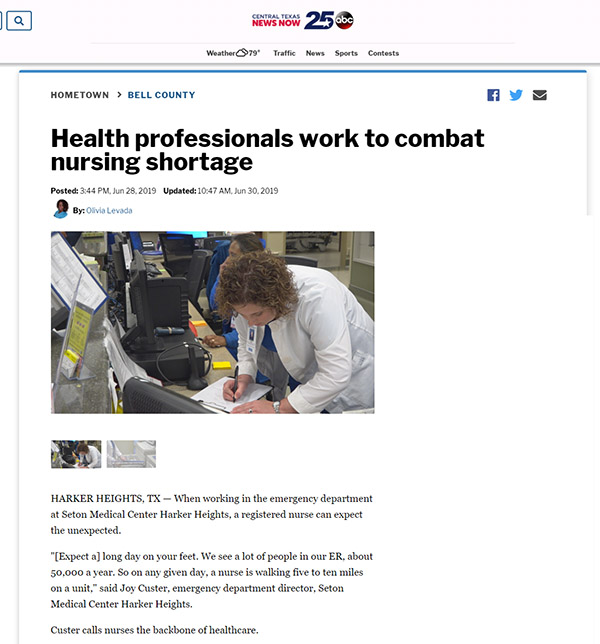 Monday, Jul 1, 2019
Health professionals work to combat nursing shortage
HARKER HEIGHTS, TX — When working in the emergency department at Seton Medical Center Harker Heights, a registered nurse can expect the unexpected.
"[Expect a] long day on your feet. We see a lot of people in our ER, about 50,000 a year. So on any given day, a nurse is walking five to ten miles on a unit," said Joy Custer, emergency department director, Seton Medical Center Harker Heights.
Custer calls nurses the backbone of healthcare.
"We are the patient advocate. We are the ones that are there to provide comfort when they need it most," said Custer.
The Texas Center for Nursing Workforce Studies projects the state of Texas will see a shortage of almost 60,000 full-time registered nurses by the year 2030.
"The reason that we're going to see a significant shortage is that our population is getting older. There was a study done and a real push in 2010 to increase the number of nurses, and specifically to increase the number of nurses with bachelor's degrees and master's and advanced degrees by the year 2020. We have fallen short of that mark. The goal was 80 percent, and we are currently at about 54 percent nationally," said Dr. Katie Sanders, DNP, director of the nursing program at A&M Central Texas.