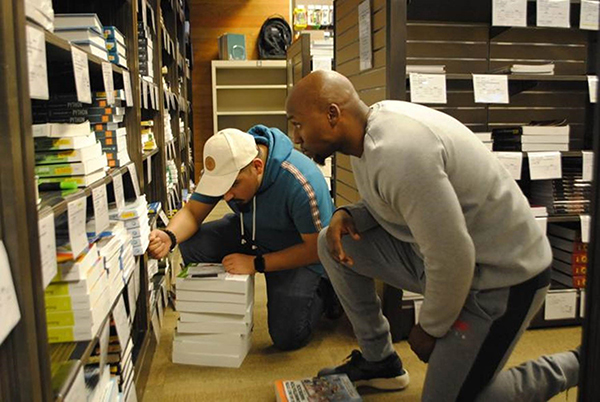 Friday, Jan 10, 2020
Area colleges set to resume classes Monday
Photo Above: Pernell Thomas, right, looks for a book at the Texas A&M University-Central Texas bookstore Tuesday as Thomas Torres, a bookstore employee, helps him out. Photo credit: Thaddeus Imerman | Killeen Daily Herald
With all of the elementary, middle school and high school students back in class, it is now time for the college students.
Texas A&M University-Central Texas in Killeen, Central Texas College in Killeen and the University of Mary Hardin-Baylor in Belton, are all set to resume classes Monday.
Final, certified enrollment numbers for the spring semester are not available for any campus, since all three are still accepting enrollments.
Based on fall 2019 enrollment numbers, A&M-Central Texas had 2,400 students, according to Clifton Jones, assistant vice president of the division of enrollment management.
CTC had nearly 5,400 students at its Killeen campus, said college spokesman Bruce Vasbinder.
UMHB had a fall enrollment of 3,846, according to James Stafford, director of marketing and public relations.