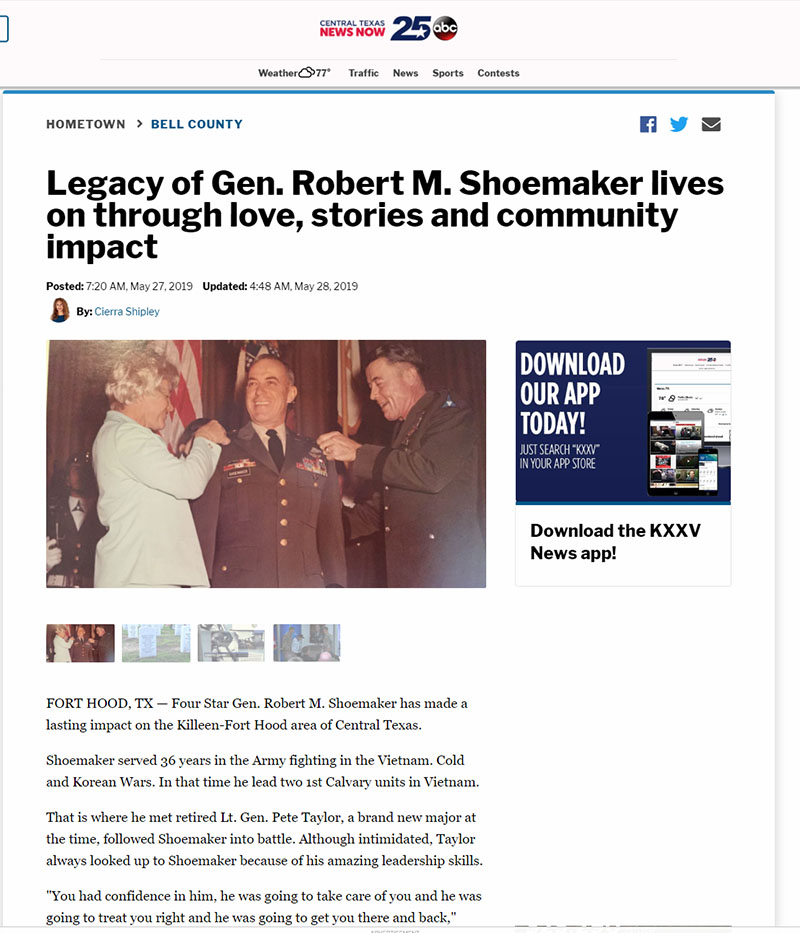 Tuesday, May 28, 2019
Legacy of Gen. Robert M. Shoemaker lives on
From KXXV Television and reporter Cierra Shipley — Four Star Gen. Robert M. Shoemaker has made a lasting impact on the Killeen-Fort Hood area of Central Texas.
Shoemaker served 36 years in the Army fighting in the Vietnam. Cold and Korean Wars. In that time he lead two 1st Calvary units in Vietnam.
That is where he met retired Lt. Gen. Pete Taylor, a brand new major at the time, followed Shoemaker into battle. Although intimidated, Taylor always looked up to Shoemaker because of his amazing leadership skills.
"You had confidence in him, he was going to take care of you and he was going to treat you right and he was going to get you there and back," Taylor said.
Retiring in 1982, those leadership skills didn't stop. Shoemaker served as Bell County commissioner, President of the Heart of Texas Council of the Boy Scouts and the Fort Hood chapter of the United Way and helped the Bell County community accomplish so much more.
Shoemaker made a lasting impact by helping Taylor get approval from Texas Legislature to create the Texas A&M University - Central Texas Campus in 2009.