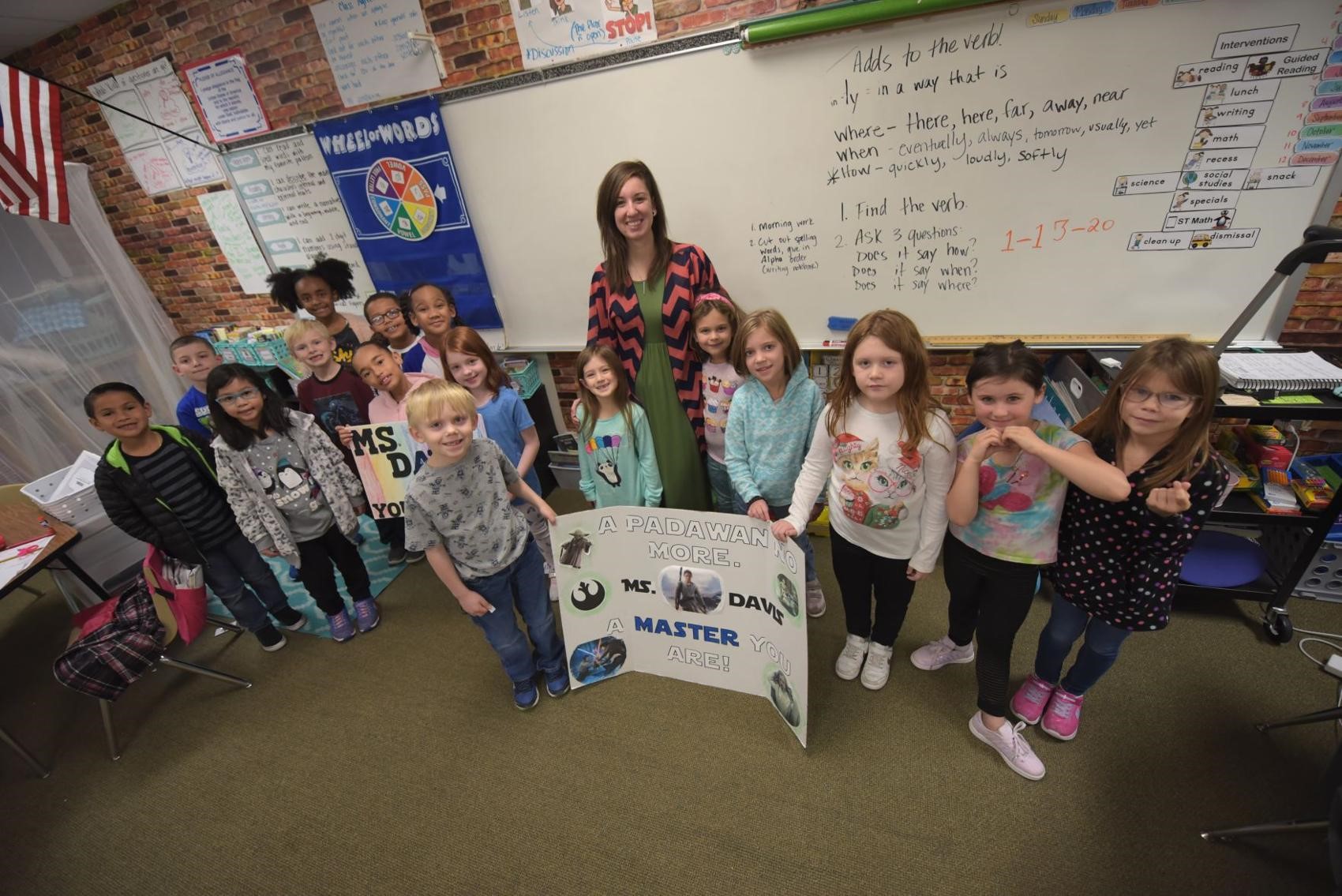 Sunday, Jan 26, 2020
Teacher earns degree as students cheer her on
In a powerfully touching moment of role reversal, a Killeen teacher earned her master's degree to the excited cheers of her second-graders and their parents.
For two-and-a-half years, Saegert Elementary School teacher Brianna Davis juggled work with completing an advanced degree at Texas A&M University-Central Texas.
As her own graduation ceremony approached, the five-year teacher realized it was important to her to include her students in her achievement.
With the help of her mother, Melissa Davis, also a teacher at Saegert Elementary School, each student received an invitation to the commencement.
At such a busy time of year, Brianna Davis figured few of her 7- and 8-year-old students would actually get to the Bell County Expo Center in Belton for the evening ceremony Dec. 13. She was very happily mistaken.
The hard-working teacher known for attending her students' birthday parties and other out-of-school activities could hardly believe it when she saw 15 of her current and past students with parents cheering her on.
"I was the luckiest person in the room because they were there," Davis said, recalling the special moment. "I felt so supported. It was a beautiful picture of the home-school connection. I'll never forget it."
After walking across the stage and proceeding out of the arena, the new graduate walked back in, where her students and their parents had congregated. That's when she saw a Star Wars-themed sign one of her students made just for her.
"After the ceremony, my mom got them all together and my jaw dropped, especially when I saw the Star Wars sign."
"A Padawan No More. Ms. Davis A Master You Are!"
Growing up and even as a college student, Davis didn't aspire to teach. "I knew it was a special profession because of my mom. Once I started teaching I told her 'I get it now.'" The Davises enjoy a special bond as mother-daughter colleagues. The younger Davis' students call their teacher's mother "Mama Davis."
"It's awesome," Davis said of teaching in the same building as her mother. "We share ideas. We collaborate. Our students know us both."
Melissa Davis has been a teacher eight years, all at Saegert. After teaching first grade, she recently moved into the role of dyslexia teacher. She can enter her daughter's classroom without anyone missing a beat.
"Mama Davis" is certainly proud of her daughter and sees in her a tremendous gift.
"She teaches them to problem-solve," Davis said of her daughter. "When they have a problem, they solve it. She's well known for that. She also cares for them. She wants them to know she cares."
For Davis, watching her daughter earn a master's degree with children cheering was a picture of a special bond.
"They believe in her," she said. "They trust her. That was the best graduation I've ever been to. Those students know you are never too old to learn. It was amazing. They were so excited."
"It was super fun," said second-grader Liv Kelly. "Most of the class was there and we all sat with each other. We saw Mama Davis and Miss Davis and her dad. I gave her a bouquet of flowers."
"It was important to me because she's my teacher," said second-grader Lilymay Daniels. "It was fun. At the end, we got to see Miss Davis and take pictures with her. It made me feel happy."
"She's my teacher," said Kelly, "and she's the best teacher in the whole world."