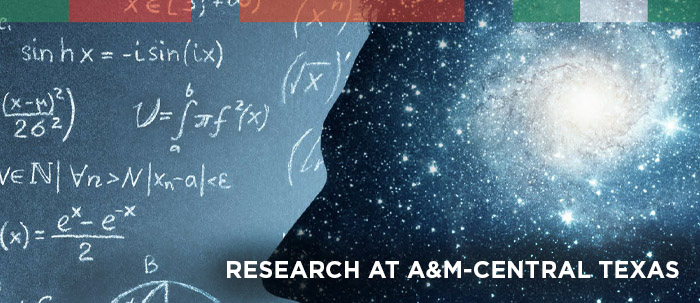 The Future of Cybersecurity is at A&M-Central Texas!
As the importance of cybersecurity increases and threats multiply nationally and globally, Texas A&M University-Central Texas researchers work to uncover how to keep people, businesses, and governments safe, with the help of a $4.2 million contract through the Department of Homeland Security and the United States Air Force.
Read more about this important research and other research underway at A&M-Central Texas in the most recent issue of The Light.
---
Research and Economic Development Office
Vision
The Office of Research creates a culture of excellence in research and economic development for our students, faculty and staff.
Mission
The Office of Research leads the innovative planning for research and economic development to enhance the connection between students/faculty/staff, and community needs, at the regional, national and global levels.
Research
We provide support for faculty, staff, and student scholarship through offering connections to TAMU Sponsored Research Services for grant application assistance and the Texas Engineering Experiment Station for research collaboration, through oversight of human subjects research through the Institutional Review Board, and through compliance and financial monitoring with the MAESTRO project management system.  For faculty we provide funding for research and travel through the Faculty Scholarship and Research Committee, and we support student participation in state, TAMU system, and on-campus research presentations.  We oversee the University Center for Applied Research and Engagement, which provides faculty and staff opportunities to work on research with local governments and nonprofit organizations and to mentor graduate and undergraduate students.  Information is available through our office on the IRB, IACUC, IBC, FCOI, MAESTRO, SRS, UCARE, and FAQ support for research questions.
Economic Development
We provide support for programs at Texas A&M University-Central Texas that enhance economic development in the community (e.g., UCARE). Information is available for community links to government agencies, chambers of commerce, and economic development corporations.