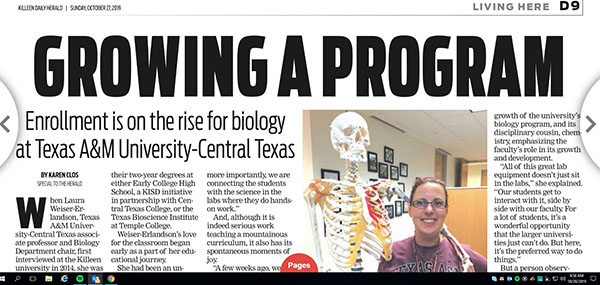 Sunday, Oct 27, 2019
A&M-Central Texas Biology Program Enrollment Soars
When Dr. Laura Weiser-Erlandson, A&M-Central Texas Associate Professor and Biology Department Chair, first interviewed at the University in 2015, she was excited.
"Here was this new University, doing so many things differently," she said. "I was immediately drawn to its transfer and completion mission and the emphasis on building its programs.When I got the offer to join them, I couldn't get there fast enough."
Today, approaching her fifth year at A&M-Central Texas, Weiser-Erlandson hasn't lost her enthusiasm for growing the University's biology program, and it shows. Enrolling three students 2015, she has seen her program grow exponentially.
"Our enrollment in the program has increased bit by bit every year," she says. "This fall, we have a total of 69 students which is a record for us."
One of the contributing factors for her program's growth has been the increasing numbers of students completing their two-year degrees at either Early College High School, a KISD initiative in partnership with Central Texas College or the Texas Bioscience Institute at Temple College.
Weiser-Erlandson's love for the classroom began early as a part of her educational journey.
She had been an undergraduate student in biology at Daemen College in New York where she worked as work-study when, unexpectedly, she was invited by one of the professors to participate in teaching the biology course's pre-labs.
"I was terrified," she laughed. "I remember thinking, 'Who, me?'"
It was her love for laboratory work, and helping her fellow students, that pulled her through her original bout of shyness and uncertainty. And that experience lead her to pursue both a graduate degree and a Ph.D. in biology before coming to A&M-Central Texas.
A fascination with personalized, hands-on learning is evident in the labs, their equipment, and how students are invited to learn there.
"When we do our labs," she said, "the work that accompanies the theoretical and the lectures, we are in the lab putting what we're learning to work. But even more importantly, we are connecting the students with the science in the labs where they do hands-on work."
"And every now and then, in the midst of all that activity, I'll hear a student burst into excitement while looking into a microscope. A few weeks ago, we were looking at skin cells, and I heard a student actually squeal when they focused in on the sample under the microscope.
"They said, 'Wow! That is so cool!' And hearing that completely made my day!"
The original biology labs were impressive when A&M-Central Texas' second building, Warrior Hall, opened in November 2014.
"Everything we had in our original biology labs was state-of-the-art," she said. "Floor to ceiling, there wasn't anything we lacked to give the students in this program the best possible learning experience."
In Spring of 2019, the biology department transitioned into expanded biology and chemistry lab space in the University's third and newest building, Heritage Hall, where Weiser-Erlandson and assistant professor of Chemistry, Dr. Linh Pham, now reside.
But they are far from lonely. There's a constant stream of students in and out of their offices and the adjoining labs.
"We have an instrument lab," Weiser-Erlandson explained. "We have spectrophotometry, chromatography, Real Time PCR, and as many sections of biology and chemistry as we have ever had. We stay pretty busy."
Recently, she says, students have been learning about electrophoresis, studying DNA, preparing for and presenting at statewide and regional research conferences, often capturing top-tier awards for their scholarly work.
Known as "Dr. E." to her students, Weiser-Erlandson relishes her role in the growth of the University's biology program, and it's disciplinary cousin, chemistry, emphasizing the faculty's role in its growth and development.
"All of this great lab equipment doesn't just sit in the labs," she explained. "Our students get to interact with it, side by side with our faculty. For a lot of students, it's a wonderful opportunity that the larger universities just can't do. But here, it's the preferred way to do things."
Outside of the classroom, Weiser-Erlandson is busy tending to current projects and future goals – not the least of which is the potential for a third faculty member to help handle increased coursework, the development of a second undergraduate degree in biology and the potential for developing and proposing a graduate degree in biology in the years afterward.
"When a person signs on to teach in a new University, there's always going to be something to grow and build," she observed. "That's why I am so glad to be here and watch it develop the way that it has."
That is certain to be true, but some things are more predictable on a facilities timetable than others. In her case, Weiser-Erlandson morphed her love for biology with her love for entomology, initiating a monarch refuge at A&M-Central Texas nestled secretly in the center of a small copse of pecan and mesquite trees adjacent to parking lot B on campus.
"Watching the decline among the populations of monarchs that has occurred over the last few years has taught us how important it is to provide a natural habitat for as many parts of our ecological system as we can," she said.
"Monarchs funnel through Texas twice a year during annual migration and contribute to our local ecological cycle. We thought that our hill country landscape at A&M-Central Texas provided a natural home for them, so we started a monarch refuge.
Weiser-Erlandson's influence, it seems, ripples across campus, beyond even where she might have imagined.
For example, a recent donation to the University, made on behalf of Stacey Ferrell, a University Library employee, honors Ferrell's late mother, Martha Minor Sherrill, and is intended to supplement the monarch refuge's funds. Ferrell would like to call it 'Martha's Monarchs.' And she's pretty sure Weiser-Erlandson would approve.