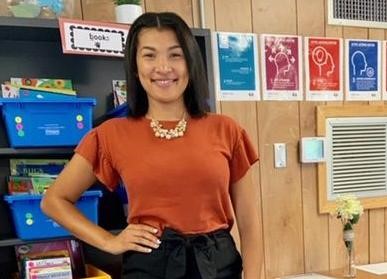 Tuesday, Nov 5, 2019
Teaching Fellowship Awarded to KISD Middle School Teacher and A&M-Central Texas Graduate Student
Julissa Cesarina Carrion, 27, was born in the Bronx in the early 1990s to Miriam Nieves and Julio Carrion. Relocated to Puerto Rico before her eighth birthday, Julissa would grow up there, on the turquoise blue water beaches of Guayama, the Caribbean Sea, and freshwater wetlands.
Like so many teenagers, she had successes and setbacks. She excelled in high school, graduated, and then became a single parent. With the support of her family, she stayed on track, earning her her undergraduate degree and becoming a teacher. Still she was far from finished. Some might say she had only just begun.
Carrion was a dedicated teacher with five groups of 32 middle school English students, 17 with special needs, no help from 8 a.m. to 3 p.m., and limited, if any, resources. Other teachers retiring from the Puerto Rican educational system did so with almost no pension or benefits to speak of.
When her sister, Mariana Carrion, moved to Houston, she followed her in the hopes of building a more secure future for herself and her son, Franjadriel, then only five.
"I've always been strong willed," she admitted. "When I set my mind on something, I just can't quit until I see it through."
Slightly built, caramel colored skin, and chestnut brown hair tumbling in waves over her shoulders, Julissa smiled as she recounted her transition from Houston to Central Texas and all of the people who were there for her.
A family from her hometown in Puerto Rico had moved to Killeen and quickly took her in as she prepared for the exams she would need for her teaching certificate.
"I was learning to speak English again, researching all of the exams I would have to prepare for and pass. Plus, I was studying for the TOEFEL because if I didn't pass that one, I wasn't eligible to take the others required for the certificate. It was definitely a series of huge steps."
Even with that much to do, Carrion still needed to find a job. With a young son to support, she applied for and received substitute assignments, first at Nolan Middle School, and later, at Patterson Middle School.
And, when the battery of exams had been taken and passed, she became a middle school teacher at Roy J. Smith Middle School teaching English as a Second Language and Reading.
"I love the feeling of building relationships and helping the kids grow," she said. "Even when I was little and in elementary school, I loved teaching the other kids. I guess I was born to be a teacher."
Little did she know – at the time she was putting the pieces of her new life into place – one very large piece of her future was taking shape in a way she could never have imagined.
The Texas A&M University System – ranked No. 1 in Texas for the production of initial educator certificates – had developed an awareness campaign highlighting the importance of teacher development.
As a part of that effort, a fellowship was created to find talented local teachers who are interested in their communities and groom them into academic and administrative leaders capable of guiding their local school districts to success.
Texas A&M University System Regent Chair, Elaine Mendoza, spearheaded the effort that recognized these individuals throughout the 11 regional universities.
And so it was, last fall, while attending a KISD new employee orientation, Carrion was introduced to the degree opportunities available at the graduate school at A&M-Central Texas, intrigued by the M.Ed. in educational leadership with principal certification.
Anyone else in her position might have deferred until later; after all, she was a single mom with a son and a brand new job. And she had already accomplished so much. But no. She took another step toward her future, and in return, it took two steps closer to her.
At A&M-Central Texas, the selection of a candidate for the We Teach Texas Fellowship was in progress. Dr. Austin Vasek, Educational Leadership Program Coordinator and Assistant Lecturer, was hoping to find someone who had both the burning desire to serve as an educational leader and the experience to put it to good use for the region's diverse student populations.
It didn't take the College of Education very long to select Carrion. Her background, her tenacity, her drive, said Vasek, spoke volumes.
Less than one month into the educational leadership program, she was notified that she had been selected as the We Teach Texas Leadership Fellow Recipient. Her expenses – tuition, fees, books, cost of certification and testing – would be covered by the scholarship.
"I was going to do this, no matter what it took," she confessed. "I would have taken out a student loan to do it if I had to. But receiving this scholarship meant I didn't have to go into debt to finance this dream. I am so grateful to The Texas A&M University System and A&M-Central Texas for believing in me and my future."
As a recipient of the We Teach Texas Leadership Fellow Scholarship, Carrion looks back at all of her accomplishments – transitioning from her homeland to the U.S., and from Houston to Killeen, becoming a certified teacher in a community she loves – as the fulfillment of so many hopes and dreams, now all come true because of the help of friends and family and her own grit and determination.
Texas A&M University System officials proudly point to Carrion – and so many others like her, the product of an A&M regional university, serving their communities and the State of Texas.
"Dedicated teachers like Julissa Carrio are working hard every day to enable students in our public schools to be successful and well prepared for their future," Mendoza said. "The We Teach Texas Leadership Fellow Scholarship is how we recognize and invest in these educators to grow our local talent."
For more about The Texas A&M University System's "We Teach Texas" Campaign, visit, https://weteachtexas.org