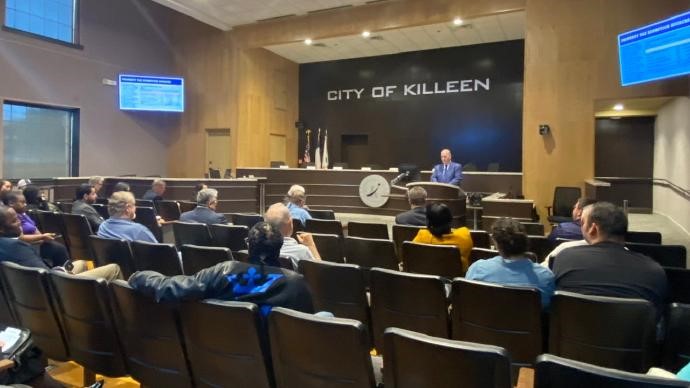 Tuesday, Dec 3, 2019
Study cites Killeen growth, cyber security potential
During a meeting at City Hall, 14Forward Foundation presented its findings from a study analyzing population and housing trends.

"We know where we are growing, we know the age of our population. We understand more about their economic situation. We know where they're going to work now, where they seek jobs," said State Rep. Brad Buckley, vice-chair of 14Forward.

The study also finds a shift in Bell County, the Hispanic population saw a 613 percent increase since 1970.

As expected, Fort Hood, veterans and their growing families remains a key part of the growth. From 2009-2018, the veteran population increased from 8,120 to 14,197.

"We've seen as far as troops on the ground have gotten less, yet the population in Killeen has grown. Saying that, a lot of that has to do with birth rates," Mayor Jose Segarra said.

With the growth, comes more students in Killeen ISD. More than 11,000 more students are expected within the next 16 years, the study says.

"It really coincides and articulates the need for us to look forward, be visionary and projecting schools to come online to accommodate the growth we're going to see," said KISD Superintendent Dr. John Craft.

Last month, the district formed a bond steering committee, in part, to plan for the future growth.

As far as what the city will see: a 1.4 percent annual growth rate is expected over the next decade – most south of I-14.

With the growth also comes challenges. The study says proposed impact fees and recent street maintenance fees are a start for revenue.

Another challenge? Keeping the younger generation around and bringing in new jobs. Mayor Segarra points to a new cyber-security grant at Texas A&M-Central Texas as a game changer.
"That's going to be a home-run for us. We're going to see that area where we're losing people and the leakage from ages of 19-25 stay here because of the university and everything happening within it," Segarra said.

The study ultimately allows city and school district leaders to start the planning process and to stay ahead of the expected growth while attracting jobs to the area.