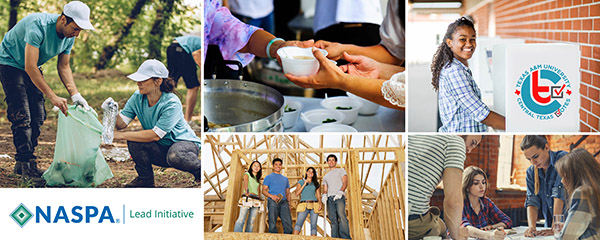 Friday, Sep 6, 2019
A&M-Central Texas Designated by NASPA as LEAD Initiative Institution
A&M-Central Texas student affairs officials have announced that the University has been selected as a NASPA LEAD Initiative Institution for the 2019-2020 academic year.
Dr. Brandon Griggs, Assistant Vice President and Dean of Student Affairs, shared the news with his staff and University colleagues during University Convocation last week, praising the efforts leading to the recognition.
"We have been prioritizing the importance of civic learning and democratic engagement in everything we do in student affairs and sharing those efforts with other universities," said Griggs.
"As a part of that effort, we have been focused on community engagement which is also a crucial part of the University mission."
NASPA officials began the LEAD initiative in 2012, in an effort to promote a more socially just, civically engaged, and democratically-minded future, according to NASPA press officials.
"With this inspiration," they stated, "colleagues at universities across the country have been engaging in the development of a framework to support our work as civic educators."
Dr. Peg Gray-Vickrey, Provost and Vice President for Academic and Student Affairs,  praised their work and applauded the significance of such a prestigious award.
"Our University is particularly focused on the principles inherent to this project," she noted. "It strengthens our communities throughout the region and gives back to those who have given so much to A&M-Central Texas."
For more information on the NASPA LEAD Initiative, visit their website at: https://www.naspa.org/constituent-groups/groups/lead-initiative/P112