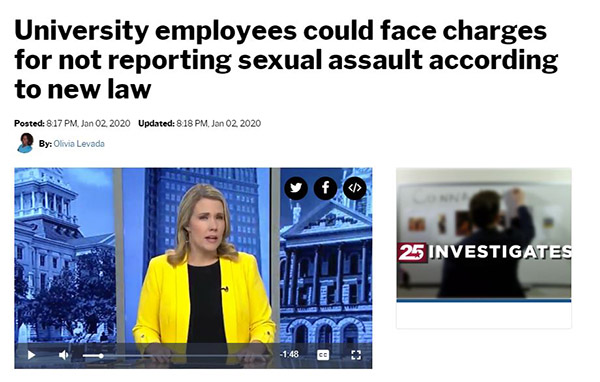 Thursday, Jan 2, 2020
University employees could face charges for not reporting sexual assault according to new law
Beginning this year, college and university employees could face charges for not reporting allegations of sexual harassment, dating violence and more.
A new Texas law is cracking down on who's responsibility it is to report things like sexual assault at colleges and universities.
According to the law , all employees who witness or receive information about sexual harassment, sexual assault, dating violence and stalking that involve a current student or employee must report it to the institution's Title IX coordinator, like Michelle Zornes with A&M Central Texas.
"Let's say a student reported to their teacher that they were struggling in attending courses because of an assault that occurred, that would be a required report to our office and we would work with that student," said Zornes. The report may also be made to the deputy Title IX coordinator.
Domestic violence survivor and student Onicka Gibbons knows all too well the difficulties surrounding sexual assault. She says survivors often search for someone to talk to, and she worries the new law could prevent some students from wanting to share their stories.
"When I was going through my situation, I thought people would look at you differently they would treat you bad," said Gibbons. But she said, in some situations reporting is a matter of life or death.  "For safety purposes. Yes, I'm all about reporting it," said Gibbons.
Under the law, any employee who fails to file a report could be charged with a Class B or Class A misdemeanor.