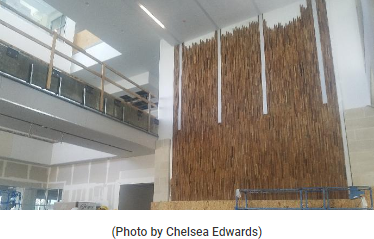 Thursday, Jan 25, 2018
Multi-million dollar building opens on local campus
Texas A&M Central Texas officials hope to do groundbreaking work and attract new talent through a brand new state-of-the-art facility that officially opened Friday.
Heritage Hall. (Photo by Chelsea Edwards)
Heritage Hall, the school's third yet smallest building, provides plenty of gathering spaces for students.
The new building also has two new conference rooms available at no cost for public use.
It will also house the university's new Exercise Physiology and Human Performance degree program which was inspired by the school's work with disabled veterans.
Also, five new research and teaching science labs now support the school's budding biology program.
"Our numbers have been growing very fast, and so we're just really excited to be able to have these extra facilities to be able to accommodate our growing student population," says Science and Mathematics Department Chair Dr. Laura Weiser-Erlandson.