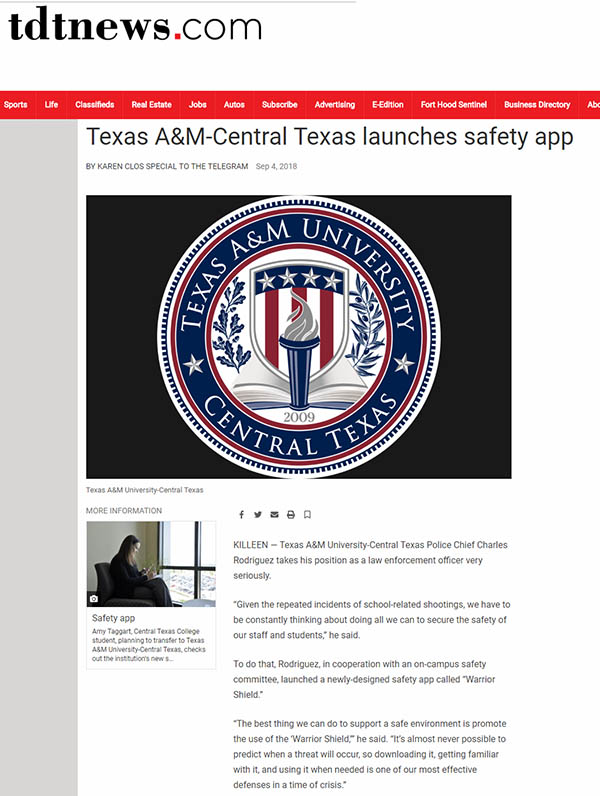 Tuesday, Sep 4, 2018
Texas A&M-Central Texas launches safety app
KILLEEN — Texas A&M University-Central Texas Police Chief Charles Rodriguez takes his position as a law enforcement officer very seriously.
"Given the repeated incidents of school-related shootings, we have to be constantly thinking about doing all we can to secure the safety of our staff and students," he said.
To do that, Rodriguez, in cooperation with an on-campus safety committee, launched a newly-designed safety app called "Warrior Shield."
"The best thing we can do to support a safe environment is promote the use of the 'Warrior Shield,'" he said. "It's almost never possible to predict when a threat will occur, so downloading it, getting familiar with it, and using it when needed is one of our most effective defenses in a time of crisis."
The "Warrior Shield" app, created by 911 Cellular, allows timely distribution of information in a crisis.
"The app works in conjunction with the A&M-Central Texas Police Department by allowing registered users to press an emergency button, which sends an accurate user location — right down to the building, floor, and room," Rodriguez said. "This allows campus law enforcement to respond and notify others who may be in danger as the result of a threat."
"The app allows the user to conveniently and anonymously send tips to campus safety forces who can then start a conversation to investigate possible concerns," Rodriguez said.
Dr. Cynthia Carter-Horn, A&M-Central Texas chief financial officer, commended Rodriguez for his ongoing efforts focused on campus safety.