Student Conduct
The university strives to cultivate an environment in which students thrive, are eager to be productive members of our Warrior community, and engage others in ways that reflect informed and positive choices. In order to do that, and support the mission and values of the university, the Office of Student Conduct is responsible for the administration and facilitation of the student conduct process.
The Office of Student Conduct supports the educational mission and goals of the university and is focused on student learning by challenging students to uphold high standards of personal and academic integrity. This is achieved through a procedurally sound conduct process with personal accountability, fairness, community, and learning as bedrock principles.
Important documents
Student Conduct Resources for Current Students
Community Incident Referral
Student Conduct Office Annual Report: 2022-2023
The Student Conduct Office is responsible for reviewing violations of the Code of Student Conduct and for coordinating the student conduct process. The summary statistics provided in this annual report are generated for public review. This report reflects data for the time period of August 15, 2022 - August 14, 2023 (2022-2023).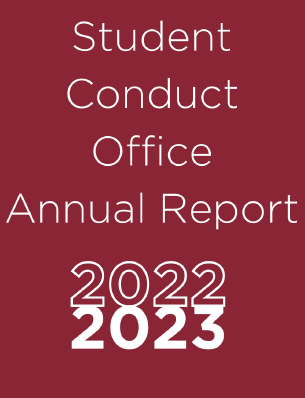 Sexual Violence and Abuse
Report a Potential Title IX Violation
Submit a Formal Complaint of Sexual Misconduct
Appeal the Outcome of a Decision
Submit Conduct Sanction and Documentation
Request for Copy of a Case Document
Appeal the Outcome of a Decision
Student Records
Request to Review Student Records
Request to Expunge Student Records
Request to Amend Student Records
Student Conduct Transcript Notation Removal and Readmission Form