Study-Abroad Opportunities
International travel through the A&M-Central Texas Study Abroad program provides exposure to the people, cultures, businesses and traditions of other countries while providing a first-hand look at academic issues that contribute directly to your university degree.
Students interested in these study-abroad opportunities should contact Yoon Jae Jeon at yoonjae84@tamuct.edu.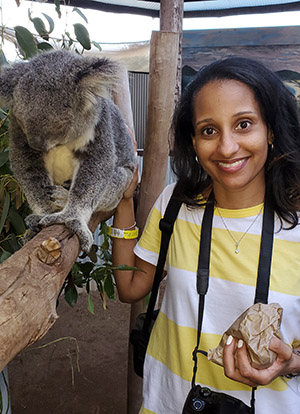 "My experience in Australia was amazing. The instructors were a wealth of knowledge and very supportive and interactive.  The trip was well organized and there was a wonderful balance between academics and exploration time. I learned useful information from the business perspective as well."
---
For A&M-Central Texas Students
Including a study-abroad program in your academic career adds to your education and puts a mark of distinction on your resume after graduation... but you'll want to coordinate the program carefully with your academic advisor and the A&M-Central Texas Study Abroad office to make sure the program matches your degree goals.
You can find the most current information in the A&M-Central Texas Canvas community, or contact the study abroad office.
Funding your study abroad

The A&M-Central Texas Study Abroad office works in collaboration with university scholarship and financial aid offices to provide students with the necessary information needed to apply for scholarships, use financial aid, and identify other funding options for study abroad.

It is unlikely that one source of funding will pay for your entire international experience: Most students use a combination of scholarships and financial aid when going abroad. Starting your education abroad search early will also allow you to apply for scholarships with early deadlines.

In addition to scholarships and financial aid, veteran's assistance programs may be available to cover portions of the study abroad program for qualifying students.

The Benjamin A. Gilman International Scholarship Program provides need-based scholarships of up to $5000 for students of limited financial means to study or intern abroad.
 
The Freeman-ASIA program is designed to support U.S.-based undergraduates with demonstrated financial need who are planning to study abroad in East or Southeast Asia. The program's goal is to increase the number of U.S. citizens and permanent residents with first-hand exposure to and understanding of Asia and its peoples and cultures.Award recipients are required to share their experiences with their home campuses or communities to encourage study abroad by others and fulfill the program's goal of increasing understanding of Asia in the United States.
Award Amount: Semester: up to $5,000 | Full academic year: up to $7,000 | Summer: up to $3,000
Eligibility: U.S. citizen or permanent resident
 
The mission of the Fund for Education Abroad (FEA) is to provide scholarships and ongoing support to students who are underrepresented among the US study abroad population. FEA makes life-changing, international experiences accessible to all by supporting minority, community college, and first-generation college students before, during, and after they participate in education abroad programs.
Award Amount: Semester: up to $5,000 | Full academic year: up to $10,000 | Summer: at least $1,250
Eligibility: U.S. citizen or permanent resident
---

For A&M-Central Texas Faculty
Are you ready to take your students out of the classroom and into the world? Want to broaden your own experiences and make new international connections in your field?
Leading a study abroad program is a fantastic way to accomplish all of that and more! Working with Academic Support, you can create and customize your own program, letting your students have amazing life experiences that will shape their education for years to come. Visit our Academic Support Community in Blackboard to find out what's involved in creating a program!
A&M-Central Texas faculty can download a Study-Abroad proposal template for future Study Abroad programs.