Understanding Military Social Work in Central Texas
By Theodore Davis | July 27, 2021
For more than 75 years, the Fort Hood military base has had a unique relationship with the towns surrounding it. Together, they have created a community of people from all corners of the United States, brought together in service to the country and their fellow Americans. Like everyone else, veterans and service members arrive in Central Texas carrying their experiences with them. But what are they to do – and what are fellow community members to do – when those experiences leave scars that are not always immediately visible?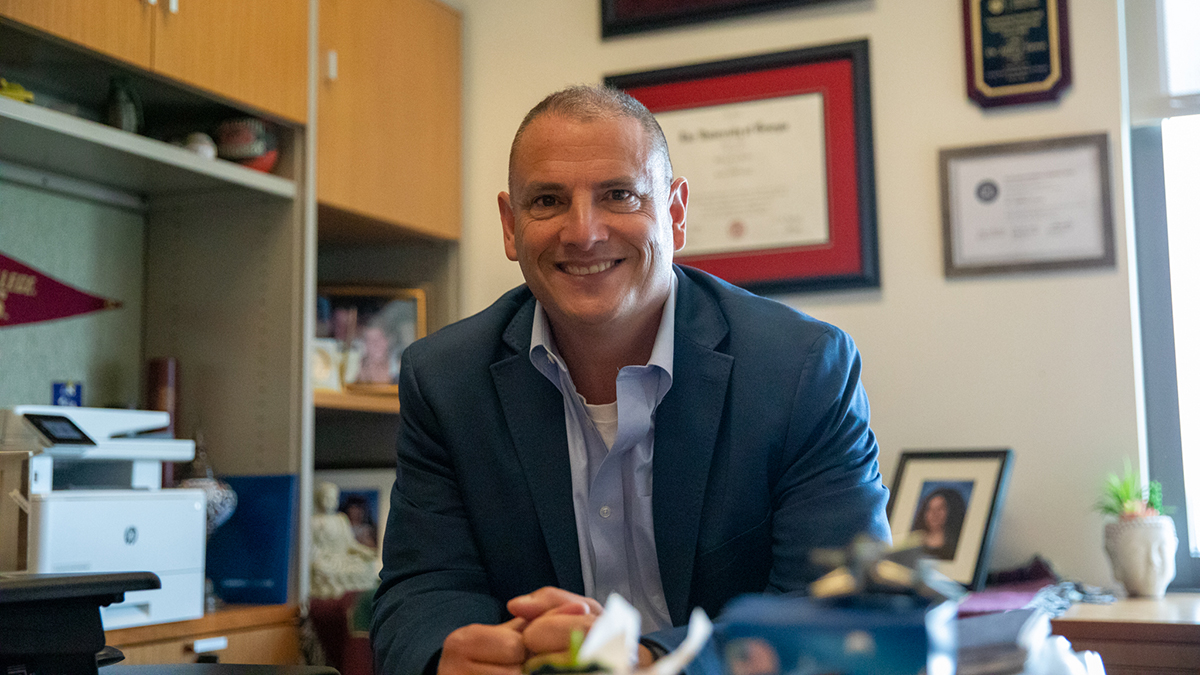 Dr. Jeffrey Yarvis is an associate professor at Texas A&M University-Central Texas and a military social work scholar. Through his dedication, he has become a leading scholar in the field. Because of a large military population, social work in Central Texas is critical; Fort Hood's presence creates a greater volume of patients with trauma disorders, including post-traumatic stress disorder (PTSD) and traumatic brain injury (TBI). For many of these people, Yarvis says, "the world can be very unsympathetic...." As a former service member himself, Yarvis' work has brought the difficulties faced in military social work to both academic and public attention.
Yarvis began his military career as a young man. He had always felt a lack of discipline in his life. He joked, "I always thought I was either a really lazy smart kid or an overachieving stupid kid maybe." When he enlisted, he was unaware that the military had social workers. However, after he first got out, he decided to go to school for social work because of its versatility. This led him to rejoin the army as a social worker. He only intended to be there for a short time, but chose to stay. "In doing so, I was able to influence a lot of change…" Yarvis said. His 30-year career in the military gave him many opportunities, but it was not the end of his work. He chose to go into academia where he could continue his research, eventually taking a position at A&M-Central Texas.
Yarvis is currently teaching a summer class in military social work. He and his students cover a number of subjects, interconnected with the struggles facing veterans, active duty soldiers, and military families.
"I make the course essentially about the intimacy of trauma in a military setting," Yarvis said.
He tries to acquaint students with how trauma can affect those struggling with it. For some students, who may be dealing with the same issues being discussed, this is a difficult class to take part in. These students rarely come into as close contact with their own trauma as they do in Yarvis' classroom. Although, as he explained, "I let them know that this is going to be an extremely intimate class."
He does this intentionally because, as future social workers, they have to be able to interact with their clients' issues without allowing their own to get in the way. That isn't the only thing he helps them with, though. By learning how to handle patients with similar traumas, they can also adjust better to the world outside of therapy.
"We're a representative sample of the United States. So, if there are problems with racism in the United States, there are problems with racism in the military."
There is one thing that Yarvis emphasizes as key to military social work.
"We're a representative sample of the United States," he said. "So, if there are problems with racism in the United States, there are problems with racism in the military."
The army reflects all current social issues that the American people deal with, although there are additional issues unique to the military like "family separation, and the struggle to integrate when we might leave again … the exposure to trauma, so combat PTSD, and then there's military sexual trauma," Yarvis said.
In the classroom, Yarvis tries to show his students the importance of recognizing biases. He also calls for understanding toward LGBTQIA+ service members. They have often sacrificed a lot to live authentically while serving their country.
"For example to be transgender" he said, "You're alienating yourself from your family, your community, your support systems in the military."
Yarvis' support of service members who do not present as disabled makes his message of acceptance even more impactful. He told two stories highlighting the difference between visible and invisible disability. First, as a special education teacher, he used to escort kids from his program to a local business. He noted that children with visible disabilities received encouragement from staff. Meanwhile, kids with less obvious disabilities were met with contempt. Seeing this happen reminded Yarvis of his second anecdote, something that had happened upon his return from the military.
"I got escorted out of a bank my first week home by the police," he recalled.
He had asked an innocent question. Still, his tone and demeanor caused the people working at the bank to become alarmed. Because he looked normal, they did not understand his behavior and assumed he was dangerous.
Bias. Miscommunication. Stigma. At the core of these things is a lack of understanding. Even in an area like the one that surrounds Fort Hood, people tend to imagine disability as something they can see. Naturally, those with visible disabilities deserve just as much recognition. It is trauma's discreetness that makes it important to educate the public about it, and it is impossible to build a safe environment for traumatized military populations until communication is open with them. Teaching people to identify someone who may be struggling then take steps to help them is an essential part of doing that. In pursuit of this goal, Yarvis intends to continue his research with Strong Star, "a consortium of 125 researchers and staff that looks at demonstrating the efficacy of treatment for PTSD." It is his hope that helping people understand trauma disorders will help those who have them.