Alumna Supports Vulnerable Communities in Central Texas
By Theodore Davis | October 11, 2021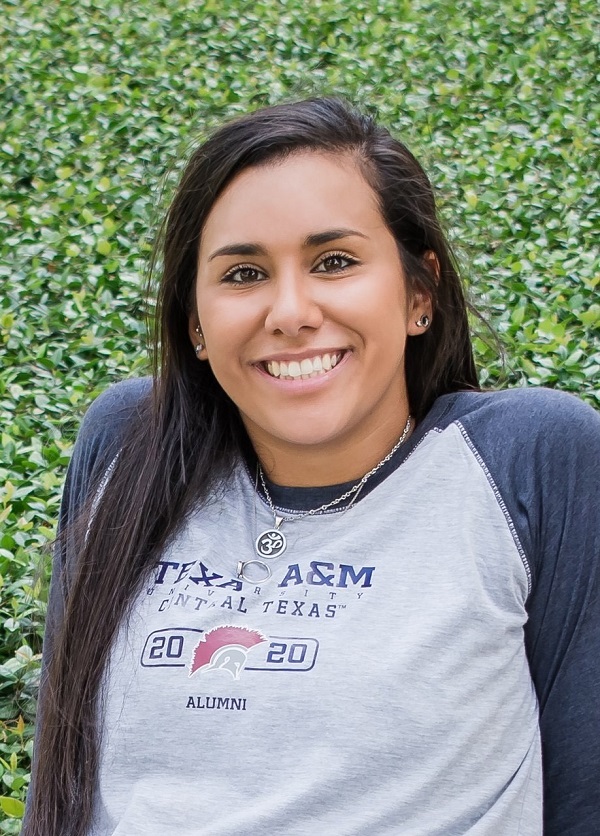 Alumna Rachael Longoria is using her Master of Science in Clinical Mental Health Counseling to build a successful career as a therapist in Austin, while doing what she loves: helping people.
Longoria enrolled in the clinical mental health program after seeing several people in her life deal with substance abuse. She was driven to help people who were in the same kinds of situations.
"Something as unimportant as alcohol can destroy lives, and that's kind of what started my career in wanting to be a therapist."
Having spent part of her life living in the Killeen area, she had driven past the Texas A&M University-Central Texas campus regularly for years. When she graduated with her bachelor's degree and began thinking about where she might go for her master's, the university was one of the first places she thought of.
"I was happy to find it when I did," she said. "It was like a diamond in the rough."
The Master of Science in Clinical Mental Health Counseling turned out to be precisely what Longoria needed. She found herself in a small class of passionate students in a department full of equally passionate professors. Being part of such a tight-knit group in an intimate setting allowed her to make connections with her classmates. It also gave her time to have one-on-one time with the faculty in the social work department.
"Just the whole staff, it's so diverse and different, and they all have different specialties," she said. "I have heard that in all the different programs, which is so helpful."
A&M-Central Texas' Community Counseling and Family Therapy Center was another thing that made the school ideal. Students training to be therapists will usually take part in practicum hours outside of their university. A&M-Central Texas Warriors are able to complete required placements on campus instead. This puts them one step closer to graduating and becoming licensed therapists.
Longoria was able to take her practical training and use it to launch her career right after graduation. She found employment with two different organizations, Integral Care-Austin and Out Youth, where she found a focus for her career.
Integral Care-Austin has given her many helpful opportunities. Working part-time as a crisis counselor, she has been able to help people at their lowest moments. Meanwhile, her full-time position at Out Youth is her primary focus. There, she is able to provide mental health assistance to young LGBTQIA+ people in the Austin area. Her guidance helps them navigate life, social expectations, and their own identities.
"The impact I'm making, and Out Youth as a whole is making… You can't not work there," she said.
Longoria has done important work with both LGBTQIA+ populations and people in crisis. Her intentions for the future reflect her desire to provide the best support she can to her patients. She has observed that many young people end up in crisis situations after coming out. Their identities make them targets for abuse and rejection at the hands of those around them. Combining her skills, she hopes to create a more specific LGBTQIA+ crisis center. Doing so would open the door for these vulnerable individuals to get help when they need it most.
She firmly stated, "We really need advocates to stand up and help these kids."
For now, Longoria is devoted to being one of those advocates and encouraging others to do the same.