A&M-Central Texas Alum Named TISD Rookie of the Year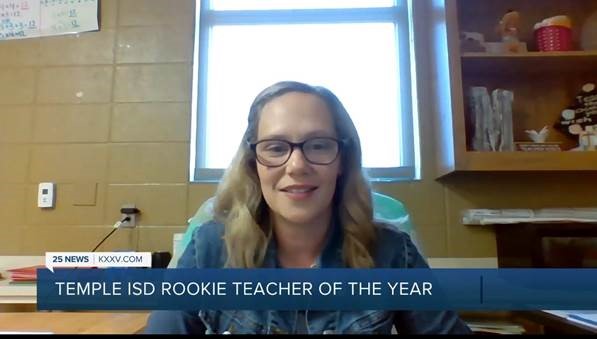 Taryn Rene McWhorter, 32, remembers a moment when, as a senior at A&M-Central Texas, adjunct professor, Jennifer Davis, reminded the aspiring teachers in her class to understand the importance of being ready for the classroom.
"She told us that there would be a moment when we were finished with student teaching, and we would be in our own classroom," McWhorter said. "She said we'd each be standing there with all of those little faces looking at us, and it would be our responsibility to encourage their enthusiasm for learning and delivering the best education possible."
McWhorter remembers that moment because, as a first-year teacher, she lived it. And, in the moment when it happened, her former professor's words were again part of the experience when she entered her third-grade classroom for the first time.
That rookie year, she says, was full of challenges and uplifting moments – a way of life for all teachers. One child, who she identified as "J," a special education student, who came into her classroom following what McWhorter described as "having a rough year with behavioral issues."
After a particularly trying episode, she said, "J" would have outbursts of frustration as she attempted to teach, throwing his little hands into the air, and proclaiming, "I can't do this!"
Determined to find a way for this child to succeed, she said, she went home, and thought about it. When she returned to the class the next day, she engaged him in a conversation about his interests, discovering that he – like so many other kids – loved video games.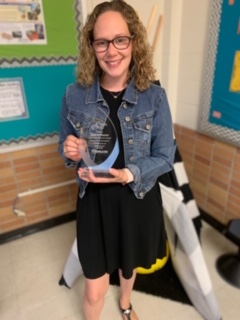 So, she responded with creativity, compassion, and a "can-do" attitude, developing what she called a playlist of videos for him that was in alignment with the content she was teaching and his interests. In addition to that, she made a rectangular space at the front of the classroom, right next to her teaching spot where he could, if he wanted to, retreat for a moment without interrupting the other students.
"That approach worked," she said proudly. "Every week, he had his playlist with the content I was teaching, and he took to it."
The outbursts became less and less frequent until there were no other interruptions. But even better, she watched him as he thrived, staying in touch with his mom throughout the year. At one point, "J's" grateful mother even called the principal to express her thanks for the extra effort – and compassion – that McWhorter had demonstrated.
"That was a big deal for me," McWhorter said, her voice trilling with a subtle emotional moment.
And so, when she was nominated for Cater Elementary School's Rookie of the Year, she accepted it proudly. Shortly thereafter, when Temple Independent School District announced she had been selected for the District's Rookie of the Year, she was genuinely shocked, saying that there were so many so many other women nominated and under consideration that she was proud just to be numbered among them.
McWhorter, also a wife and a mom of three and a 2019 A&M-Central Texas honors graduate, is looking forward to all the years of teaching that lay in front of her and the possibility of a graduate degree and a doctorate.
"In that first moment in the classroom – when all of those little faces were looking at me to lead them – I might have been momentarily taken back by the responsibility of being their teacher, but I was so well-prepared at A&M-Central Texas, supported by such exceptional professors and colleagues, I now see that I had the skills all along."