Management Professors Receive Funding from Texas A&M Engineering Experiment Station
By Theodore Davis | March 07, 2022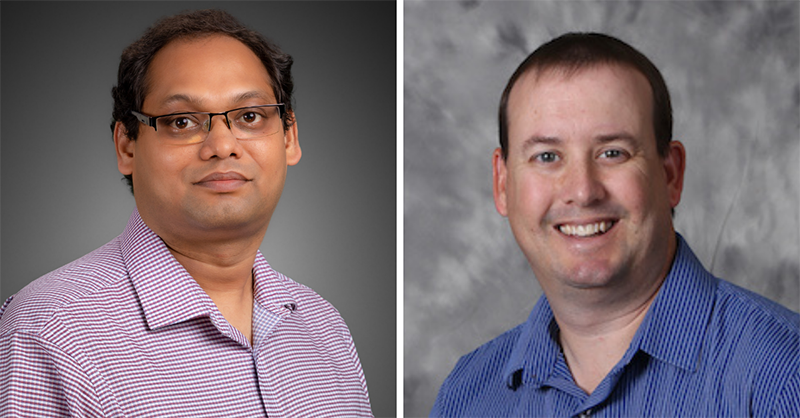 Internships and similar hands-on opportunities can be game-changers for students, but they do not work for everyone. A team of instructors, including Texas A&M University-Central Texas' Dr. Lucas Loafman and Dr. Vinay Gonela, proposed an alternative at the 2021 TEES Annual Research Conference (TARC).
Going into the project, the group was concerned with the trends they saw in nontraditional student populations.
"We see a gap with basically hands-on, practical learning experiences for students. Particularly in this climate because students like ours here at A&M-Central Texas and others have busy lives," Dr. Loafman said.
There are a number of things that might prevent students from accessing traditional internships like scheduling constraint and financial pressure. The project's purpose is to provide specific experiences that are relevant to the students' fields in a more flexible and inclusive way.
To this end, Dr. Loafman and Dr. Gonela's research team hope to determine how hands-on experiences might be structured to make it easier for students to participate. There are a number of potential options, each with their own benefits. Dr. Loafman explained:
"Maybe they're micro-ships or something like that. These one day immersive experiences. Maybe it's an asynchronous ability to learn from professionals, that there are a series of recorded lectures …." He said.
These are only a small portion of the ideas that the group may work with. In choosing which models to pursue, they all have one guiding question that informs their decisions. According to Dr. Gonela, at each turn they ask themselves, "How can we give students a skillset that the industry values?"
This question becomes increasingly relevant in STEM fields as they get more competitive. Giving graduates the skills that will line them up for success is of great importance. Because of this, it is no surprise that the project they put forth gained enough support to award them $2,500 to carry it out.
A grant like the one they secured at the TARC will help the team a lot moving forward, especially in combination with the resources that Dr. Loafman and Dr. Gonela enjoy at A&M-Central Texas. The university, Dr. Loafman said, "is emerging in terms of research."
A&M-Central Texas provides instructors with both freedom and community to help them achieve their goals. Dr. Gonela spoke to this when he said, "Being a young faculty [member], I really felt … there is a support system that can really help you."
It is important that faculty, as well as students, are given what they require to succeed. It allows them to push forward in a variety of ways. They can advance their personal interests, find new avenues for moving their disciplines forward, and become even better instructors so that their students can do the same.