A&M-Central Texas graduate conquers health obstacles with plans to pursue masters
By Karen Clos| December 20, 2021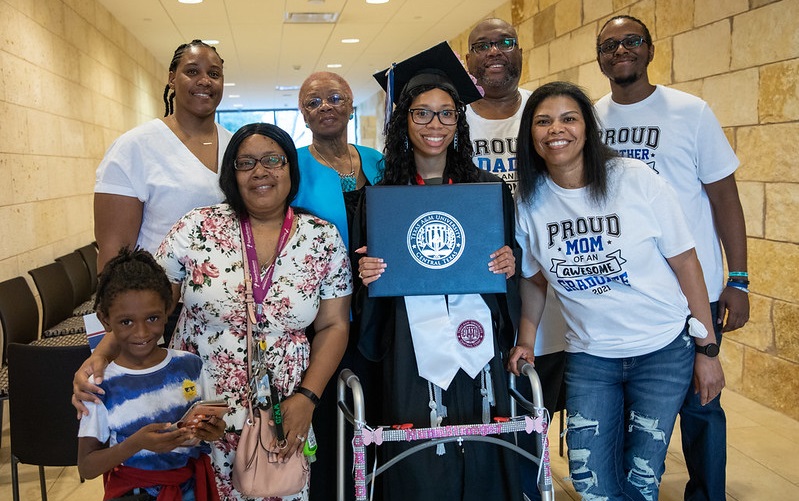 Valyncia Nunn, who earlier this month graduated from Texas A&M-University Central Texas in Killeen, has seen more than her fair share of doctors and hospitals in her young life. It began 12 years ago, she says, after having visited a popular restaurant, waking up the next day with stomach pain and vomiting.
Back then, she remembers, she was an otherwise healthy fifth grader. She was an athletic 9-year-old girl, a devoted member of the swim team and math was her favorite subject.
"By the time I was in 6th grade, I was diagnosed with chronic pancreatitis and homebound, taking my classes with support from a homebound student teacher twice a week," said Nunn, 23.

Her hopes for mitigating the worst of the symptoms of her condition were unfulfilled, even though her family did everything they could to stabilize her.
Determined not to let her condition interfere with her education, Valyncia returned to school in the 7th grade on a part-time basis, excelling in her core courses. By mid-year, however, she was sick again and, once again, hospitalized — this time, fitted with a nasojejunal tube to provide necessary nutrition.
When it seemed to her that her hopes for a more normal life were not to be, she leaned on a close circle of friends, her faith, and her family.
Valyncia's mother, Andria Nunn, 43, has been by her side from the beginning. She has, she says, raised her children to embrace their faith and stay focused on life goals despite the inevitable obstacles.
By the time Valyncia completed high school, she had continued to excel academically, earning an astonishing 4.6 GPA. And it was to no one's surprise when she set her sights on becoming a teacher.
Over the next two years, she enrolled and completed her coursework at Austin Community College where she earned not one, but two, associate degrees and membership in the prestigious Phi Theta Kappa National Honor Society in May 2019.
By this time, the accumulation of diagnoses had grown to include Ehlers-Danlos Syndrome, congenital hip dysplasia, vitamin D deficiency, mitral valve prolapse, superior mesenteric artery syndrome, chronic intestinal pseudo obstruction, and intestinal dysmotility.
Her mother embraces her daughter's desire for education, noting that even that exhaustive list of diagnoses was not going to deter her.
"She started her last semester at A&M-Central Texas on her 23rd birthday," Andria Nunn said. "She wouldn't hear about delaying. She wasn't entirely healed from recent surgeries which left her with a hole in her stomach where the feeding tube was, and still, she did not want to wait."
"Even though she was in a wheelchair. Even though we were all wary of COVID. She would not consider waiting to finish her undergraduate degree."
During her last semester, Valyncia even completed the mandatory clinical teaching assignment at Tippit Middle School in Georgetown where she taught seventh grade mathematics.
"I loved every moment of my student teaching," she said, her intense brown eyes reflecting her pride. "Everyday for every class, I'd wait by the door and give fist bumps to get us motivated.
"But there was always that one student who didn't want to respond, no matter how hard I tried to engage him," she said. "One day, I guess he changed his mind, and he started giving me one and continued like that every day."
She completed her student teaching, she said, without the assistance of either a walker or a wheelchair, even though she had begun to experience swelling and pain related to Ehlers-DanlosSyndome, a disease that affects the ligaments and tissues around the joints.
On Dec. 10, at the 2021 December Commencement Ceremonies at A&M-Central Texas, Valyncia once again confronted her physical limitations, opting instead to show just what a woman of strong will can do.
Hospitalized yet again only days before graduation ceremonies, Valyncia's presence was in doubt.
Her mother reached out to A&M-Central Texas Graduation Coordinator, Amelia Smith, informing her that she wasn't sure Valyncia would be able to participate.
Valyncia, however, would have none of that.
"We weren't sure if she'd even be out of the hospital," her mother reported. "But she was determined to be at her graduation. She wasn't having any talk about not being there to cross that stage. She told me that she'd get herself there in an ambulance if she had to."
Upon her arrival, Valyncia was adorned in a traditional cap and gown, walking deliberately with the help of a walker festooned with hand-decorated rhinestones, pink sequins, bows, and curled ribbons.
And when commencement volunteers offered to adjust the ceremony so that she would not have to navigate the stairs to the stage or the exit ramp, Valyncia made it quite clear to everyone that while she appreciated the gesture, she had long ago decided not to let anything — even their best intentions — to stop her from crossing the graduation stage – which is exactly what she did.
Valyncia's mom could have told them that was inevitable.
"We are so proud of her," she gushed. "She's been through so much that would have devastated anyone less resilient than she is.
"But she has never given up; she's never lost her zeal. I've raised her to take things in stride, maintain perspective, deal with obstacles, and never give up."
Her thinking, she explained, was understandable. She had endured so much over the past 10-plus years that was outside of her control, she wasn't about to let anything put this proud, hard-fought moment of joy in jeopardy.
Valyncia walked across the stage last Friday afternoon, as members of her family and friends applauded from across the room, calling out her name in a cacophony of congratulatory echoes that filled the Bill Yowell Conference Center.
She received her undergraduate degree in interdisciplinary studies, magna cum laude, standing next to University President Marc Nigliazzo.
And, if there is any doubt but that she will, for just now, take time to rest, the answer is no.
Valyncia said that she wants to show others that anything is possible with the right amount of grit and determination and support. Anything.
For now, she is on total parenteral nutrition (TPN) which allows her to take in nutrition through a port in her arm.
She is, she says, ready to get back to the books. And, maybe a teaching career.
She plans to begin her graduate degree in education this fall, enrolling once again at A&M-Central Texas.
University President, Dr. Marc Nigliazzo, has seen thousands – if not tens of thousands – of students graduate in his more than 40-year career in higher education.
He has admired the diversity of those students, the young and the not-so-young, the veterans and the military graduates as well as the civilians, the first-generation and the graduates of professionals.
He admits that some of his happiest moments are when he meets them on that graduation stage, shakes their hand, and sees their faces light up as they accept their degree – their symbol of pride and sacrifice, so evident in that moment.
"Being there to offer Valyncia her degree and to be so close to her family and friends as they cheered her on was one of those moments I will never forget," he said. "On that day, in that moment, Valyncia was everything we stand for at A&M-Central Texas. She was — and always will be — a Warrior."