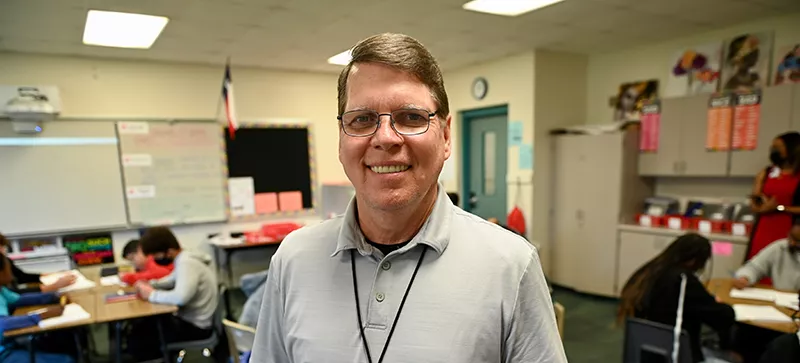 Henry "Hank" Mayes, 59, Temple resident, first experienced the compassionate affection of a teacher more than five decades ago. His memories of their many acts of kindness remain with him, all these years later, undiminished by the passage of time.
When he tells his story, Mayes makes no effort to disguise or diminish the difficulties he experienced in his childhood, nor does he offer them to elicit pity or attention. He offers it just as it was, and as many histories are – the poignant and tragic chaotically but somehow purposefully all parts of the larger narrative.
Now a loving husband, father, stepfather, and grandfather, married 23 years to wife, Tammy, a registered nurse, he and his wife have eight children: three each from previous marriages and two together.
"When we got married, we played the theme from The Brady Bunch at our wedding because she had her three children, and I had mine," he laughed.
But his life did not always include a happy home, familial contentment, or even the reasonable expectation of safety. At an early age, he says, he found refuge from his physically abusive stepfather only when he was nestled securely among the other students and teachers at his elementary school.
"By today's standards, there would have been a different kind of intervention," he said. "But, back then, my only safe haven was school. And every year, from elementary school forward, there was a teacher who took it upon themselves to make sure I knew that I was safe and cared for and appreciated."
"Looking back, I can see that they were instilling me the things that I would not learn from my dad. It is not an exaggeration to say that those teachers had a lot to do with raising me even though I wasn't theirs to raise."
He repaid their many acts of kindness by staying after school to restack books, straighten desks, clean the chalkboards, and sweep the floors. His willingness to be helpful might seem small or easy to overlook now, but Mayes was only too happy to stay after school if it kept him away from his father's temper.
As the years passed, his hard work was rewarded with a job. As a student at Rogers High School, he became a part-time maintenance worker. He earned minimum wage doing exactly what he had been doing, caring for the high school and its facilities.
One of his earliest mentors was the Rogers football coach who, he remembered, taught him all the routine and unspoken lessons necessary for growing into manhood. "His name was Donald Godwin," he said, his voice pausing as if he were taking a moment to recall the sight of the face or sound of his voice.
"He taught me about being a man," Mayes said. "about being a decent person, a reliable person, a person of his word, and how to stand up for myself and for my family."
Under Godwin's guidance, Mayes became an athlete himself, playing tight end and cornerback on the football team, a guard on the basketball team, and a mean game of tennis.
But unlike the other athletes, Mayes did not have time for post-game celebrations. He stayed behind in a different role: it was his job to make sure the jerseys were washed, and the athletic facilities were ready for the next game.
When graduation arrived in 1981, he was one of 51 graduates who received their high school diploma. He immediately enrolled in classes at the University of Mary Hardin Baylor, but just as quickly set aside the goal of an undergraduate degree.
"I only lasted a few weeks," he admitted. "I was a cook at Western Sizzlin, and I liked having money in my pocket and decided to stop going."
Within four years, he had become assistant manager, after which he served briefly in the U.S. Air Force. When his preferred occupation and duty station were unavailable, he accepted a general discharge, finally settling into a position as a pressman with American Printing in Temple. And there he would stay for the next 28 years.
But Mayes is not sharing his story as a retrospective; in fact, his motivation is quite the opposite. He is, almost 60, and he is not looking backwards. Because the future he is stepping into is not just his life-long wish, but the last wish of his departed mother.
"My mother, Rosemary, passed away at the age of 79," he said, his voice reverberating with the memory of her loss.
In her last days, he said, the woman who had taken more than her fair share of her husband's wrath, who had done her best to shelter and provide for her children under the most challenging circumstances, took her son to her side to make sure that what had once been wrong might finally be made right.
Perhaps she knew, as mothers often do, that it was her job to deliver her son through hardship as best as she was able. Perhaps she was grateful for all the unheralded heroes who stepped out of their official roles as teachers and took the time to mentor and help heal her son, and what might have otherwise been, at best, a very different child, and, at worst, an irrevocably wounded man.
"My mother made me promise that I would go back to school," he said. "She made me promise that I would dedicate myself to a calling that inspired me, challenged me, and rewarded me. More than anything, she wanted me to be happy."
Mayes began at Temple College in 2017, taking classes full-time. Admittedly, he says, he was nervous, believing that his age would be conspicuous to the other, presumably younger, students.
"I decided two things," he said, adding a self-effacing laugh. "I would just put it out there. I'm the old guy. But I called myself a late bloomer because, why not?"
Indeed. Mayes graduated with his associates degree and an honorable 3.5 GPA, thanking, once again, the Temple College faculty who befriended him along the way – this time, English professor, Riley Owens and History Professor, James Allen.
He entered A&M-Central Texas, taking courses in the College of Arts and Sciences, embracing Interdisciplinary Studies to fulfill the requirements of a teaching certificate in English Language Arts.
This fall, Mayes stepped into the classroom at Palo Alto Middle School as a student teacher, once again, in the company of another teacher and mentor, Penny Taylor.
"I have to say, teaching in front of her keeps me on my toes," he said, smiling from ear to ear. "Of course, we learn teaching techniques in our classes at the University," he added, "but here, in the actual school environment, and with our teacher mentors, and for the students, we put all of that into practice. And I could not be more excited."
When he is not in the classroom, Mayes is purposefully nearby, most likely on the basketball court as a referee, not entirely unlike keeping order in his classroom.
And so, this man, once a frightened and insecure child, who was made whole by the continuous love of a mother and many, many unofficial mother and father figures, will soon himself be a teacher.
He wants to do the same for those who might cross his path. And he believes that every chance he takes to be with a child or young adult, either to teach or to encourage, or to protect, or to coach, he is returning the favor to those of the same profession who gave him so much.
"I really believe my mom can see that her wish for my happiness in a fulfilling career is coming true," he concluded. "I want to make a difference every day, and I want them to know how much teachers care."