Dr. Michael Daley, Regents Professor and Chair of the Department of Social Work at Texas A&M University – Central Texas in Killeen received a prestigious national award from the Council on Social Work Education (CSWE) at its recent 68th Annual Program Meeting in Anaheim, California. Dr. Daley was recognized for Distinguished Recent Contributions to Social Work Education by CSWE.
The award is given to one person annually for exemplary achievements in the last 10 years in at least two areas including: research and scholarship, pedagogy and curriculum development, and organizational leadership. The Council on Social Work Education is the national association for professional social work education and accreditation of social work educational programs.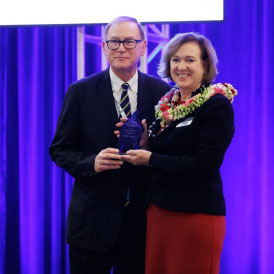 Professor Michael Daley receives National Award.
In making this award CSWE mentioned several of Dr. Daley's accomplishments. He holds a BA in Anthropology from Rice University, a MSW from the University of Houston, and a PhD in Social Welfare from the University of Wisconsin-Madison. His scholarship focuses on the field of Rural Social Work, and he is the author of Rural Social Work in the 21st Century. He has been the Editor-in-Chief for the Journal of Baccalaureate Social Work for several years and is the founding editor of Contemporary Rural Social Work. He is a reviewer for several social work journals.
Dr. Daley is currently a member of the CSWE Commission on Accreditation, where he chairs the Professional Practice Doctorate Implementation Committee, and has been a member of the Council on Leadership Development. He is a former President of the Association of Baccalaureate Social Work Program Directors. He has also been President of the Texas Chapter of the National Association of Social Workers and Chair of the NASW National Ethics Committee. In 2019, he was named a NASW Social Work Pioneer. He has been a long-time advocate for undergraduate social work.
Dr. Daley said that "I am honored and humbled by this award. The recognition by my fellow social work educators is something I value highly. My career has benefitted by the support and guidance of others who have given generously of their time, and I hope that in some small way I have been able to pay something forward. The supportive environment of Texas A&M University – Central Texas has helped me a great deal and I hope to be able to enhance the quality education we already provide our social work students at TAMUCT."
Dr. Allen Redmon, Dean of the College of Arts & Sciences added "The College of Arts and Sciences at A&M University Central Texas expects to be recognized for instances of teaching, scholarship, and service that leads to our development of ethical leaders, informed citizens, and skilled professionals. CSWE's recognition of Dr. Daley's contributions in these areas over the last ten years shows that we are meeting this expectation. This award confirms again that Dr. Daley is an indispensable of our college."