Why Social Work, Why Here?
The Bachelor of Social Work at A&M-Central Texas offers students the unique opportunity to learn with our experienced, widely recognized faculty in the field of social work education. Our faculty is committed to excellence in student education, to building a relationship with each student, and developing each student's special strengths in order to provide a quality education. Our small student to instructor ratio makes this possible.
The BSW program is a nationally recognized professional degree in social work, and prepares the graduate to be eligible for social work licensure. The BSW Program at TAMUCT is a nationally accredited program by the Council on Social Work Education. (CSWE)
---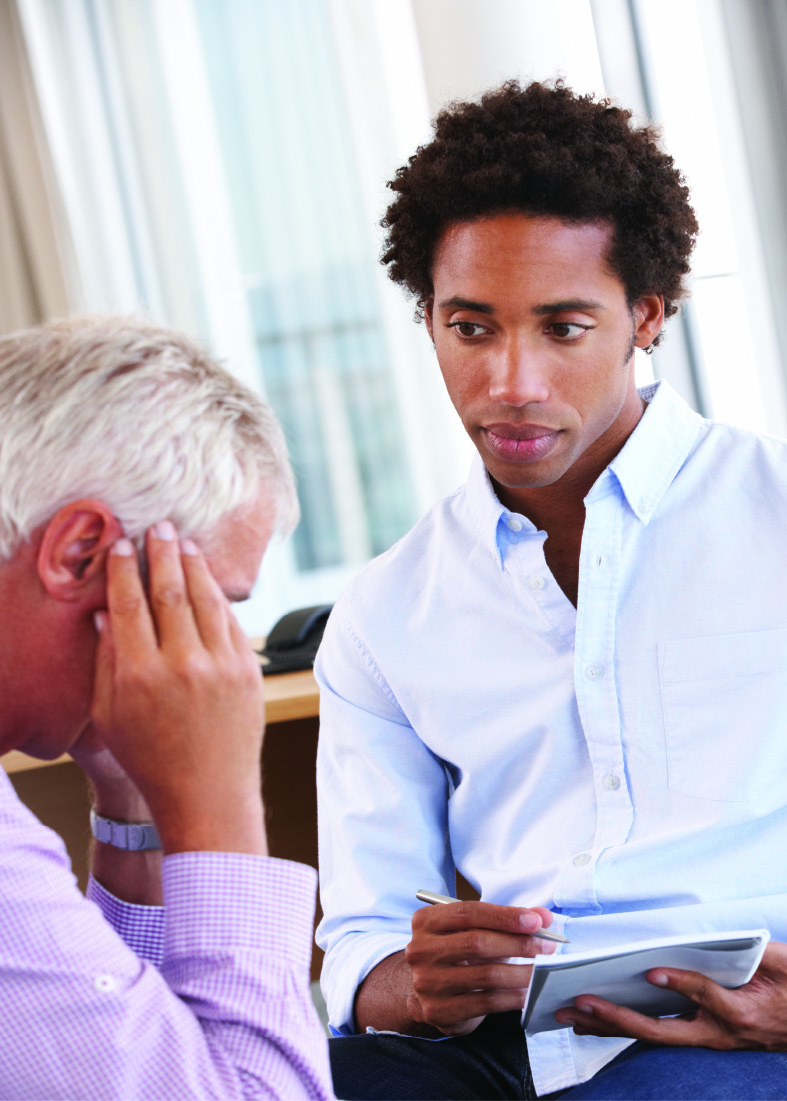 Prepared to face challenging issues
Licensed Professional Social Workers deal with some of the most troubling problems facing our society today. The profession of social work is dedicated to helping individuals and families cope with some of the most challenging issues in their lives. Professional Social Workers are qualified to work in variety of professional settings, with many different populations, some of which include:
Domestic violence
Violence against children and the elderly
Mental illness
Access to health care
Probation and parole
Assisting children in the community school setting
Foster and Adoptive families
Children in foster care
Family reunification
Reduction in the overall number of out of home placements
Human trafficking
Rural social work
Social workers follow a stringent professional code of ethics, based on respect in the diversity of all people with whom they encounter, their unique situation, and in shaping social policies that help society as a whole.
---
Child Welfare Training Title IV-E Program
The A&M-Central Texas Department of Social Work uses its participation in the Title IV-E program to enhance and build our students' educations. The Social Work Department's partnership with CPS prepares students with valuable real-world experience in the child welfare community.
---
Social Work Charts Path for Student Success
"This is much more than a meet and greet. There is serious discussion of program requirements, the transition from lower to upper division courses, transition from academic to professional expectations, and introduction to the culture of student involvement in community service."
Read more.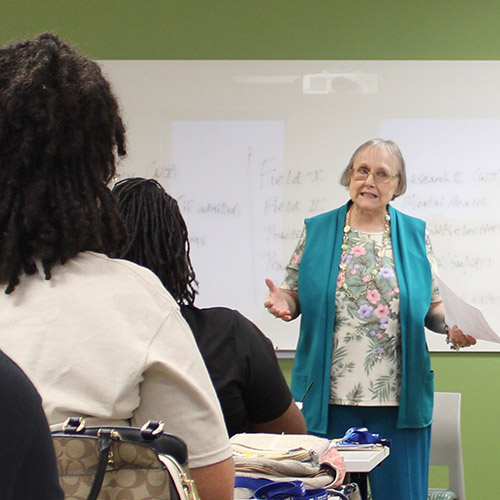 Student Spotlight Series
The College of Arts and Sciences is pleased to partner with some truly remarkable students.
Julia Smith: Although she had no plans to attend college, Julia Smith has always had a passion to learn and to help others.
"I dropped out of High School in 1996. I got a GED in 2007 with no plans of attending college. When my late husband of 20 years passed away in 2017, I became a single mother to my four grieving children and was self-employed."
A friend of Julia's was the person who encouraged her to go to college to pursue social work. Read More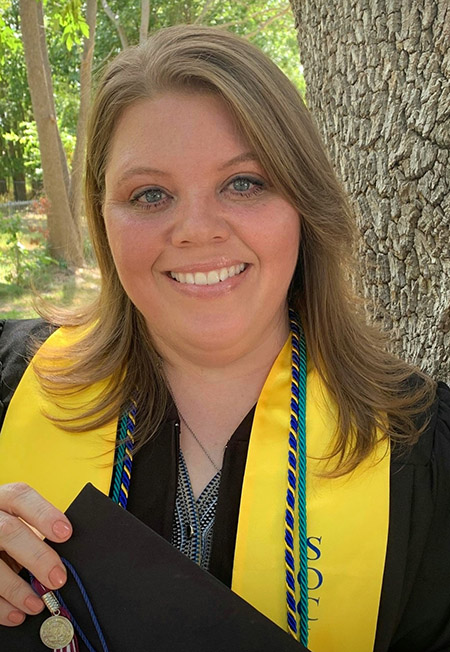 Social Work Organization Wins National Service Award
Phi Alpha students conduct a variety of fund-raising events throughout the year to enable them to carry out community service projects. Last fall was actually the thirteenth year that the TAMUCT Pi Rho chapter of Phi Alpha has won the national Community Service award given by the national Phi Alpha organization.
Read more.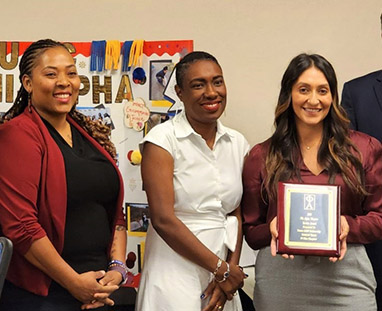 TAMU System Awards Regent Professor to Social Work Chair
Texas A&M University–Central Texas' Department of Social Work Chair Michael R. Daley, Ph.D, was named a Regent's Professor for 2022-2023 by the Texas A&M University System Regents.
The award program was established in 1996 to recognize faculty and employees who have made extraordinary contributions to their university, or agency, as well as to the people of Texas. According to the A&M System Board of Regents "The honorees come from a broad range of disciplines throughout our universities, and state agencies. They share a common thread: they are at the top of their professions and are dedicated to finding ways to better the lives of their fellow Texans and citizens of the world." Read more.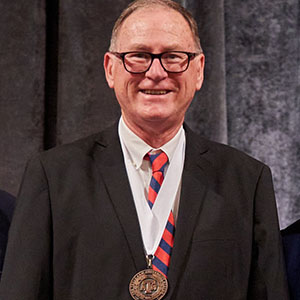 Social Work Chair at A&M - Central Texas Receives National Award
Dr. Michael Daley, Regents Professor and Chair of the Department of Social Work at Texas A&M University – Central Texas in Killeen received a prestigious national award from the Council on Social Work Education (CSWE) at its recent 68th Annual Program Meeting in Anaheim, California. Read more.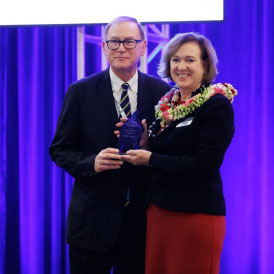 Two A&M-Central Texas Social Work Professors Recognized as National Leaders
A&M-Central Texas Professors Michael Daley and Claudia Rappaport never imagined that they would be celebrating their 2019 Pioneer Award from the National Association of Social Workers in 2022. The designation, rarely awarded to more than one scholar in the same university, took both of them by surprise. Read more.
Faculty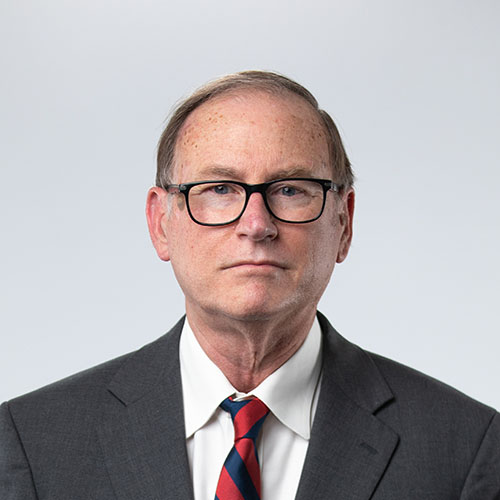 Dr. Michael Daley, Ph.D, LMSW-AP, ACSW
Social Work Department Chair & Professor
Social Work Pioneer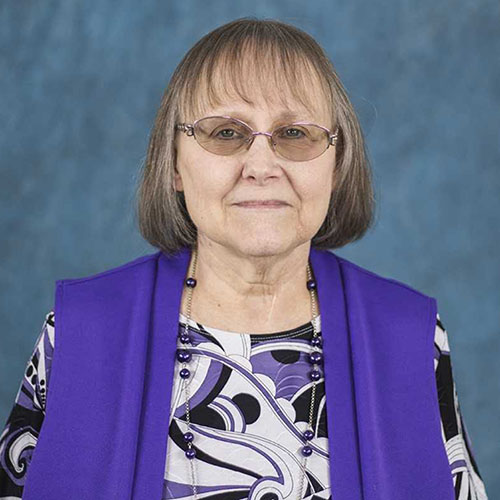 Dr. Claudia Rappaport, Ph.D, ACSW, MSSW
Associate Professor
Social Work Pioneer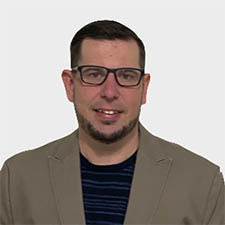 Andreja Lukic, MSW
Assistant Professor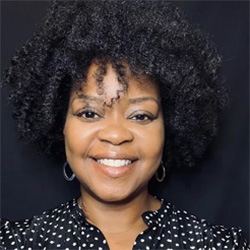 Vene Baggett, LMSW
Assistant Lecturer/Field Coordinator
Staff
Mission
The mission of the Bachelor of Social Work Program at Texas A&M University-Central Texas is to prepare high quality graduates for entry-level generalist social work practice and advanced education through education is delivered in a rigorous and student-centered learning environment that promotes professional behavior, values and ethics, human and community well-being, respect for human diversity, and a global perspective, and is guided by a person-in-environment framework, knowledge based on scientific inquiry, and social work competencies in support of the college and university missions.
Accreditation