Student Spotlight
College of Arts & Sciences Student Spotlight Series
The College of Arts and Sciences is pleased to partner with some truly remarkable students. They are hardworking and determined, and realize successes in the classroom and beyond.
The CAS Student Spotlight Series celebrates and showcases some of these great students.
Julia Smith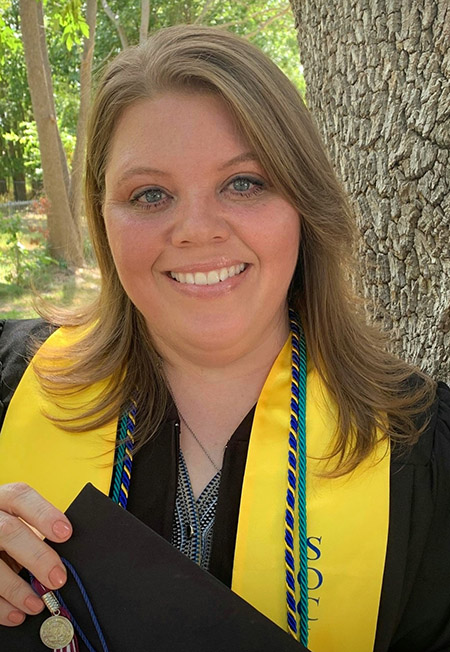 Although she had no plans to attend college, Julia Smith has always had a passion to learn and to help others.
"I dropped out of High School in 1996. I got a GED in 2007 with no plans of attending college. When my late husband of 20 years passed away in 2017, I became a single mother to my four grieving children and was self-employed."
A friend of Julia's was the person who encouraged her to go to college to pursue social work. As a first-generation college student, Julia began taking classes at Temple College in 2019. There, she became a member of Phi Theta Kappa and graduated with honors in the Spring of 2021. She then transferred to Texas A&M University-Central Texas, and began classes in the Fall of 2021.
Julia just completed her internship at The Garden of Hope Foster Home and is graduating Summa Cum Laude with her Bachelor of Social Work. She is the current president of Phi Alpha, Pi Rho chapter – the social work honor society and student organization, which has been nominated again to win the national Community Service award from the national office of Phi Alpha. Julia won a Community Service award at the College of Arts and Sciences banquet last Spring, where Phi Alpha also won a Distinguished Student Leadership award.
"I have enjoyed the leadership experience in Phi Alpha and plan to remain active in the social work honor society."
Julia plans to follow a career path in community planning, with a passion to develop and strengthen victims' services in her hometown.
"There are not many resources where I live, and I hope to make great contributions to help develop programs and outreaches that will help others."
Julia married her supportive husband, Jack, in January of 2020. They have five children and two grandchildren.