Nursing
A World of Opportunity Awaits Those Who Care
Mission
---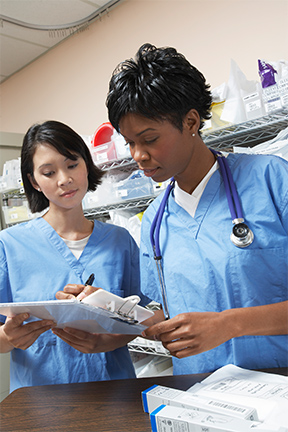 The nursing program at Texas A&M University-Central Texas offers nursing education to the registered nurse on the baccalaureate level, to serve the diverse population of Central Texas which includes the military and their families. The nursing faculty prepare excellent nurses to practice in acute care settings, outpatient services, or continue in pursuit of advanced degrees.
The RN to BSN program is designed with the working professional in mind. Classes are offered online by faculty dedicated to their success.
Accreditation
---
The baccalaureate degree program in nursing at Texas A&M Central Texas is accredited by the Commission on Collegiate Nursing Education (http://www.ccneaccreditation.org).
How to Apply for Admissions
---
Entry Requirements
General Education and Course Requirements
A&M-Central Texas is an upper-level university, therefore, the core curriculum/general education courses and non-nursing courses must be taken at another institution. Core curricula may also be accepted from other institutions. 
How to Apply for Admissions

The B.S Nursing program at A&M-Central Texas has additional entry requirements separate from general admission. After acceptance to the university, complete these steps:

Meet with your academic advisor to apply to the nursing program and develop a Student Education Plan applicants must complete all non-nursing courses listed in the degree requirements.
International applicants and applicants with foreign credentials must adhere to additional requirements.
Frequently Asked Questions
---
Is your program accredited?
The baccalaureate degree in nursing at Texas A&M University-Central Texas is accredited by the Commission on Collegiate Nursing Education, 655 K Street NW, Suite 750, Washington, DC 20001,
202-887-6791, www.ccneaccreditation.org/.

Is the program online or face to face?
Currently the RN to BSN program is 100% online.

Do I need to find a preceptor or clinical site?
Individual courses contain certain assignments that are clinical in nature and satisfy the CCNE requirement for a clinical component; the assignments may require a preceptor at a designated location.

What is the average class size?
The university student to faculty ratio is 13:1. The maximum number of students in online nursing courses is 25.

What advising and support services are available?
Faculty are available for advising or assignment assistance online or during office hours. The University provides a variety of student services to include a writing lab, professional tutoring, a counseling center and more.

When can I apply?
Admission is open for fall and spring semesters.

What is your application process?
First, we recommend submitting your unofficial transcripts to the nursing department for review and advising well in advance. More information regarding university admission can be found in our Undergraduate Admissions application checklist. Please reach out to Recruitment at recruiting@tamuct.edu or call 254.501.5952 for questions regarding the application process.

Do I need to take an entrance exam or submit an essay for admission?
No entrance exam or essay is required; however, a current Texas license as a registered nurse is required for full admission to the program.

How long does it take to complete the program?
You have five years to complete the program; student completion time varies. Students enrolled in courses full-time may complete the program in one calendar year.

How long are my pre-requisite courses transferable?
There are no time restrictions on pre-requisite courses.
Faculty
---