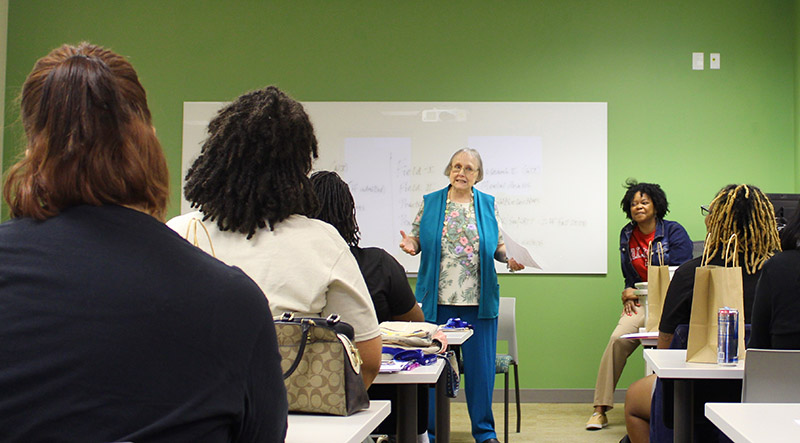 It was the end of the first week of September and TAMUCT faculty, staff and new students met for an orientation. This event introduced the students to the faculty, staff, and current students in the Department of Social Work. The students also had an opportunity to meet each other. "The new student orientation is an important event for social work students as it begins the process for building a sense of community among our students, faculty, and staff", said Dr. Michael Daley, Chair of the Department.
While many offices on campus promote student success, the Social Work Department is united in its belief that forging a feeling of community among its students is a key element of student success. "This is much more than a meet and greet. There is serious discussion of program requirements, the transition from lower to upper division courses, transition from academic to professional expectations, and introduction to the culture of student involvement in community service", added Daley. This kind of orientation has been an integral part of the program for well over a decade.
The orientation helps students to understand that advising goes well beyond the scheduling of courses and encourages student to routinely work with faculty advisors to consider professional career paths and understand the breadth of this social work profession. Professional advising and close contact with the faculty help students to become actively involved in community service projects. The success of these efforts by students can be seen in the numerous national awards won by social work Phi Alpha honor society. Faculty student interactions though advising socializes students to the profession and teaches students that learning can transcend the classroom and build their professional growth.
According to Dr. Daley, "What the faculty and staff of the Department do takes extra commitment from everyone. But we all think it is well worth it. Sure, we advise for classes, but we also build a future professional workforce and forge relationships that help our students become successful while here and as they pursue their professional careers. We are all very proud of that and it shows in our ability to retain students despite a challenging curriculum."