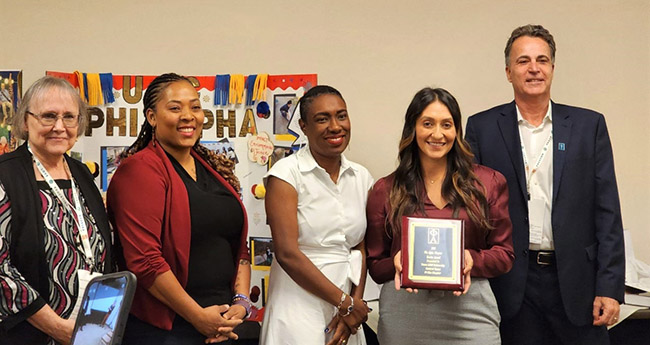 Above: Phi Alpha Social Work Students at Texas A&M University–Central Texas win National Service Award.

"This is a magnificent honor", said Dr. Michael Daley, Chair of the Department of Social Work. "Typically only one or two such awards are made nationwide each year, and even more remarkable is TAMUCT social work students win this award almost every year. There are over 530 undergraduate social work programs! This is real testament to the dedication of our students to community service, and the outstanding leadership of the Phi Alpha sponsor, Dr. Claudia Rappaport."
While social work students at Texas A&M University-Central Texas learn a great deal in the classroom to prepare them to be effective professional social workers, they also focus on the learning they can accomplish outside the classrooms and in the local communities.
On November 11, 2022, three students who are members of the Pi Rho Chapter of Phi Alpha, the international social work honor society, had the opportunity to go to the Council on Social Work Education Annual Program Meeting in Anaheim, California, to receive an award for the community service the Phi Alpha chapter at TAMUCT does throughout the year. The students – Nora Smeltzer, Jemima Blackwell, and Onicka Gibbons – gave a presentation about all the community service projects their group had carried out all year, and they received a plaque and $500 to assist with future community projects that they could bring back to their Phi Alpha chapter. Throughout the year a variety of community service projects had been carried out, including the following:
Helping the hospice program at Baylor Scott and White by working in their thrift store in Belton every Saturday and by purchasing five Pocket Talkers to aid dementia patients by helping them listen to meaningful music that helps reactivate their memory and allows them to connect with people again
Helping hospice patients at an assisted living center in Temple by giving them a senior prom (complete with naming a king and queen of the prom) and sponsoring game nights once a month for recreation and for aiding their memory retention
Helping the elderly residents of Sunshine House in Copperas Cove (most of whom live alone) with a large holiday party in December, complete with playing Bingo, receiving gifts and prizes for each resident and for their pets, having Santa Claus visit, and having a catered holiday luncheon
Sponsoring five children at a low-income elementary school by providing all the holiday gifts on each of their wish lists
Having booths at various events sponsored by TAMUCT, including the Warrior Week picnic with a bean bag toss game for children and the Hispanic Heritage Month activity. Many prizes were given out to children at both events, with the plush snakes being by far the most popular item.
Collecting four vans full of winter coats, sweaters, other types of clothing, and hygiene items to be donated to the Homeless Outreach Team of the Killeen Police Department
Giving out candy at TAMUCT's Trunk or Treat Halloween event
The Phi Alpha students conduct a variety of fund-raising events throughout the year to enable them to carry out these community service projects. By being involved in Phi Alpha, they learn about leadership skills (having opportunities to serve as officers and to plan the events), organizational skills, raising money to carry out the projects, and being at the events themselves, seeing how much of a difference they make to the people in the communities who are participating. Phi Alpha actually means "Service to Humanity," and having the opportunity to be involved in these ways gives them invaluable lessons and helps them develop invaluable skills that will serve them well when they are working as professional social workers.
Community service has become an integral part of the Phi Alpha chapter at TAMUCT. Last fall in Anaheim was actually the thirteenth year that the TAMUCT Pi Rho chapter of Phi Alpha has won the national Community Service award given by the national Phi Alpha organization, based in Tennessee. In addition, in 2022 Phi Alpha won both the Commitment to Community Service award and the Program of the Year award given at the Distinguished Student Leadership Awards Banquet at TAMUCT. Dr. Claudia Rappaport, faculty advisory of the Pi Rho chapter of Phi Alpha, stays amazed at how much the Phi Alpha students are able to accomplish, all in addition to their academic studies, completing a social work internship, and having a family. "Working with them is an incredible honor," she stated.