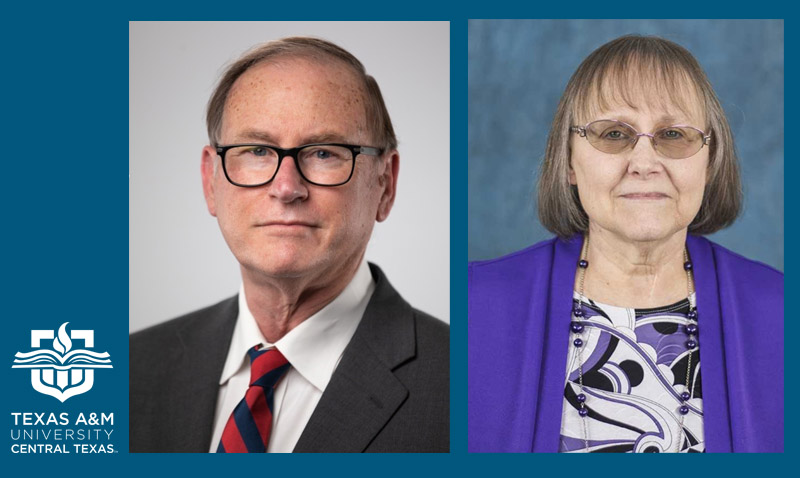 A&M-Central Texas Professors Michael Daley and Claudia Rappaport

---
A&M-Central Texas Professors Michael Daley and Claudia Rappaport never imagined that they would be celebrating their 2019 Pioneer Award from the National Association of Social Workers in 2022.
The designation, rarely awarded to more than one scholar in the same university, took both of them by surprise.
"The Pioneer Award recognizes scholarship and service to the profession," said Daley who also serves as department chair. "Any one who receives it knows it is a lifetime achievement, so when two of us from the same program were recognized, we were both a little floored."
It wasn't their natural inclination to brag, he said. But, before they knew it, something even larger would make any talk of awards or celebrations practically irrelevant.
"When the pandemic happened, there was so much to do, even thinking about the award just didn't seem right," he explained. "We were moving our coursework online and working through how to navigate all of the precautions being put into place for our students doing field work. That took precedence over everything else."
In time, however, as more and more of the University's routine returned to normal, Daley admitted that he kept getting nudged by the former dean of the College of Arts and Sciences, Jerry Jones, to make time to celebrate their award.
Daley finally acquiesced, as long as, he said, he could be assured that his fellow professor and colleague, Claudia Rappaport, was in agreement.
"Social workers are often naturally selfless people," Daley said modestly. "They prefer to be the ones helping others, not the ones congratulating themselves. But the more we talked about it, the more we felt that this was a chance to highlight our program."
More than four decades ago, he says, when the University was American Technical University and subsequently, University of Central Texas, the social work program grew out of the criminal justice program, finally becoming its own undergraduate degree.
"When I think of the hundreds of social workers created and graduated by our program, I can't help but feel humbled by the legacy people like Dr. Rapaport and others have established. Being able to be a part of that energy and purpose is extremely gratifying."
Will Francis, executive director of the National Association of Social Workers-Texas, offered his congratulations to Daley and Rappaport, emphasizing that the Pioneer Award is a select honor held by fewer than one thousand social workers nationwide, making it remarkable for both to have received the award.
"Not only is it evidence of an exceptionally strong social work program with a rich learning environment," he said, "but also, it is a testament to their years of dedication to their students, their program, their research, and their university."
Recipients of the Pioneer Award, he concluded, are role models to those in our profession and those who wish to join the profession. They guide emerging social workers through their coursework and professional development, and the students who graduate and serve their communities as social workers benefit from their devotion to their program.