By Bernadette Serna
May 24, 2023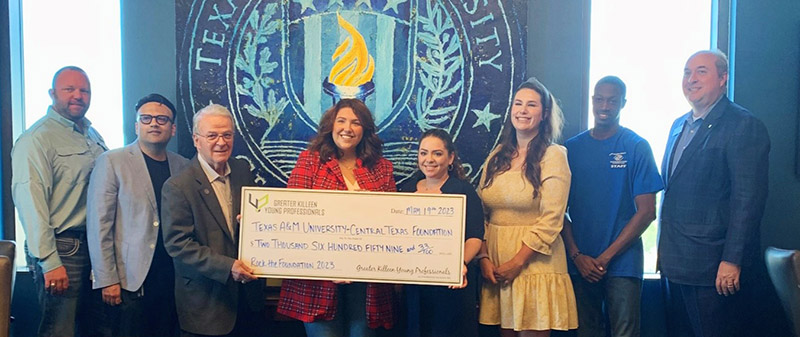 Above: Greater Killeen Young Professionals (GKYP) presented Texas A&M University–Central Texas' Foundation with a $2,659.33 check for scholarships raised during Rock the Foundation
Greater Killeen Young Professionals (GKYP) presented Texas A&M University–Central Texas' Foundation with a $2,659.33 check for scholarships raised during Rock the Foundation, a scholarship fundraiser benefitting the university.
GKYP has been hosting Rock the Foundation since 2010, generating more than $150,000 in scholarship funding.
Raychel Mynarcik, GKYP supervisor, noted that the organization is currently made up of all new members and they are excited for what they will accomplish in the future.
"It takes the community to come to together for the event to make it happen. Everyone (can) be involved from (local business), to (city) personnel, to the Young Professionals Organization to all the citizens of Killeen," Mynarcik said. "The event shows collaboration and unity in our community. I think, too, it gives a full-circle moment because a lot of our young professionals are actually alumni of the college. It's nice to be able to give back to where some of us came from."
GKYP Chair of Rock the Foundation Shanilis Ortiz Reyes added that the group has many ideas to encourage young professionals in the area to become more involved in helping the community.
"By impacting the university, we impact different sectors of our community. So that's very meaningful," Ortiz Reyes said.
GKYP, a volunteer organization, was started in 2008 to give young professionals in the area access to events and programs that would allow them to grow professionally, civically, and socially and help grow while positively impacting the community. For more information visit https://www.facebook.com/gkypro.