Karen Clos
September 26, 2023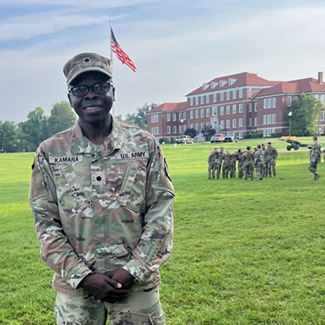 Killeen resident, Mamoud Baimba Kamara, 29, was born in Sierra Leon, West Africa, on the edge of his country bordering the Atlantic Ocean, almost 5,765 miles from his current home in Central Texas.
He shares his story with a calm reserve, a perspective literally pounded out of the dusty earth. He has witnessed what many can only strain to imagine: a war-torn nation, great beauty and even greater poverty, and the stark realities of existence.
He was young, he says, when civil war broke out. Although he cannot remember his exact age, he estimates that he was only three or four years old when his mother and he left their home and began their journey on foot, knowing full well what a risk it was.
Neighboring states were also under siege, and the conflict lasted 11 years. They moved around a lot, relying on local information warning of more chaos and potential violence.
"During those times," he notes calmy, "we stayed inside whatever shelter we could find. Going outside was too dangerous and randomly warring military operatives were everywhere."
Somehow, Kamara has retained valuable memories. The home he lived in before the onset of war in Lungi Town, a small community of not more than 1,000 people. The city, close to the Atlantic Ocean, and the people, who tried to make a living from fishing. Some worked at the local airport or accessed a ferry to Freetown for employment.
There, in that community, he remembers, there was no electricity, no paved roads or anything passably sufficient for automobiles, but there were few, if any, automobiles. The majority of those who lived there were mobile only in the sense that they were capable of walking. The fortunate might have a bicycle.
The home he and his two older brothers had been born into, he remembers, was made entirely out of clay and whatever roughage could be found and pounded into blocks and assembled into four walls. There was a zinc roof, windows framed in with local wood, no indoor kitchen, and no toilet except the outdoors.
His mother, like many of the women in the community, survived by baking and selling a local bread he called "thamie." Others worked the local markets, offering peanuts, ghee, salt, fish, onion, and casaba leaf – all staples of their diet. But food was scarce, adding that he instinctively knew, waking up every day, not to ask for breakfast.
It would be somehow reprehensible to suggest that poverty of such magnitude is the source of motivation for education – especially when access to education was both sporadic and expensive. His mother was literally scratching a meager existence from the indifferent earth and was paying for the education of his older brothers. Kamara knew all too well that if he had a future of any kind, he would literally have to put his mind to it.
He attended a non-governmental organization sponsored school available only in the evenings. By day, he ran errands at the market and sold bread. When they left his home for Freetown, he completed six years of primary school, learning English, and thriving amidst the decades of conflict.
At every step, he said, he had to compete for access to the next level of education, taking the required government exam for placement. He made the highest grade awarded which allowed him to attend the Prince of Wales High School, and after more subsequent exams, access to university.
He had wanted to major in STEM, he says, and selected his university of choice, this time stopped by the expense. He chose an alternate college, where his brother also studied, waited a year for an opening, and rather than wait, he opted for agricultural engineering.
He had completed his second year, he says, when his brother told him about the VISA lottery – an opportunity for a chance to enter the United States and become eligible for citizenship. His friend, an instructor at a local computer school in Freetown, had a computer. They sat together, filled out the application, attached his picture.
From October of 2017 to May of 2018 he waited. He considered how many other candidates were waiting unknown but alongside him, their life's stories, their unspoken wishes for the future, and it raised within him a quiet but resolute conviction. If chosen, he would repay his adopted country with service. He would make himself a worthy citizen, in every sense of the word. So, once again, he sent his prayers to God and waited.
He was in his regular university routine, in between classes, when his phone rang. His friend had the access to the code that held the answer on the website. He had checked it, and he had news. Life changing news.
"I dropped to my knees when he told me that I had won," he said, "I called my cousin and asked him to buy me the ticket to fly to the U.S., and he agreed, explaining to me what I would do once I arrived there."
In August, 2018, Mahmoud arrived in Maryland. And without missing a beat, he followed his cousin's instructions. He got his state-issued ID card, he went to Prince George Community College to look into the possibility of enrolling, and he met his cousin's friend, who referred him to an Army recruiter. There, the recruiter explained everything, estimating that it would take a year after taking and passing the ASVAB before he could complete the other requirements to join the military.
Maybe another man would have taken advantage of the time in between. Not Mahmoud. He had reached for the VISA not just for himself, but for his family. He found a job at a grocery store retrieving carts, and when those hours weren't enough, he worked for FedEx as a package sorter, taking the bus in between the two jobs. And before he bought anything for himself, he sent money home.
By January 2019, he heard from the recruiter. And before he knew it, he was at MEPS, assigned to 91Echo as an allied trade specialist. He completed basic training at Fort Jackson. Graduated AIT at Fort Lee with the highest marks of all the graduates. It was there, he said, he met two mentors. Both wanted him to pursue the Army's Green to Gold program.
Given the chance to select his duty station, he requested Fort Hood – now Fort Cavazos – because, he admitted, one Maryland winter had been more than enough. But it was a lucky choice. There, opportunity found him again.
He had passed his citizenship test in August of 2020, and began completing his application for the Green to Gold program – all while performing his duties as an enlisted man. And he followed the direction of his company leadership meticulously.
He enrolled in Fast Class training, raising his original GT scores from a modest 87 to an impressive 131. He endured the interruptions to his courses when COVID hit, and the education center remained closed.
Given the long road that he had already endured, the years spent on competing for and earning everything he had, it might surprise no one if he might have elected to just stop in his tracks.
And just when he thought he had momentum, the chain of command changed. Just when he thought he was on the verge of being accepted into the Green to Gold program, he had to convince an entirely new leadership of his worthiness for consideration as an officer candidate.
There was a mission, he said, the details of which he withheld for security reasons. But the same leadership he needed to impress was looking for volunteers, and it was mission critical.
Where others in this context may have only seen the obstacles or may have used those obstacles as the rationale for laying low in resentment or even given up altogether, Kamara saw something different.
He had pledged to himself to give the full measure of service to his country, not just for his own sake, and this was the chance to do both. He asked his leadership, point blank, if he volunteered and completed the assignment, they would consider his candidacy for the Green to Gold Program, as his predecessors had. The rest, as it is often said, is history.
In 2022, he became an official ROTC cadet, a CIS major in the College of Business Administration, and a candidate for commissioning as a second lieutenant in the Spring of 2024.
Today, his days are as rigorous as his previous life: he is up before dawn, getting ready and out the door before the sun rises. On any given day, he is sure to be in training of some kind. Hiking with the company from the university to nearby Bald Knob. Competing in physical training on the obstacle course, assembling for any number of training exercises, or in classes, pouring over assignments in the library, putting in hours in a part-time job, or going home to spend all of his available time with his wife, Fatmata Kabia, 30.
Major Kyle Surridge, Assistant Professor, Military Science, has noticed in Cadet Kamara what others, too, have noticed, and freely expresses his pride for him, praising him for everything he has done – including his original decision to heed the advice of a family member who directed him into military service to his adoptive country.
"Cadet Kamara is a tremendous leader," Surridge said. "His life experience brought a whole new perspective to the program and his fellow cadets. His resiliency in the face of challenges and his persistence to accomplish his dream make him a standout student. I'm extremely proud to have him in our program and for him to earn his commission from the A&M-Central Texas Army ROTC."