Jonathan Petty
September 6, 2023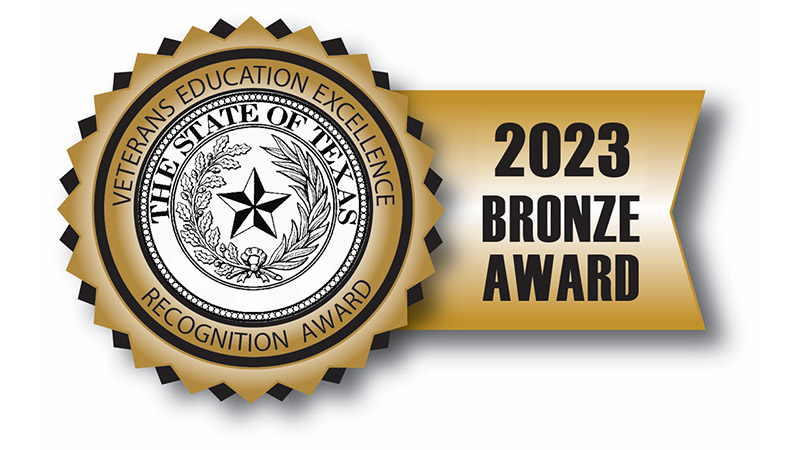 The Military and Veteran Services office at Texas A&M University–Central Texas was recognized by the Texas Veterans Commission with the Bronze, Veterans Education Excellence Recognition Award (VEERA).
Established by the Texas State Legislature, the VEERA program recognizes public colleges and universities for excellence in providing education and related services to veterans and the military-connected community.
Joshua Missouri, director of Military and Veteran Services at A&M–Central Texas, said the committee reviewed the university based on programs and workshops offered, processing of benefits and number of military-connected students served. A&M–Central Texas offers opportunities for service members and their families to connect with the university and other students through workshops and programs designed to ease the transition to university and civilian life.
"We also have events like our Fun Run (scheduled for Sept. 9) that help generate camaraderie and cohesion among student service members and veterans," Missouri said.
While he is excited about the recognition, Missouri said there is still a lot of work to do to help service members and veterans better understand how to use the benefits associated with their military service.
"They've earned these benefits," he said. "They've done what's necessary to receive a fantastic education, so why not take advantage of it? We hear all the time how expensive it is to go to school. The service members, who have already served and made tremendous sacrifices, have benefits that can tremendously reduce the cost of education."
Missouri, a former petty officer in the United States Navy, understands the challenges associated with transitioning to civilian life. He said many of the programs offered help veterans not only take advantage of their educational opportunities, but also make the change to civilian life once their education is complete.
"Life after service is still very challenging," he said. "We understand that after these folks have worked really, really hard to get their education, they are looking for something on the outside as far as their occupation."
Missouri said A&M–Central Texas continues to research new ways to create and promote opportunities for veterans and service members to contribute to their families, communities and country.
For more information on educational opportunities for service members, veterans and their families at A&M–Central Texas, visit tamuct.edu, call 254-519-5423 or email va@tamuct.edu.