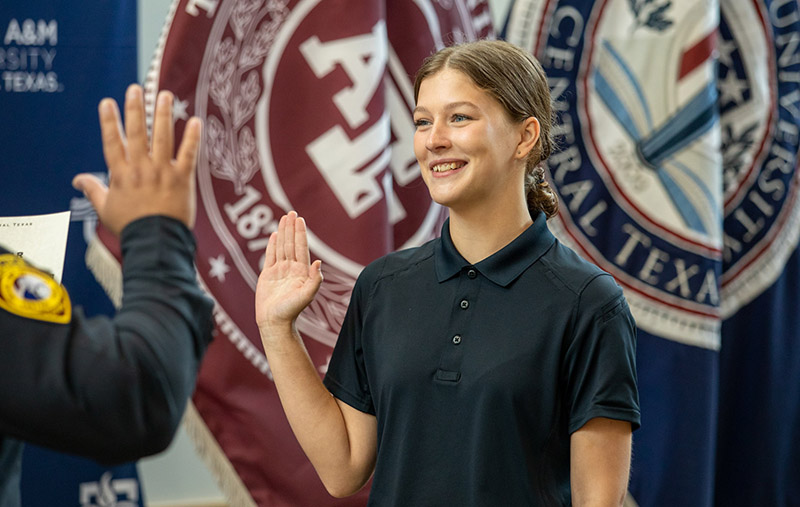 Communications Officer Phyllis Shaffer

---
In the summer of 2022, Officer Phyllis Shaffer assumed her new role as Communications Officer at the Texas A&M University-Central Texas University Police Department (UPD). She has moved quickly through their ranks, all while studying at A&M-Central Texas to earn her bachelor's degree in criminal justice.
When she first thought about working with the UPD, Shaffer was drawn in by the strong emphasis officers put on building relationships on-campus. After shadowing others in the department as an intern, she found that to be true.
"They care more about taking care of the community and making sure the community has everything that they need to feel safe and secure on campus," she said.
From there, Shaffer was offered a more formal position at the university, working as a security officer. The job came with many exciting things to get used to.
"At each level of law enforcement, you're given more authority or more access to certain things you need to complete for the department… As a security guard I was more learning about how to do building checks and keep the buildings safe," she said.
After her recent promotion to campus communications officer, Shaffer once again finds herself learning new things on the job. Her role requires her to coordinate communication with officers around campus, ensuring that everyone is safe and making sure they have the information they need.
"Working as a communications officer brings on a whole different level of police work," she said.
Shaffer spoke about how deeply she appreciates the things that the UPD has done for her as a student working towards a career in criminal justice.
"The UPD has given me opportunities to work my way up and have more success in the police department…. they took me in like I was one of their own," she said.