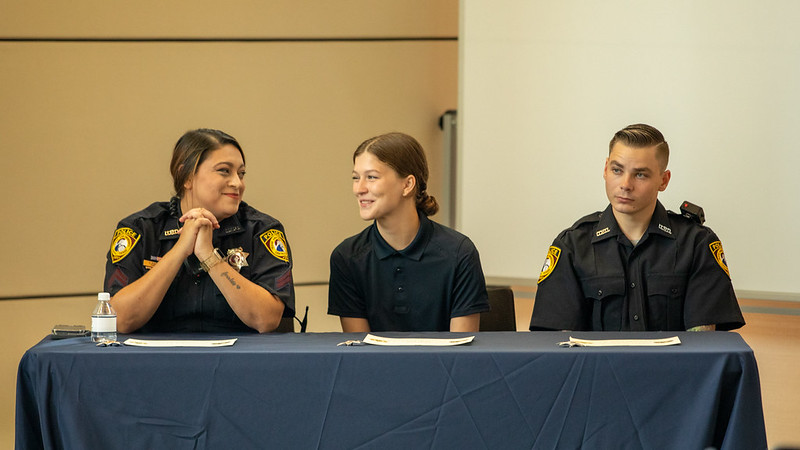 Officer Omayra Pintado, Communications Officer Phyllis Shaffer and Officer Kyle Gottschalk.

---
Two officers were sworn in, and another promoted during an official ceremony conducted by the Texas A&M-Central Texas University Police Department Monday afternoon in the Bernie Beck Lecture Hall on the A&M-Central Texas campus.
Security Officer Phyllis Shaffer of Killeen and Kyle Gottschalk of Dallas took the oath of office during a swearing-in ceremony, committing to protect and serve the community to the best of their abilities by the standards and laws of the state.
UPD's student-to-career pipeline came to life with Shaffer, who transitioned from department intern to security officer, and now has been promoted to police communications officer where she will be working at the University Welcome Center.
"She did a great job in the security officer position. She's detailed oriented, very attentive and always looking out for our students, faculty and staff," said Chief Andrew Flores.
Shaffer's duties will include in-house dispatch, overseeing keys and the University's camera security systems.
Gottschalk is UPD's newest patrol officer. He will ensure safety and security of the campus through various patrol duties and engage with the campus community, building relationships with the people that UPD serves.
Officer Omayra Pintado of Puerto Rico received her corporal pin during the ceremony.
"Officer Pintado has exemplified what it means to be a great officer but also somebody who cares, who listens. Somebody who can take that task on. Somebody for people to come to," said Flores of Pintado's strengths as a leader and community servant.
Pintado will continue her work organizing community events and overseeing the University's Texas Police Chiefs Accreditation program and operations division of the police department.
"I have been in law enforcement for eight years and I have an opportunity to mold and shape law enforcement on a small scale here. My goal is for these positive changes to disperse outward and change the perception of law enforcement and show we really want to help the community," Pintado said.