Bernadette Serna
November 16, 2023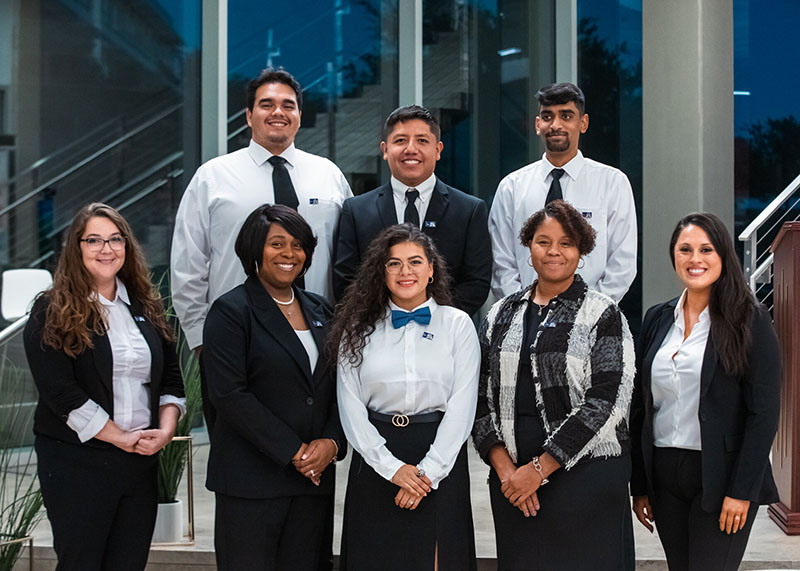 Texas A&M University–Central Texas' inducted 11 charter members to the Alpha Alpha Alpha (Tri-Alpha) honor society on Wednesday, Nov. 15, 2023. The first members of the newly formed chapter are: Falon Summers, Amanda Mchugh, Jaykumar Bhakata, Antonio Sandoval, Robinette Phillips, Lindsey Jackson, Roshunda Reagans, Shiara Velo, Noemi SaDiablo, Cheryl Scott and honorary inductee Dr. Anthony Fulmore.
Tri-Alpha is a nationally recognized first-generation honor society. A first-gen student is a student whose parents did not complete a four-year college or university degree, regardless of other family members' level of education.
The keynote speaker Command Sargent Major Jimmy Rush of the 2-395 Brigade Support Battalion, 120 Infantry Brigade, a first-gen student himself, spoke encouragingly of this chapter being trendsetters and role models. He also reminded them to remain teachable but also serve as a mentor to others.
"It took a village to raise me. It took teachers, coaches, and mentors to mature me. The Tri-Alpha chapter is the symbolic handshake from the 'village' of teachers, coaches, and mentors signifying 'I will take it from here,'" Rush said.
Chastity Gaddy, chapter advisor and access and accommodations coordinator said the merit is a distinct recognition that is not easily earned.
"Undergraduates are maintaining a 3.2 GPA, and our graduate students are maintaining a 3.5, which means they are excelling, even facing the barriers of being a first-generation student," she said. Velo, a social work senior, recalls the turmoil of coming to the United States from Honduras via Mexico.
"At 10 years old I came by myself to live with my dad. My mom is still living in Mexico, we've been separated for some time but it's worth it in the end. She always knew I was going to go to college so, she's very happy," Velo said.
Her mother's assurance and guidance from a high school counselor helped Velo overcome any doubt that a college education was obtainable.
"My high school counselor helped me so much. She also spoke Spanish and helped me understand what I needed to do to graduate from high school and what colleges I could apply to," Velo said. A&M–Central Texas Tri-Alpha members are now a distinct "village" who will provide mentorship for those facing some of the very same challenges they once faced.
Tri-Alpha member criteria:

The student has earned at least 30 credit/semester hours (or 45 quarter hours) towards an associate degree or baccalaureate degree (including half-time) AND
The undergraduate student has achieved an overall undergraduate GPA of at least 3.2 on a 4.0 scale. (For schools using a pass, high pass, etc. system, a "high pass" average is required.)
Neither of the student's parents, nor stepparents, nor legal guardians, completed a bachelor's degree (or, for students at a community college, the parents did not complete an associate degree)
Graduate students who are first-generation students can be admitted if they have completed the equivalent of at least one term of study (9 or more graduate credits) and have a GPA in their graduate program of at least 3.5.  NOTE:  The executive board voted to change the GPA requirement to 3.5, but now allows for part-time students in graduate programs to be admitted. For schools using a pass, high pass, etc. system, a "high pass" average is required.