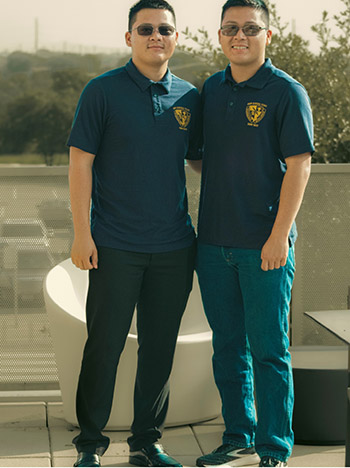 Donovan and Jerevon Torres have always had the same goal: to make their mother proud. They saw her persevere as a single mother, be the first in her family to attend college, and move her entire family from Saipan to the United States for a better life.
The Torres Twins, as many on campus kindly call them, say they are on their way to achieving that goal and so much more.
The close-knit family comprised of the twins, their younger sister, and their mother have considered Texas home for the past eight years. The twins and their sister are so close in fact, two weeks in the year the three of them are the same age. Donovan mentions that he is the eldest – by one minute over his twin.
At first glance, the twins may seem indistinguishable but after spending some time with them Donovan can be described as a conversationist, while Jerevon is more reserved. Their peers would say both are down to earth and gregarious.
While attending Early College High School their interest began to differ. Jerevon's interest in computers grew. Donovan began to enjoy the outdoors and volunteering. Their dichotomy became evident not only in their hobbies but also in their future plans.
Following high school graduation, their life's journey came to a fork in the road. Donovan opted to attend Texas A&M University at College Station. Jerevon chose to stay close to home and attend Texas A&M University–Central Texas.
Donovan found that additional prerequisites were needed at College Station and after one semester there, Donovan joined Jerevon and transferred to TAMUCT. While having his twin here was nice, the deciding factor was that he was able to apply the college credit he earned at ECHS towards his degree at TAMUCT. This will allow him to graduate at the same time as his brother and save him money.
"The University offers more independence in making sure you only have to take the classes you need," Donovan said.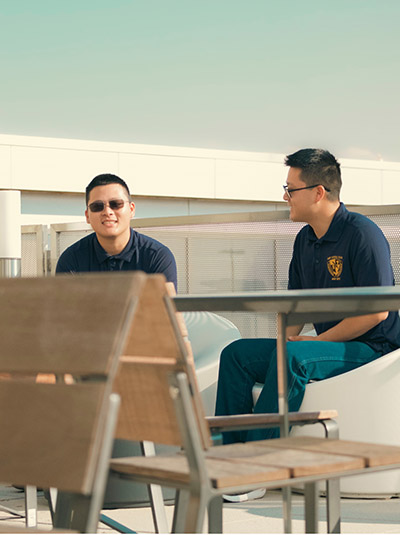 Donovan is working towards his Bachelor of Science degree in criminal justice with a focus on forensics, while Jerevon is pursuing his Bachelor of Science degree in computer information systems with a focus on cyber security.
Although they are in different academic programs, the Torres Twins are both in the Reserve Officer Training Corps (ROTC), a program that allows students to become commissioned officers upon graduation.
Assistant Professor of Military Science Major Kyle Surridge continues to be impressed with their unwavering positive attitudes and the success they have achieved in TAMUCT's highly reputable ROTC program.
"The twins are a package deal," Surridge said. "What sets them apart from their peers is how hard they work. They came to the program without prior military experience."
Surridge notes that about 95% of TAMUCT's ROTC participants have military ties.
"They came in as civilians and that can be intimidating. But (the twins) are happy to be here," Surridge said.
Jerevon recalls a time when their captain called on him to answer a question in class but looked to Donovan for an answer. In a case of mistaken identity Donovan was on the spot and answered the question.
"That's a plus of being a twin. I knew the answer, but he was right there," Jerevon said laughing. It's evident they play off each well.
Donovan cheerfully confirms, "If you call on a 'Torres' one of us will answer."
It can't be denied the twins have a special bond but like most siblings' relationships, they don't always complement each other.
"I guess its siblings being siblings, but there are times when we annoy each other," Jerevon said. "Throughout our lives we've had to share stuff. And our mom made us match because she thought it was cute. But we grew out of that… being the same."
The Torres Twins are on pace to graduate Spring 2023 and will be commissioned as officers in the Army. When asked if they were looking forward to that, they said in unison, "I am."
"We're excited to start working because it's been 21 years of going to school," Donovan jokes. After graduation they will head to training for their respective Branches of the Army. Donovan will be joining the Signal Corps and Jerevon will be joining the Quartermaster Corps.
Both are ready for the change.
"Being in College Station taught me to be more independent and I like that independence," Donovan said. "I like being myself and doing what I want to do…Being with friends and family is two different settings."
"I haven't fully experienced being independent," Jerevon said. "I'm looking forward to that."
The Torres Twins share the aspiration to make their mother proud. They plan on doing so with their work ethic and the inspiration they find in each other and their family.
"We motivate each other. We have the same challenges and getting through it together…" Donovan said.