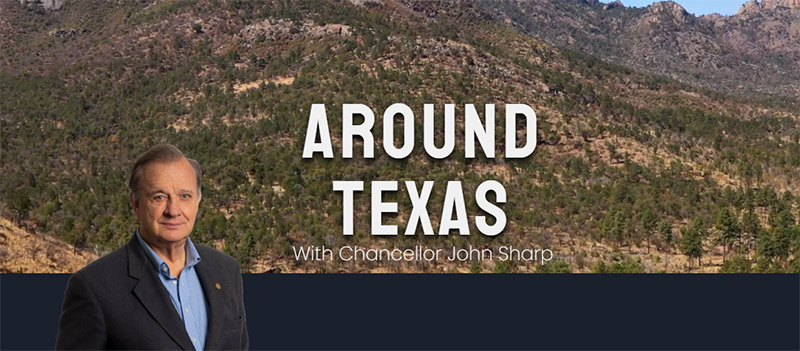 Chancellor John Sharp of The Texas A&M University System is coming to living rooms all around the state.
Around Texas with Chancellor John Sharp will appear in 18 media markets across Texas (and one in Louisiana) when Season Three of the show premieres in the first full week in October. Last year, the show aired in eight Texas markets.
"The more we can share our stories about the cool people and interesting initiatives of the Texas A&M System, the better," Chancellor Sharp said. "It is a real privilege to showcase how much the Texas A&M System contributes to our great state."
Each episode in the 12-show season includes two segments and two in-studio interviews with the chancellor and a guest.
This season includes stories about: Robert Earl Keen, who graduated from Texas A&M in 1978; a former graduate student from Texas A&M who had to be snuck out of Afghanistan because the Taliban wanted her dead; a sea turtle rescue program; a dance instructor from Texas A&M-Corpus Christi who had to re-learn how to walk and how to teach dance after an accident in the surf; a former NASA scientist who is now teaching students about robots; and the challenges of being on the front lines of wildfires.
For a weekly schedule, already-aired episodes and more, please visit https://www.sharparoundtexas.com.