By Bernadette Serna
March 30, 2023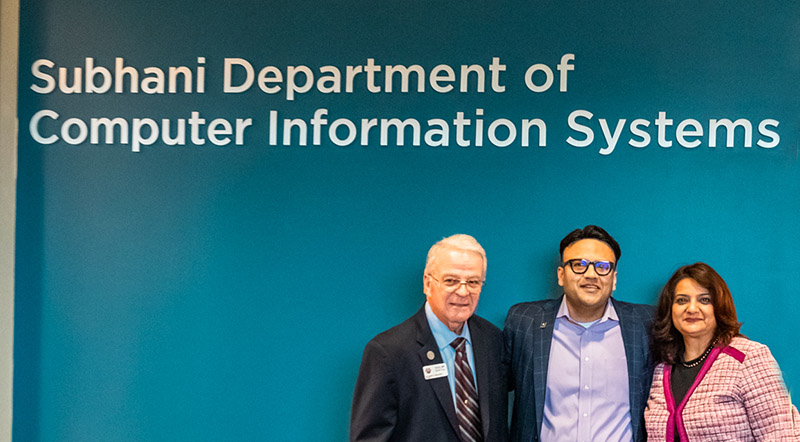 From left: University President Dr. Marc Nigliazzo, Abdul B. Subhani, Dr. Faiza Khoja.
Texas A&M University–Central Texas held a ceremonial ribbon cutting Thursday afternoon to name its fast-growing computer information systems department after local technology savant and entrepreneur Abdul B. Subhani.
Over 100 attendees celebrated the renaming and recognized Subhani's commitment to the community. The Subhani Foundation set up an endowment fund in honor of its founder Abdul B. Subhani for the naming of the Department of Computer Information Systems.
Subhani's efforts to leverage Central Texas' potential for technology and science growth began when he was a faculty member at his alma mater Central Texas College and Texas A&M University–Central Texas (formerly Tarleton State University).
He went on to found Centex Technologies, an IT Consulting Company, in January 2006 and the Subhani Foundation in March 2010.
Subhani continues to further computer science initiatives with endowments to the university to cultivate and support education and research.
The honor of having the department named after him is one of the highest levels of recognition a university can give and is one that is well deserved according to University President Dr. Marc Nigliazzo.
"Even with all his responsibilities in his new positions, Subhani never forgets about home, the region, or this University. He always gives back and the community benefits from that," Nigliazzo said. "He knows (the University) history first-hand. He has and continues to assist us in shaping the future of this University. His first comments are always 'How are we doing? And what can I do to help?'"
While in high school Subhani saw the importance and rapid growth of the computer science industry. Eager to join a growing field and with a love of computers, he pursued his passion, although he was the only one in his family not in the medical or engineering field. The naming of the department is what some might call a "full-circle moment" for Subhani.
"It means a lot that the foundation proposed and approved the endowment fund for the CIS department. I was an international student from Pakistan and had the opportunity attended community college here at Central Texas College and then worked hard to earn my CIS degree from Texas A&M-Central Texas. That is why I feel so connected to Texas A&M University – Central Texas, it will always be a part of my life," Subhani said.
It is also the first time a department has been named after anyone in the history of the university, noted Dean of COBA Dr. Faiza Khoja.
"Not only is Mr. Subhani an alum of Central Texas but he also taught in the CIS department. For us it's about building on the foundation, not only of the college but of the department.
One of the College's goals is to develop a talent pipeline for the region and to provide opportunities for social and economic mobility to first generation students. This endowment is going to support all of that. So, it's special for us," Khoja said.
Khoja added that the endowment includes a faculty fellowship to fund research in areas like information systems, information technology and cyber security. It also provides students the opportunity to take an active role in the research, expanding on their classroom knowledge.
Dr. Abhijit Nag, assistant professor in the CIS department, was awarded the Ruqayya Faculty Fellowship. The fellowship will fund professional development and research. "The college has built up momentum and I would say that part of the credit goes to Mr. Subhani for introducing us to his social and professional network and being generous with his time and resources," Khoja said.
Subhani also serves as a Cabinet Member of the Chancellor's Century Council of the Texas A&M University System, Chairman of the foundation board for Texas A&M University – Central Texas, Chair-Elect of the Austin Community College Foundation Board, as Civilian Aide to the Secretary of the Army for the Capitol Region of Texas and he is a member of the Yale School of Management Chief Executive Leadership Institute's CEO Caucus. He was recently named as the Distinguished Chair of Innovation and Strategic Engagement for the United States Military Academy.
"This is the first of many naming opportunities for this amazing university. I would like our community members and other promising donors to please look at the great job our faculty and staff is doing here," he said. "Dr. Khoja and computer science department faculty are advancing forward in areas like cybersecurity and data analytics. My hopes are that the department will become one of the largest departments in the Texas A&M University System."