By Karen Clos
February 7, 2023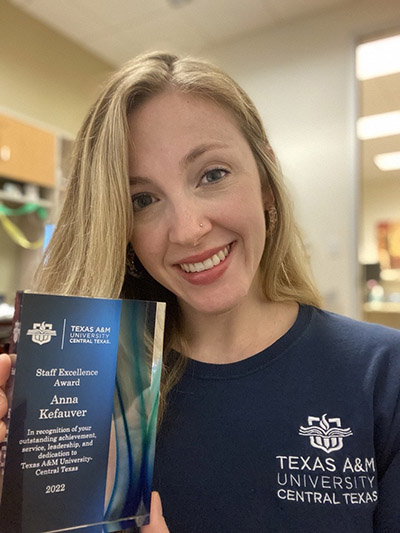 Staff Enrichment Award award winner Anna Kefauver.
A&M-Central Texas recognized 12 University employees at 2023 Spring Convocation.
The awards, designated for Staff Enrichment and Distinguished Supervisors, were made possible by generous donations from the Beck Family and the Yowell Family, allowing the University to recognize their achievement with a plaque and modest monetary award.
The awards, recipients, and their respective departments are as follows:
The Staff Enrichment Award was received by Michael Coolbaugh, Information Technology; Estefania Eiquihua, University Library; Jeffrey Ferrell, Enrollment Management; Brittany Graham, Business Affairs; Yvonne Imergoot, College of Arts and Sciences; Anna Kefauver, Human Resources; Natisha Johnson, Enrollment Management; Patrice Taylor, College of Business Administration; Jamie Wiatrek, Student Affairs; and Caroline Williams, Enrollment Management.
The Distinguished Supervisor Award was received by Dr. Faiza Khoja, Dean, College of Business Administration and Dr. Caroline Norris, College of Education and Human Development.
Tina Flores-Nevarez, Executive Director of Human Resources and Payroll applauded the awardees for their recognition, noting that each had made significant professional contributions to the University and its students.
"Our culture at the University is very important to us," Flores-Nevarez noted. "We are very proud of all of our employees for how much they demonstrate their care and commitment to our students, their academic goals, and individual aspirations."