Bernadette Serna
November 8, 2023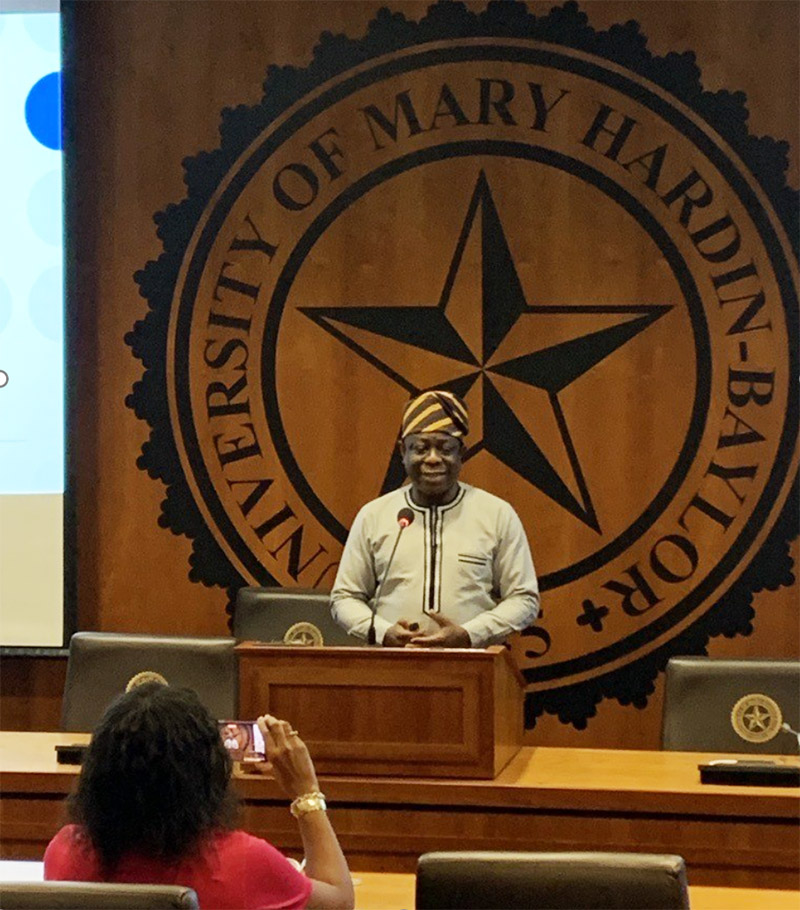 Dr. Babatunde Sawyerr, Texas A&M University–Central Texas' inaugural Fulbright Scholar in-residence and artificial intelligence expert, shared his experience and future initiatives during a talk he gave Tuesday, Nov. 7 at the University of Mary Hardin-Baylor.
Sawyerr introduced his rich Yoruba tribe culture and spoke with great pride of his educational and professional journey. Giving insight as to how the collective of his upbringing has shaped his career, he made it a point to wear his fìlà gọ̀bì, a traditional Yoruba cap, in his high school colors, maroon, gold and blue.
Methodist Boys High School, Lagos has a unique tradition of excellence, Sawyerr said.
"High school prepared us for the future, so we cannot forget our alma mater. The motto for the school is 'Non Sibi Sed Allis. Not for us, but for others."
This motto has set the tone for his teaching and research. Specializing in AI, machine learning, and designing algorithms that are biologically inspired, much of his work is to help others.
"We were taught to give our best to the service of the society and the world at large," Sawyerr said.
He is currently teaching a course on optimization methods at A&M–Central Texas and working with Dr. Christopher Thron, associate professor of mathematics, to optimize scheduling using deep neural networks, that has potential to solve many real-world problems, for example scheduling several computer jobs to a certain number of servers for execution.
He noted the Fulbright residency allows him to globalize his work through partnerships. During his time in Central Texas, he hopes to share with others more about the Nigerian people and culture, Lagos state and Nigeria, his partnership with A&M–Central Texas and how he can contribute his expertise to those conducting research.