By Karen Clos
May 9, 2023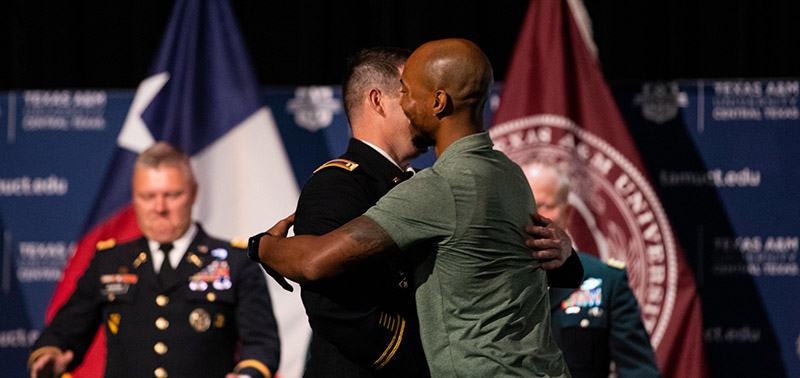 Texas A&M University-Central Texas will celebrate the commissioning of 26 new U.S. Army second lieutenants in a Commissioning Ceremony, Friday, May 12, at 10 a.m. at the Killeen Civic Center.
Maj. Gen. Christopher G. Beck is the Deputy Commanding General of Maneuver for the III Armored Corps and is the keynote speaker. Beck received his commission from the U.S. Military Academy at West Point in 1993, graduating with a bachelor's degree in civil engineering. He holds his master's degrees from University of Missouri for Science and Technology in engineering management, from the University of Illinois Urbana-Champaign in structural engineering, and from the U.S. Air Force War College in strategic studies.
Cadets will take the oath of office, affix their new rank, and offer the time-honored traditional silver dollar salute. Cadets to be commissioned are as follows:
Kyannah Alexander
Virginio Arroyo
Kingsford Asare
Justin Begin
Juan Benitez
Alec Brinkman
Tyreek Brown
Richard Cofell
Ronald Colin
Edwarth Espinoza
Brianna Gowans
Andres Gutierrez
Daniel Hanchett
Jacquay Jackson
Laroyce McNeal
Sharell McNeil
Christian Montero
Luis Ortiz
Amanda Retherford
Angel Serrato
Amire Smith
Kealani Smith
Musiliu Taiwo
Donovon Torres
Jerevon Torres
Lauren West
Major Kyle Surridge, assistant professor of military science, noted that A&M-Central Texas cadets have excelled among other ROTC programs nationally, routinely earning rankings among Distinguished Military Graduates in the top 10 percent.
Program statistics indicate that past years' cadets earned Distinguished Military Graduate status, ranking in both the top 10% and top 20% of ROTC cadets nationwide. The A&M-Central Texas ROTC program has produced a total of 286 newly commissioned second lieutenants since its inception.
Following their commissioning on Friday morning, cadets will also receive their degrees at the 2023 Spring Commencement, Saturday, May 13, at the Bell County Expo Center at 3 p.m.