By Bernadette Serna
May 15, 2023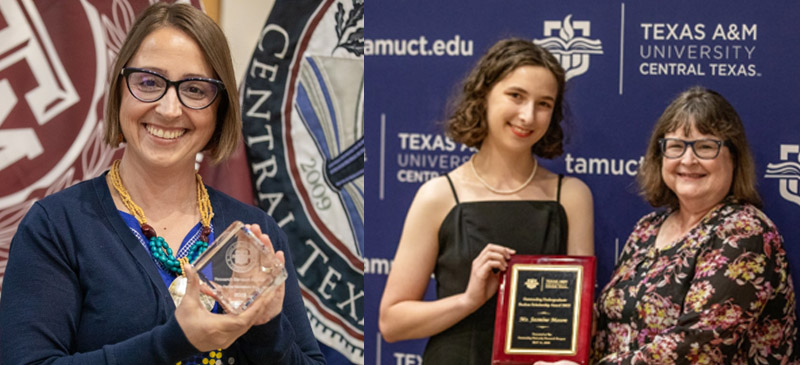 Left: Dr. Denita Hadziabdic Guerry, Fulbright U.S. Scholar Alumni Ambassador. Right: Jasmine Mason was presented the Outstanding Undergraduate Student Scholarship Award by Associate Provost Dr. Kellie Cude
Research and innovative scholarship were celebrated, and students, staff, and faculty were honored for their achievements at the 11th Annual Outstanding University Research and Innovation Banquet, Thursday, May 11, at Texas A&M University–Central Texas.
Since the inception of the event there have been 657 nominations with 204 finalists said Vice President for Research, Economic Development, and Innovation Dr. Russell Porter.
"All nominees and finalists are really winners unto themselves for the outstanding research scholarship and innovative ideas they represent," Porter said. "Moreover, the award winners represent the best of the best of those nominees and finalist winners. In the past 10 years award winners took home their finalist certificates, plaques, and a combined total of over $77,000 in award winnings."
This year's winners were:
Outstanding Faculty/Staff Qualitative Scholarship Award – Dr. Shelly Harris and Dr. Lisa Bunkowski
Outstanding Faculty/Staff Quantitative Scholarship Award – Dr. Lisa Bunkowski
Warrior Innovation Staff Award – Information Technology, Gail Wallin and Michael Coolbaugh
Outstanding Undergraduate Student Scholarship Award – Jasmine Mason
Outstanding Graduate Student Scholarship Award – Sue Sitton
Outstanding Graduate Student Thesis Award – Gwenda Anderson
The Fulbright Program was also highlighted during the banquet with the evening's keynote speaker Dr. Denita Hadziabdic Guerry, Fulbright U.S. Scholar Alumni Ambassador. A&M– Central Texas' Fulbright scholar Dr. Christopher Thron, and Guerry spoke of the professional and personal growth they have experienced through the Fulbright program. Although difficult to obtain, Thron has been awarded four times. The Fulbright Program is the flagship international educational exchange program sponsored by the U.S. government and is designed to increase mutual understanding between the United States and partner nations, share knowledge across communities, and improve lives around the world.
Dr. Babatunde Sawyerr was introduced as the Fulbright scholar A&M–Central Texas will be sponsoring during the Fall 2023 semester, with the support of the Division of Research, Economic Development, and Innovation. Sawyerr is currently a research lead and senior lecturer in the computer science department at the University of Lagos.