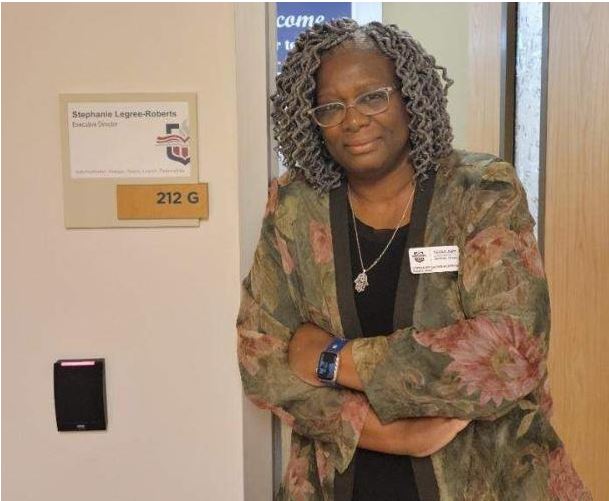 To those around her, Killeen resident Stephanie Legree-Roberts, 53, is a vibrant, intelligent, composed woman. Well educated and professional, Roberts recently became the executive director of the Warrior Center for Student Success, Equity, and Inclusion at Texas A&M University-Central Texas.
Before coming to the university, Roberts had made a career at Central Texas College, spending almost two decades as a counselor, an international student coordinator, a grant manager, a director of student success and persistence, and a dean of institutional accountability.
Her story, however, is much, much more than what she has done professionally or even what she has personally endured. The greatness of her story lies in the indefatigable spirit of a girl child, unwilling to give up on herself and embrace her own belief that she was more than the circumstances she was born into.
"It is 100% true that education saved my life," she began, outlining the way she came to be where she is now.
Her words are delivered from a place of thoughtful composure, punctuated by an easy but infrequent smile pouring forth like water from a fountain, as if she might be describing someone else's story. Her testament to persistence spilled slowly from her lips and hung in a dreadful brilliance of the occasional silence as she moved from one memory to the other until the story was told.
The eldest daughter in a family of five, Roberts grew up in a hard scrabble New Jersey neighborhood less than five miles from Atlantic City. Her father, a machinist with a plastics company, kept a roof over the family's head, but their existence was marred with violent physical outbursts, alcohol, and the residual fear that accompanies lives that are lived on the edge from one day to the next without reprieve.
Her mother, Viola Butler, also worked — at first a variety of part-time jobs until finally taking on a full-time position in the uniform laundry department of Bally's Casino, manning the midnight to early morning shift.
By the time she was in high school, Roberts followed suit, taking on multiple part-time jobs to supplement the family's income. There was, she remembered, no time for the traditional festivities of high school; there was, in fact, little time to focus on schoolwork or even the prospect of graduation.
By her senior year, she could feel herself succumbing to the pressure of not just her own survival, but the survival of a chronically ill sibling and a sister yet too young to be of help. She was, she admitted, unable to see beyond each day's set of unending challenges — with one exception.
"There was this bulletin board at school where colleges and universities hung their recruiting posters, and you could tear off an inquiry card, fill it out and get information," she explained.
The one from Pace University caught her eye, and she filled it out, dropping it in a mailbox, and returning to the relentless routine of work and school.
She cannot say from where the urge to get her undergraduate degree came. No one she knew — in her family or out — had ever earned a degree.
But in no time, there it was, the Pace University catalog. Unusual, isn't it? How something as unextraordinary as a university catalog can make of itself a lifeline?
Roberts laughed softly as she recounted the weeks and months that she carried it with her wherever she went, sometimes in the crook of her arms or held to her chest atop a stack of neglected textbooks, and browsed through the program descriptions, imagining herself – somewhere else.
"That catalog meant something to me," she said. "It's hard to explain. To this day, I can't account for how in the world I thought I could make it to college when I was barely making it through high school."
She was, she remembers, emotionally and physically exhausted. Of course, she was. There are only so many hours in a day and only so much one young person can carry. In the wildly chaotic space that was her life, she hung between the irreconcilable demands of survival and education like a captive acrobat on repeat — forever swinging between twin trapezes of fate and future.
Eventually, she lost her grip, she says, but to her credit, she refused to give up even after dropping out of high school. Still working multiple jobs, she earned her GED, picked up a pen, wrote a letter of admission to Pace University, and was accepted into the university's psychology program.
"I remember moving in, and thinking, 'I am so different from everyone else," she confessed, describing the ritual new student orientation as if she had somehow found herself misplaced inside a collegiate version of a Norman Rockwell painting.
"Everyone else was with their parents, chatting excitedly, and saying tearful goodbyes to family," she said stoically. "And there I was, carrying a coat that I had packed in a pillowcase, wondering how I was going to afford to buy sheets for the bed."
Her mother was not there to help her move in, to write a check for tuition, to offer a credit card for expenses, or even to praise her daughter for accomplishing this gigantic generational leap forward.
She was not there because she could not be. And it was nothing as innocuous as the inability to afford travel or a demanding work schedule. Her mother could not be there because by the time Roberts had first put her foot on campus, her mother had been missing for two years.
Unless a person has experienced the gut-wrenching ache of a missing loved one, she says, they cannot begin to understand the irreconcilable pain. In the days and months that followed, she and her siblings had been forced to live with the man they believed to be responsible for their mother's disappearance and, most likely, her death.
How she managed to persist under these circumstances defies the imagination, but to Roberts, there is a more fundamental explanation, rooted in the deep well of emotional bonds that exist between a mother and her child.
With every accomplishment, she says, with every forward step, she thought of her mother. Of course, she did. But one memory kept reoccurring to her. As a young girl, she had, one day, innocently asked her mother what she had wanted to be when she grew up. And her naïve inquiry was uncharacteristically and swiftly rebuked.
"I had asked such an innocent question," she remembered, her voice dropping by an octave and becoming quiet, as if somewhere in her childhood recollections, she was recapturing the connection they had once shared, despite the pain it caused in the present moment.
"She got mad at me, and told me I was being stupid," she confessed. "And I had run upstairs to my bedroom."
But she had not been content to stay there. Sensing her mother's pain, she cautiously descended the stairs only to be an unwitting witness to her sorrow. There her mother sat, she remembered, in a chair, crying.
And even her child's mind, she knew. Of course, her mother had at one time had hopes for her life. And none of them included an abusive husband, children she could barely feed or clothe, or a future as vacant as her hopelessness.
It was then, she said. At the tender age of 8, she bore witness not only to her mother's sorrow, but to her own sense of determination to accomplish something better, not just for herself, but as a way of allowing her mother to live through her.
Roberts finished her university degree with a laudable 3.4 grade point average, she says, adding that it wasn't a bad finish for a high school dropout who had been admitted as a conditional acceptance.
In the years that followed, Roberts once again deferred her own goals to provide a means of support for her siblings. She joined the U.S. Army, serving as an corporal and financial specialist, eventually becoming a medic. She met her spouse, Spc. Damon Roberts, marrying just before she had orders to be stationed in Vicenza, Italy.
Over the years that followed, she began to have family of her own, a son, Gryphon, and a daughter, aptly named, Phoenix. She has earned the things she once felt existed just outside her grasp: home, family, security, service, purpose, and finally, closure.
With the development of technology and access to answers that once may only have been possible by virtue of some degree of wealth, she and her sister had found a team of retired detectives, forensic specialists, and private investigators affiliated with a University of North Texas team of researchers who existed to solve missing persons mysteries.
What they discovered, or more precisely, what the team discovered, was that her mother's body had been found only a day after it had gone missing, in a non-descript alley in Harlem, strangled and discarded as casually as the mounds of refuse that lined the alleyway.
"We were told that during that time, and in that place, it was not uncommon to find dead bodies," she explained, but her countenance contradicted the context insufficient to merit understanding.
Viola Butler, who, at one point of her life, had hopes and dreams of her own, had not only suffered her husband's violence while alive, she had suffered the final indignity of being murdered at his hands, presumed derelict, and buried in an unmarked grave as a Jane Doe.
Still, beyond explanation, she would finally make herself known to her family.
A forensic photo had been created, Roberts said, and sent to her sister for possible identification by Websleuths and a website called The Charlie Project, a team of researchers and former law enforcement professionals with whom she and her sister were working.
The picture, they told them, had only been made possible when the field of unmarked graves where her mother had been buried had flooded. The city had recovered the remains, documenting them for possible identification.
Roberts and her sister knew it was their mother when each of them noticed a dimple just above her mother's upper right lip, somehow captured by the forensic image from nothing but her skeletal remains – proof enough, they agreed. Miraculously, Viola Butler had, at long last, been found and returned to her children.
Today, Roberts lives her life as if she were somehow guided by her, she says. All these years in education, working with students of all ages, nationalities, and backgrounds. Every problem she solves, every act of kindness she commits, and every heart she encourages lifts her heart up in joy.
"I know I have found my purpose in higher education," she says, nodding as the words leave her mouth unrehearsed and sincere. "I said earlier that education saved me, and it did. Now, my job is to make sure it has the same impact on every single student I meet."