By Bernadette Serna
February 25, 2023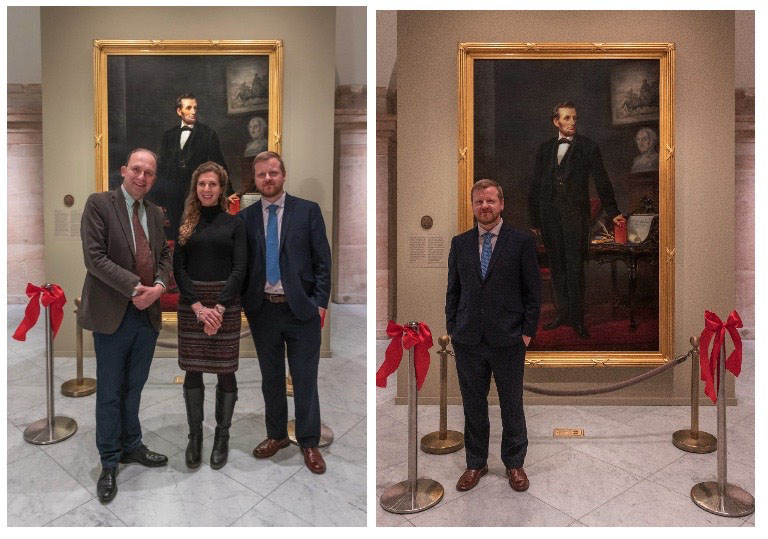 Lincoln scholar Ted Widmer, Curator of Collections Mallory Mortillaro, Assistant Professor of English Dr. Stefan Schöberlein. Photos courtesy of Joe Painter and the Hartley Dodge Foundation.
"O Captain! my Captain! our fearful trip is done…" begins Walt Whitman's poem about the death of Abraham Lincoln. Arguably one of Whitman's most popular poems holds little mystery about its subject or its author. Which is not the case in all prominent art that honors America's 16th president.
One couldn't have predicted that over 150 years later Whitman's interest in Lincoln would set off a chain of events leading Dr. Stefan Schöberlein to his Lincoln portrait research, discovering key facts about a mysterious painter and an overlooked portrait of the president preceded by fantastical stories.
The Texas A&M University – Central Texas Assistant Professor of English has focused much of his research on key literary figures, one of which is Whitman, but through the "Whitman grapevine," as he calls it, he found himself working with Lincoln scholar Ted Widmer. Together they applied Schöberlein's research methods to discover the forgotten history of the Lincoln portrait and its painter.
In the 1920s, the painting had ended up in the collection of Percy Avery Rockefeller, nephew of the famed John D. Rockefeller. In 1935, after Rockefeller's death, his sister donated a building to the town of Madison, N.J., in memory of her late son. The building became the town hall and for nearly 90 years, the 9-foot painting became a public fixture in the small town.
Not until recently did the foundation managing the art exhibits begin to work on cataloging the history of the many pieces in their collection. In 2016, its Curator of Collections Mallory Mortillaro, identified a bust of Napoleon as a work by master French sculptor Auguste Rodin. This discovery prompted the foundation to examine other artifacts displayed in the building such as the Lincoln portrait.
The US Senate and the House of Representatives had even debated purchasing the piece before Rockefeller acquired it, Schöberlein explained. The politicians argued the importance of the painting but bristled against the steep asking price. During those proceedings, close associates of Lincoln testified on the painting's behalf. The president's personal friend Ward Hill Lemon declared it the "most life-like picture of Mr. Lincoln that I have ever seen on canvas" and the only "real likeness of the man." "Lincoln had this glow to him," Schöberlein said. "He had this very specific expression on his face. And that's never really captured in photographs, but it's captured here."
Walt Whitman famously described Lincoln in his diary, "He has a face like a Hoosier Michaelangelo, so awful ugly it becomes beautiful with its strange mouth, its deep-cut, criss-cross lines, and its doughnut complexion."
Another striking aspect of the paintings are the symbolic elements purposefully placed around Lincoln. Washington is seen looking over Lincoln's shoulder representing approval, the 13th amendment abolishing slavery is present, as well as a physical representation of the Constitution being amended by pushing it against the 13th amendment. In addition to these emblematic objects, sits a figure of an enslaved person, ripping off his shackles.
Other, more subtle nods in the setting work in tandem, depicting the subject and painter's personal history, such a globe turned to show the Caribbean and Central America, and a copy of Emanuel Leutze's "Washington Crossing the Delaware."
What is striking, Schöberlein said, is that the creator of the piece "purposefully celebrated Lincoln as an emancipator. This painter grew up knowing what emancipation looked like, and he celebrated it."
Many theories have been discussed about the origin of the painter of the portrait W.F.K. Travers. Previous versions of his biography would have you believe that Travers was a German immigrant with a great sense of American patriotism, looking to fight in the Civil War but rejected because of a medical aliment.
But through Schöberlein's research, which involves recreating the historical lives of minor figures through an extensive and microscopic look at minor mentions of these individuals across archives, he learned that the painter Willem Frederik Karel Travers was no a German amateur but the son of a prominent Dutch diplomat.
"His family is from both sides of the Rhine River, from the Dutch and the German side," he said. The Leutze painting shown in the background was in fact painted in Düsseldorf, close to Schöberlein's hometown, and depicts the Rhine. "Travers is multilingual. He at least speaks German, English and Dutch, very likely French. Maybe a little bit Italian."
Travers spent much of his youth in Honduras, explaining, perhaps the odd positioning of the globe in the painting.
"Shortly after Honduras abolished slavery, his father was tasked by the Dutch government to assess different models for freeing slave populations, and he looked at debates in the United States for inspiration," Schöberlein said.
After leaving Honduras, Travers and his family lived at the Royal Court in Greece, where he learned his craft from a pupil of the famed French neoclassical painter Jean-Auguste-Dominique Ingres.
Being able to trace Travers exhibitions has been important to unveiling his history said Schöberlein.
"He's a professional painter. Travers has a photography studio. He paints industrialists and rich people," Schöberlein said. "That's one part of his business. The other part of his business are religious allegories and highly symbolic paintings. Those are his two modes of painting. And you can see elements of the latter in the Lincoln painting."
It's Schöberlein's theory that Travers came to the United States in early 1865, shortly before Lincoln's assassination, to expand his business.
"He had just produced a painting of the Dutch prince and got a public endorsement out of that. Maybe he leverages that into contacts in the United States," he said. "We, for instance, know that the Dutch ambassador to the United States was closely familiar with Travers family. So maybe that person helped him."
Travers' arrival in the United States, however, is still shrouded in mystery, although a letter recently discovered by Sytze van der Veen, a Dutch historian working with Schöberlein, suggests he could have arrived no earlier than late February. And another question remains, how did Travers make the acquaintance of Lincoln?
What is known is that Travers left the United States the summer after Lincoln's assassination.
"We know that Travers left in August of '65 from the United States because there's a little notice in the New York Times," Schöberlein said. The Lincoln portrait was then debuted at the Royal Academy of Berlin in the fall of 1866 he added.
Understanding the different ways in which information was published and how that information was shared is crucial Schöberlein's work.
"First you look for specific phrases that help you locate information, then you can trace it across newspapers. It's almost like 19th century memes," he said. "The false story of the painting, for instance was reprinted in more than four dozen different newspapers at the turn of the twentieth century."
Through this same research method, it is known the painting then made its way back to the United States and was exhibited at the Centennial International Exhibition of 1876, held in Philadelphia, Pennsylvania.
According to rumor, the portrait was so lifelike that Mary Todd Lincoln fainted immediately after seeing it. Schöberlein maintains this likely isn't true.
"Mary Todd Lincoln had just gone through a very well-publicized insanity trial. She had been briefly deemed incompetent and had just won a victory," he said. "So, if she had publicly fainted, that would have been a big deal. So, she likely didn't. But it's a good story."
Unfortunately, none of the newspapers reporting on the Centennial Exhibition noted the painter's name, so it is unlikely Travers knew his painting was viewed by nearly 10 million visitors, including President Grant.
Now the portrait is prominently displayed at the National Portrait Gallery in Washington, D.C. Schöberlein attended the portrait's unveiling on February 10, 2023.
"It just works so well in this space. And you can really begin to see how it might have looked at the Centennial Exhibition," he said. After uncovering many lost details there is still more to learn. Schöberlein is hoping to learn more information on popular reactions to the painting, how exactly Travers met the president, and if he painted other American figure. Even his death date remains a mystery.
"The only thing we know is that he still painted in 1903," Schöberlein says.
"All of this is really fascinating to me. And ultimately, I think the new story of Travers that is emerging is a much more interesting story than the one that has been told about this painting," Schöberlein said. "Travers was not just an amateur painter. This was somebody with an actual pedigree. He was educated by major 19th century painters. He knew what he was doing."