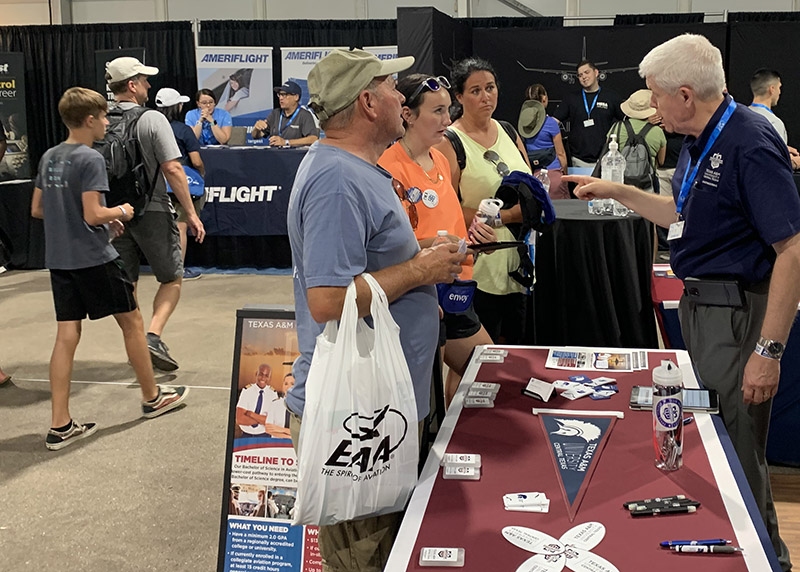 Carson Pearce, associate lecturer of aviation science, right, speaks with attendees at EAA AirVenture 2021.

---
Texas A&M University-Central Texas will be attending EAA AirVenture 2022 in Oshkosh, Wisconsin, held July 25-31. Led by Carson Pearce, associate lecturer of aviation science, a team of four faculty and staff members will represent the university at the largest air show in North America.
This is the second year that Pearce has taken a group from A&M-Central Texas to EAA AirVenture. There, along with some of the top colleges and universities in the United States, they have the unique opportunity to recruit passionate students for the aviation science program.
"The major colleges have recognized that if you want to go fish in a pond with no water and all there is are fish, you go to Oshkosh," Pearce said.
A&M-Central Texas appeals to students who enjoy small class sizes with highly qualified faculty at an affordable price, something that Pearce uses to his advantage during EAA AirVenture. This is why he takes two recruiters with him to Oshkosh who have broader knowledge of the many programs the university offers.
"We found that one out of seven people that were interested in [A&M-Central Texas] was interested in a degree very different from aviation. So, we're actually showcasing the whole university, not just this little wedge," he said.
For those who are interested in aviation, Pearce emphasizes the opportunities available to students. There are multiple ways to study aviation and A&M-Central Texas offers two separate bachelor programs under aviation science: professional pilot and aviation management. Aviation management can also be completed with a concentration in aviation maintenance.
Pearce also talked about the booming employment market for those who graduate with a professional pilot degree: "The return on investment of your education dollar into aviation, particularly flying, is greater than that of a doctor, attorney or teacher."
From July 25-31, if you see a few "gone fishin'" signs around campus, know Pearce's team from A&M-Central Texas will, as he said it, "go fish in a pond with no water, and my plan is to scoop them up."