Karen Clos
September 26, 2023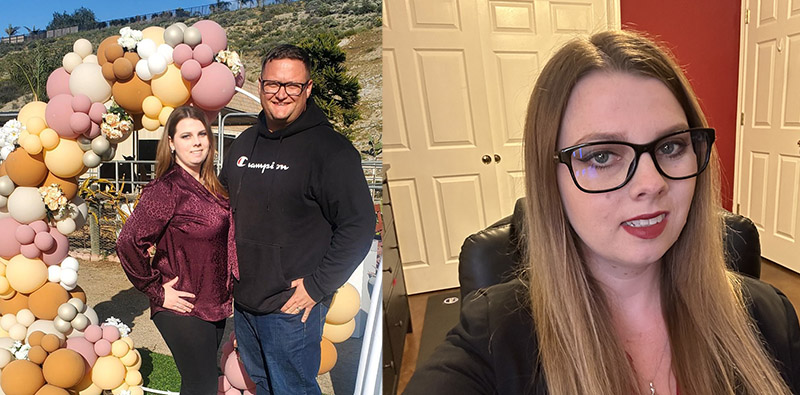 Florence resident Jade Monique Pinkowski, 25, is a military spouse, a contented pet parent of two cats and a dog, a recent A&M-Central Texas undergraduate degree recipient, a current graduate student, and a candidate in progress for the much-coveted CPA license.
Her journey toward these big goals did not begin here. But, looking back, she recognizes that it was one of those "right place right time" situations.
She moved here after meeting and marrying her husband, Tanner, an E4 assigned to 25 Sierra as a satellite communications specialist. But before that, she had grown up in Southern California, the only child, and an admittedly proud daddy's girl.
She graduated from high school, enrolling full-time at Norco College in the fall of 2017, where in just two years, she completed not one but three associate degrees with distinction: one in business administration, one in administration and information systems, and one in social and behavioral studies.
As might be common for many first-generation college students, Pinkowski seems a little shy about recognizing that anything she did then – or is doing even now – is anything out of the ordinary.
She earned her three degrees while working nearly full-time, she said, explaining that her father had remarried and moved to Arizona which meant she would have to support herself. Resolute to make forward progress, she worked in two places at once, consistently taking a full-time load of courses and working almost full-time "to keep a roof over my own head."
"Besides," she added, flashing a quick smile and an earnest head tilt, "I take pride in working."
Funny how things happen sometimes. She obviously had intellectual heft, but even more importantly, Pinkowski experienced inspiration – the kind that happens when interest meets encouragement.
While attending community college, she had already identified accounting as a possible career path, and she was lucky enough to enroll in a course with Professor Dana White, who almost immediately sparked her original interest.
"I found myself coming to class early and staying after class late to ask her questions for help on my accounting homework," Pinkowski explained.
"She was the first person to teach me about T-accounting and debits and credits. She truly cared about her students, and she really took the time to listen to the issues her students were having, so that she could find the best approach to guide them."
As it turned out, Pinkowski would be blessed with more of that encouragement when she made her way to Killeen. She was looking, she says, to use the three degrees she had stacked up toward her undergraduate degree.
"I went to the University of Texas and Texas State to look around," she said. "And I was impressed with both, but a little taken aback by their size," she added, offering a knowing smile. "But I knew the minute I sat down with the admissions advisor at A&M-Central Texas that I had found the right place."
She enrolled in 2019, with an eye to completing her undergraduate degree in business administration, with a focus in finance. By then, she was working full-time as she had during her days at the community college. And full-time courses in business.
She completed her undergraduate degree in 2021, intent on finding a job. Her father, she admitted, was "super proud," gifting her a cruise because she and her husband had gotten married at the justice of the peace and had never really had a honeymoon due to his military service schedule, her heavy academic load, and their relocation to Central Texas.
Pinkowski knew about the graduate program in business, but, despite her accumulating successes, she was hesitant. She approached her life, she says, like she approaches finances: she looks for balance. An investment with a sure profit. And, from where she was then, she was not sure that she could see it.
She wanted to know, she says, that more school would be worth it. And she harbored the hope that she would find an accounting position and think about graduate school later.
In December, she said, she lost her position in banking, and no one in her immediate family – not her husband, her father, or grandfather – had stopped reminding her that she needed to re-think her decision to go to graduate school and take the CPA exam.
But there would be others who would step into her uncertainty and make the way clearer for her: two A&M-Central Texas professors, Anthony Fulmore, Ph.D. and Ran Li, Ph.D.
Pinkowski had emailed Fulmore, she said, to make an appointment to discuss graduate school. What she received from her time with him was so much more.
"He sat down with me and mapped it all out – graduate school, of course, but also the CPA exam, and I remember thinking that I had turned both goals into a mountain that I thought was so huge, and he made me realize that both things I wanted so badly were completely doable."
It was not long after that Pinkowski had a similar experience with the second hero to enter her story. By then, she had enrolled, and was enjoying the graduate school experience.
"At the beginning of the Spring 2023 Semester, Dr. Li had reached out to me through a feedback comment on my discussion post for her Auditing Seminar Class. I had said that I wanted to pursue my CPA. She not only read the comments her students had written, she had noticed mine and took the time to reach out and invite me to come in to talk to her. She had her CPA already and offered to help with her advice."
Pinkowski did her fair share of the work, too. She reached out to the California Board of Accountancy – where she and her husband expected to return – and spoke to their Military Liaison Representative, Jennifer Jackson, for a complimentary course review which revealed that she was not as far away from sitting for the exams as she had originally thought. She would follow her professors' advice and take on the portion of the exam that she felt most confident about: business environment and concepts. That would leave three: auditing and attestation, financial accounting and reporting, and regulation.
This past August, while the long, detestably hot summer days sent other people on beach vacations, to the pools in the backyards, or somewhere in the cool retreat of their homes, Pinkowski had other plans. Her only companion was the CPA study guide and her laptop.
"Even when my father came to visit, and he stayed at the hotel, I would visit him, but then, I would get up a 6 a.m., work out, and go back to studying in the hotel room," she laughed.
Once she had submitted her evidence of eligibility to sit for the exam and had received permission, she drove herself to the Austin testing center, entering the facility with equal parts readiness and trepidation.
The room assigned for testing, she remembers, was an artic white blur from floor to ceiling filled with an assortment of computer carrels and half the temperature as it was outside. She spent every minute of the allotted time on completing the exam, but when she left, she said, she was convinced that she had failed it.
She started to stack up her expenses in her mind: the $240 testing fee, the gas, the time, the tuition for the additional accounting classes she had needed to become eligible, and she felt her stomach drop in despair.
Her family, however, would hear none of it. Everyone from Grandpa Robert, her father, Rob, her husband, Tanner, and her professors, stayed right there in the midst of her angst, sensing that something wonderful was about to happen despite her fretting.
There was at least a three week wait period for the test results to return, and Pinkowski did not waste it. She immersed herself in the new fall semester and got on with life. Well, sort of.
"I was logging in every day," she said, wryly. "And waaaay before there was any chance of a result."
In fact, she said, she checked the website for results so many times, that after a while, it locked her out, forcing her to wait a punishing 24 hours before trying again.
One morning – at precisely the three-week mark – she said, she kept waking herself up. At first, at midnight. No results. She went back to bed, rising again at 3 a.m. and 6 a.m. when – finally – her score was there. And she had been wrong. She had not failed.
The passing score was 75. She had made an 89. "One down," she smiled, "and three to go."
She is obviously grateful for the encouragement and for those who are standing beside her: husband, father, grandfather, and professors, who kept resiliently raising her up to the opportunity she both longed for and feared. Even when she was hesitant to give herself too much credit.
Because, they all say with the same certainty: We are presented with mountains to prove that they can be moved.
Pinkowski has a two-month internship lined up this fall, is planning to tackle the second of the four exams before the holidays, and graduate with her master's degree in May of next year. So far, she is making all A's.
"I can not say enough for all of the people who have been in all of the right places to be here with me at every new starting point," Pinkowski said. "Somehow, I knew when I met that first person in admissions, and she sat with me, learned my name, followed up with me, and showed me the way, that A&M-Central Texas is very special. If you want to be met where you are and taken beyond where you think you can go, just remember this story, because it can happen to you."