By Bernadette A. Serna
January 6, 2023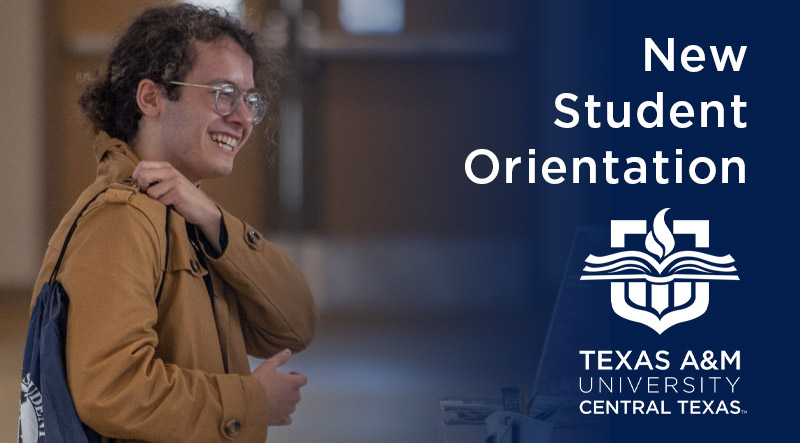 Above: New A&M-Central Texas student Jason Clark and more than four dozen other new students got the low-down on financial aid, student success programs, and the A&M-Central Texas campus during the Spring orientation.
New students were welcomed to Texas A&M University–Central Texas during New Student Orientation on Friday. Attendees received a swag bag and information about resources, university culture, and financial aid.
University staff informed students of all the services and resources available to them and gave them helpful tips to prepare them for a successful first semester.
As an upper-level university, A&M–Central Texas understands the challenges non-traditional and transfer students face and that not everyone's academic journey is the same.
New student Edward Carr, majoring in Computer Information Systems, became involved in law enforcement after transitioning out of the military. His interest in security is what led him to pursue his degree, although his academic journey has not been easy.
"If I'm being honest, it was actually kind of rough," Carr said. "I started at CTC (Central Texas College) and transferred here. I was taking classes while in the military so between going to the field and unpredictable hours in the military and trying to explain that to professors and get everything submitted…"
Nursing major Caroline Castor completed a kinesiology and physical education degree at Texas A&M University in College Station but decided not to pursue that career path. She later enrolled at Central Texas College and earned her associates degree in nursing.
"I'm currently a registered nurse. I've worked at Baylor Scott and White for 2 and a half years now. They pretty much encourage everyone to have a bachelor's degree. After that, they'd like you to continue more (education) and move up," Castor said.
"It looks better on your resume if you have a bachelors. If I want to try anything else, I have to have a bachelors to better my career options."
During orientation students had the opportunity to meet with academic advisors and faculty to ask questions and to ease the transition of transferring.
A&M–Central Texas is equipped with resources to assist students in facing a variety of challenges, for example The Warrior Center for Student Success, Equity, & Inclusion offers success coaching and tutoring services. These services are available to students at no additional cost.
Castor said learning about available resources was a driving factor in her decision to attend orientation.
"I'm trying to get the best resources so I can get the good grades that I want for the hard work I'll put in," she said.
Students also had the chance to get acclimated to campus and embrace the university culture.
"This campus has always been friendly. Every interaction I have has been very helpful. So, there's no other place I'd rather be," Carr said. He knows completing his degree will be a "journey," but he is looking forward to it, and he encourages others who are questioning finishing their degree.
"Take a chance, take a bet on yourself, and explore the opportunity. See if it's for you. Often, we get in our head a lot about some things and talk ourselves out of a situation that may be what's best for us. Just get out of your comfort zone for a little bit and it will help you make the right decision."