Jonathan Petty
October 9, 2023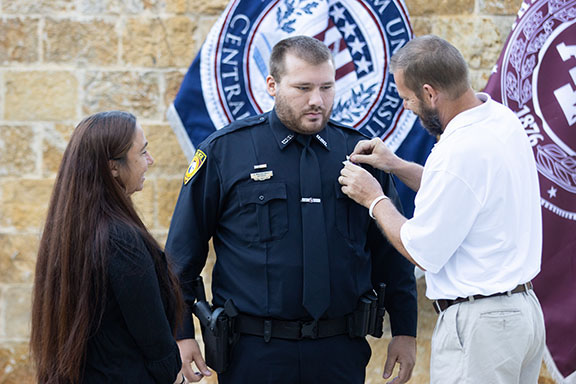 Newly sworn in University Police Officer Sean Matukewicz has his badge pinned on his lapel by his parents. Matukewicz graduated from the police academy in September and joined the A&M–Central Texas police department.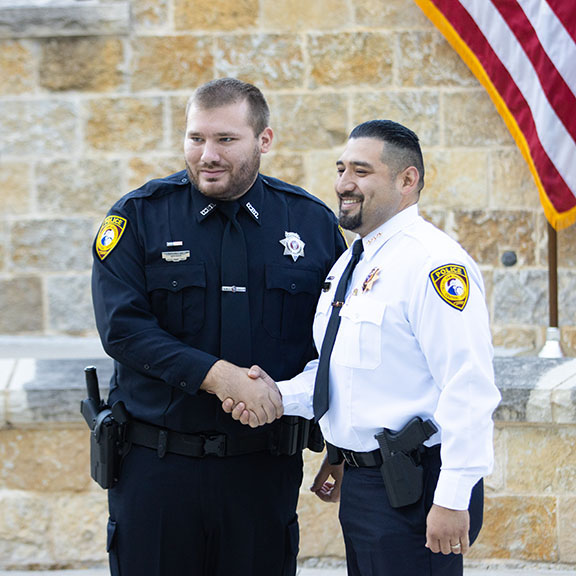 A&M–Central Texas Police Chief Andrew Flores congratulates officer Sean Matukewicz after officially swearing him in as a peace officer on Monday.
A contingent of A&M–Central Texas employees and University Police Department personnel gathered in the amphitheater outside of Beck Family Heritage Hall on the A&M–Central Texas campus Monday morning to witness the swearing in of Police Officer Sean Matukewicz.
Originally from Pennsylvania, Officer Matukewicz moved to Texas when he was 18 with dreams of a career in the military as a Military Police officer. He served for three years before an injury led to a medical discharge, at which time he was told that he would never run or do anything physical again.
That was seven years ago.
"Actually, the anniversary of that day was four days after I ran the 5K here on campus," Matukewicz told the crowd.
Knowing he could no longer pursue a military career, Matukewicz focused on his education, graduating from A&M–Central Texas with his bachelor's degree in criminal justice in December of 2022. He began working in the university's business office as a student, eventually becoming a full-time employee. Through conversations, the UPD found out he was interested in a law enforcement career.
With plenty of encouragement and help from UPD personnel, Matukewicz set out for training at Central Texas Police Academy in April of 2023, graduating in September. He said he couldn't have done it without the support of his parents, sister, and his two young nephews who were additional motivation for him to complete his training as a police officer. He also said the assistance and support of other UPD officers was instrumental in his success.
UPD Chief Andrew Flores said the hard work paid off, and he is pleased to have Matukewicz join the department.
"We are here and we get to swear him in, and he gets to start his journey with us," Flores said. He explained that Matukewicz's work ethic and attitude will be a perfect fit for the UPD.
"We love our mascot, the Warriors, because that's what we are," Flores said. "But we are also guardians. We take it seriously and we are always here for you."