Karen Close
November 20, 2023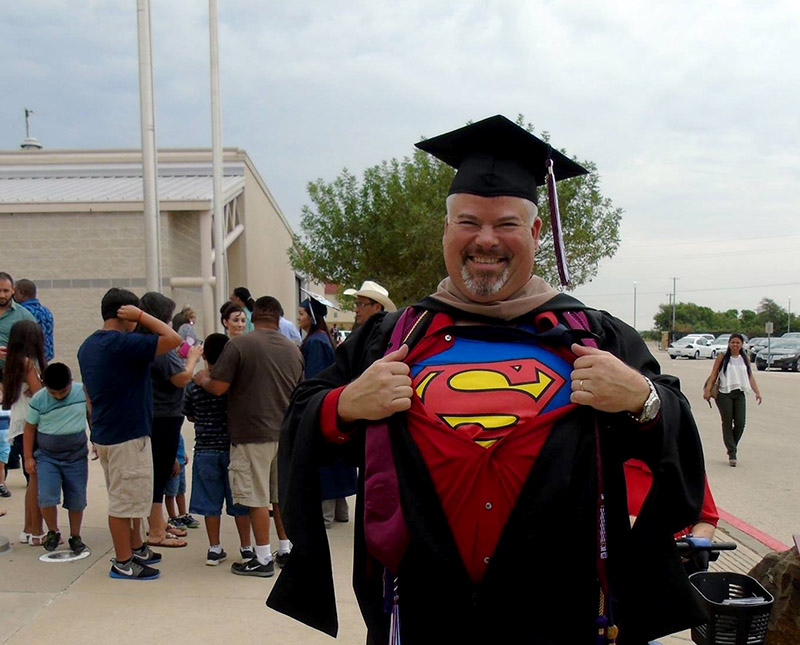 One conversation with A&M–Central Texas employee, Shawn Kelley, 58, might just be enough to make any reasonable person wonder if – in addition to the title he has earned by virtue of his job – he might just deserve to be considered for another: The Most Interesting Man in the World – if only Central Texas had such a thing to give.
Kelley, a retired veteran of the U.S. Army and National Guard, Copperas Cove resident, and married father of three, has an easy way about him, and a self-effacing laugh, absent any trace of pretention. He doesn't think of himself as a particularly interesting person – just someone doing a job he enjoys – but after just a few minutes of conversation, there is plenty of evidence to suggest he is quite, in fact, extraordinary.
He is the A&M-Central Texas Manager of Facilities, Safety and Support Services, a job that he says has expanded around him. But many things expanded around him while at the university: opportunities for graduate school, promotions at work, and even his own unique sense of creativity.
He had just retired after 21 years of service, he said, and with three children headed off to college, he and his wife, Deborah, wanted to stay close by. He had applied for a few jobs at the university that he didn't get, but he kept trying. He landed his first position, as an assistant to the dean of the College of Business Administration, working in the temporary offices leased by the university on the campus of Central Texas College.
From there, he accepted a position working for the university's first CFO, Gaylene Nunn, and eventually moving into Gen. Robert M. Shoemaker Founders Hall, alongside the small cadre of other university employees, where they would watch the campus grow into two and then three buildings.
"When the position of safety coordinator opened up, I applied for it, and got it," he said. "But as we began to grow and add buildings, I was taking on space utilization and construction projects, as well as safety and risk management. It has been a lot of fun."
Just one look at him is evidence enough that he once was – and will always be – a soldier. He stands as if he might still be at attention, but without premise or pretention. His salt and pepper haircut, as he says, is "high and tight," with the gray hairs of experiential wisdom generously filling in around his forehead and temples.
His days, he says, are almost never the same. And sometimes they include things that Kelley himself tries to prevent. It is ironic, he laughs, because of the amount of time he takes to ensure that there aren't any safety issues, but he adds, they do happen.
By his count, there have been two brush fires – one caused by lightning and one caused by a discarded lit cigarette – as well as the 2020 pandemic, an occasional vermin removal including a couple of venomous snakes, the full-blown and quite dramatic landing and departure of two Blackhawk helicopters affiliated with the ROTC program, and – wait for it – an episode of an escaped calf that made its way onto campus from a neighboring pasture.
"We spotted him on the perimeter of campus over in front of Warrior Hall by a grove of trees, just out for a stroll," he laughed. "He had gotten through the fence, so the University Police and I chased him all the way over to Clear Creek Road and down by the bridge on the other side where we got him herded back into the fence on the Fort Cavazos side."
Given that, safety officer or not, there are just some things not in an average job description – even for them – but Kelley waves it off as all in a day's work. Even offering some adlibbed cowboy philosophy.
"That poor calf was probably more scared of us than we were of him," he added. "But the point is, it wasn't safe for him to be where he was. So, I was on foot, waving my arms, and the police were on either side, kind of corralling him towards the fence."
The lessons learned, he added with a modicum of laughter is that that one calf would not be the only one encountered. There were a couple others. And, he added factually, and again from personal experience, that a full-grown cow can, and will, if properly motivated, jump a standard height barbed wire fence.
"The other couple of times it has happened, I came toward him, and he must have realized he wasn't supposed to be there, and he turned around and ran away, and jumped over the fence and back into the pasture."
When not responding to emergent safety concerns, Kelley stays busy. He has served a number of years as the chair of the graduation committee, and has, on occasion, even sung the Star-Spangled Banner – acapella – at graduation.
He is the last person to brag about his accomplishments – which include an associate degree in wastewater treatment from Crowder College, an undergraduate degree in applied management from Franklin University, and a graduate degree in business administration from A&M-Central Texas. But, as noted earlier, there is more to this man than his education and his job – much, much more.
While in the Army, Kelley served as a water treatment specialist in the quartermaster detachment in an engineering battalion in the Missouri National Guard, and finally, as a chaplain assistant for his 21+ years on active duty including three combat deployments to Iraq. But, out of uniform, he is transformed from a structured, disciplined former soldier to an exceptional creative force to be reckoned with.
Evidence of his talent with woodworking and crafts is all around him in his fourth floor Warrior Hall office where both his military history and varied artistic talents are on full display in a colorful cacophony of awards and creations. At first glance, it is a little bit like stepping into an antique store booth, but a careful look around reveals plenty of evidence that this is a man of many stories.
There is a Bronze Star medal, framed, he says, by his family. Hanging just to the left, there is a First Cavalry Stetson that went with him to Iraq – all three times. And hung high up on the adjacent wall, a half dozen life-size antique woodworking tools face a hodgepodge of baseball caps hanging from wooden pegs beneath a row of family pictures. In a niche that juts out where the walls intersect, there is a perpendicular line of decorative crosses – all of them made to him as gifts as a chaplain assistant, he says.
And lest it be forgotten – or somehow overlooked in the detail – it might also be of value to know that, among his other skills, Kelley also knows how to throw a grenade. And he had the Marksman Qualifying badge to prove it.
There are a lot of other honors. One Bronze Star medal, three Meritorious Service medals, five Army Commendation medals, seven Army Achievement medals, two National Defense Service medals, the Global War on Terrorism Expeditionary medal, the Global War on Terrorism Service Medal, the Kosovo Campaign medal, the Humanitarian Service medal, and – last, but not least, the North Atlantic Treaty Organization (NATO) medal.
But even given all there is to look at – and there is a lot – on this campus and in this place, passersby who step inside tend to have a favorite item: and it is as sentimental to the artist as it is to the visitor – an unexpected but very real and quite impressive life-size mannequin completely and altogether splendorously dressed in full warrior regalia.
Kelley knows each part of it well because he made everything by hand. From the handmade fully festooned helmet, bright red crest headdress, rustic breastplate underlain with real chainmail, and attachable shin guards which, he explains, are called greaves. And once again, there's more to the story that is a not so well-kept secret: Kelley has also worn it on occasion as the university's first, albeit unofficial, warrior mascot.
There are other creations of his that are, well, frankly, too large to include in the museum-like office, most notably a 22-foot pirate ship that began as the front half with one mast as a prop for the Copperas Cove High School band and, at a friend's request, eventually expanded into a full ship twice its original size.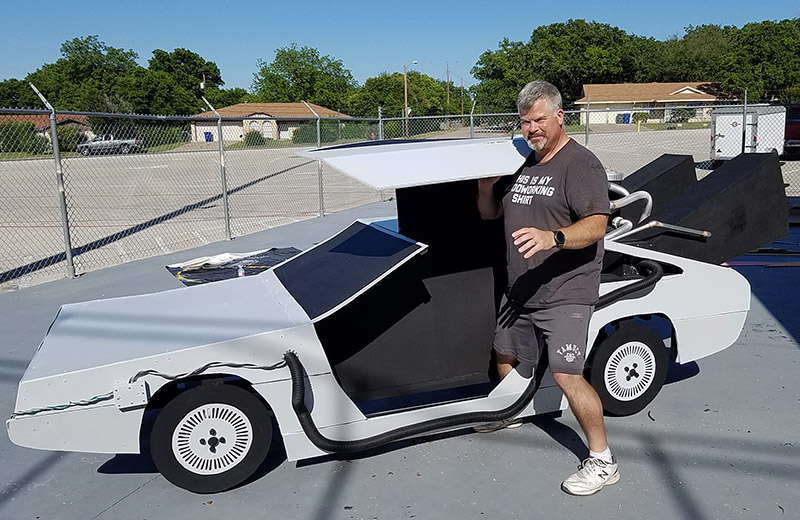 Other completed projects include what he calls a "small scale DeLorean" made for a Back to the Future Banquet and an X-Wing fighter that currently hangs on the ceiling of the Galaxy Bar and Grill in Killeen.
While he is rightfully proud of the life he has "carved out" after military service, he isn't the kind who swaggers. He is a little bit of everything considered best and relatable: smart and accomplished, but not boastful. Valorous and proud but humble. A family man and a man of faith – who's also accomplished in arms and weaponry and, if necessary, a grenade. Or as it turns out, an errant cow. He is an artist and a musician and a creative force. It may just be he is who we thought he might be all along: quite possibly The Most Interesting Man in Central Texas.