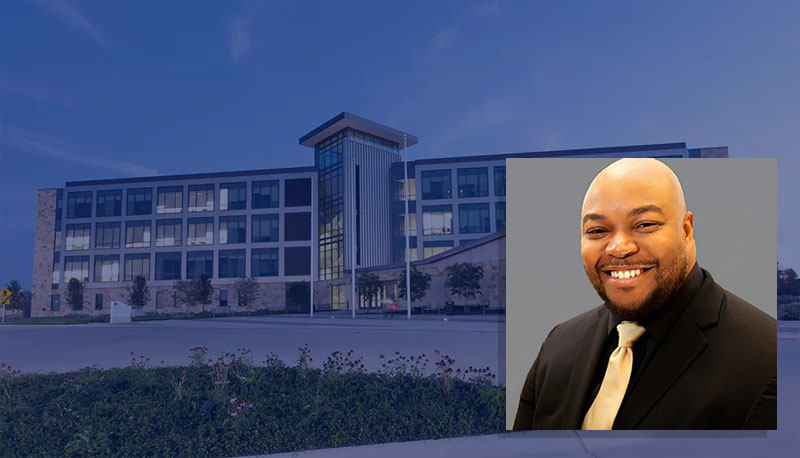 Killeen resident Joshua Missouri, 40, is a recently-appointed director of The Ted & Diane Connell Center for Military and Veterans Services at A&M-Central Texas. And, given his considerable record of service in both the armed forces and higher education, it is easy to see how well he fits into his new position.
It has been sixteen years since his service in the U.S. Navy concluded, and still, both his demeanor and physical appearance suggests that the discipline and the athleticism once required of him in service is more than what may have been developed while there.
Looking at his immediate and extended family suggests that these characteristics have always been a part of who he is – perhaps quite literally, passed down from one generation to the next in the same way a father's red hair favors his offspring or a mother's dimple re-emerges on her daughter's cheek.
"My grandfather served in the Army, and so did my uncles and one aunt," he said. "Another aunt served in the Air Force, and cousins served in the Marine Corps. Both my brother and I served in the Navy."
Raised by Janie and James Missouri in Tuscaloosa, Alabama, he never doubted that he would go to college, he says. His mother was the first in her family to go to college, attending the storied HBCU, Stillman College, and earning her undergraduate degree in elementary education.
His father was a technician with the state's power company and the minister of a community church. Both instilled in their children a resolute obligation earned by their own life experience. As a result, he grew up not just hearing about the importance of service but seeing it in their everyday words and deeds.
Both parents, he explained, grew up in the Jim Crow era in the deep south, yet neither had surrendered their self-worth, dignity, or commitment to their communities. If anything, he said, their example, instilled in him an irrevocable example of what a life of service meant. Of what his would be.
"Part of my father's job was to go door to door to collect payment for residential electricity," he said. "From time to time, he would find someone who was about to be disconnected for lack of payment, and when he could, he would go into his own pocket to help them."
By the time he graduated from high school, he says, it was his turn. He enlisted in the U.S. Navy "to see the world," he laughed. But, he added, the truth is that the world came to see him.
He became an aviation electronics technician, second class, eventually earning the rank of an E5.
"I didn't even know what a flight deck was," he said, with a twinge of nostalgia, a touch of Cheshire Cat smile crossing his face, a nod, perhaps to his own naivete as a young sailor.
During five years of service, he was deployed fulfilling orders to report to the Middle East, Greece, Rome, Naples, Dubai, and Japan at Marine Corps Air Station Iwakuni three miles from the Nishiki River Delta.
"Deploying by sea taught me how insignificant I was," he said. "And deploying by land showed me how large countries are and how humbling life can be."
His service, he says, was built on his parents' example, and meant to be purposeful. It was translated seamlessly into his character when, his military obligations fulfilled, he returned to his home state to pursue his undergraduate degree.
He attended the University of South Alabama, double majoring in criminal justice and political science and seriously contemplated law school.
"I had finished my undergraduate degree, and I was in graduate school," he said. "I had earned an assistantship and was responsible for a cohort of 150 'at-risk' undergraduate students. That one thing would have as much impact on me as anything."
Teaching the university's first-year experience courses, his job was to shepherd his cohort through their educational journey. He was part minister, part coach, part drill sergeant, part cheerleader, part disciplinarian, and best of all, ninety percent of his cohort made it.
"Work like that in higher education is so important," he explained. "The factors that determine a student's 'at risk' status can be a combination of one or more things. But mostly, it means there may be economic or family factors that might make their first year more challenging than it is for students without those elements in their life. I needed to be the counterbalance to all of that."
Rather than find himself intimidated by the responsibility, Missouri thrived. The son of a technician and minister and a teacher, it seemed, had discovered a way to leverage his innate inclination to be of service to others in all the ways that mattered.
From that first success, he rose in the ranks, promoted to an admissions officer for international students, a new student orientation coordinator, and finally, director of student veterans.
In a jovial moment, Missouri admits that his experience in higher education brought him more than a career; it was also where he would meet, and later marry, his future wife. The moment he first saw her, he says, he was all in. She, on the other hand, he says, took a little convincing.
"I still remember the first time I saw her," he said, his eyes twinkling with equal parts of mischief and nostalgia. "I just remember thinking that I had never seen anyone so pretty in my whole life."
Today, he and his wife, Clair, are the proud parents of two girls, aged 14 and four, and all have become a part of the community in one way or another. His daughters attend the local elementary and middle school, and his wife works in financial services.
The women in his life, he admits, will always be the foundation of his life, he says. As will the opportunity to work with servicemen and women pursuing their education.
"When I was a student, I knew that getting my degree was the key to the rest of my life that wasn't spent in military service," he said.
He has been with A&M-Central Texas since June 2022, and, he says, he loved it from the moment he saw the job posted online – even though he had never been to Texas.
"I took a deep dive into the Central Texas community, and, of course, I felt right at home so close to a U.S. Army post," he said.
"And all the help I had as a former sailor returning to get my degree was both an inspiration and a safety net that I could rely on," he said. "I want to show them that pursuing their degree has purpose and that we are all here to support them, and inspire them, and see them through to the finish line."