By Karen Clos
May 8, 2023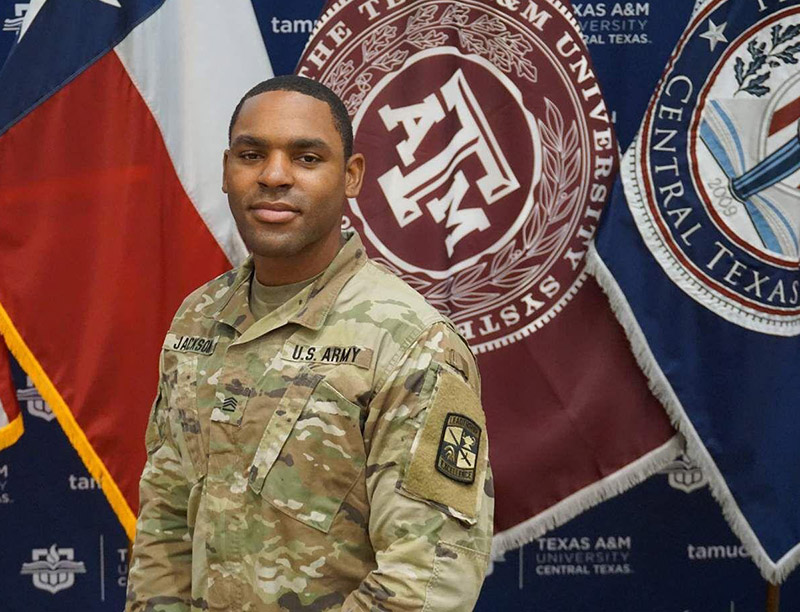 Jacquay Jackson, 29, wakes up every morning busier than the average university student. Not only is he a husband to wife, Talia, but he is also a proud stepdad to Niomi, 13, and Jamal, 15, and a company commander of the Army ROTC program at Texas A&M University-Central Texas in Killeen.
He is responsible for more than 50 fellow cadets in the program.
His countenance would suggest that he is built for the military. Almost 6 feet tall, sturdy, and broad shouldered, he would appear to be blessed with athletic ability, but there is more to him than that.
He is candid and forthcoming with his observations — not just about himself, but about those with whom he serves. For example, he notes, he understands there is a "soldier image" of strength and build, but, he says, military service is a diverse environment not dependent on just one physical type.
"When you look at all the cadets in our program, it is really obvious that none of them are exactly alike or are a certain physical type, and I think that is one of the strengths of military service," he said.
"Just like people everywhere, they differ," he explained. "And you know what? They are each as strong — or stronger — than I am, and they can do everything I can do physically as well or better than I can."
Without a doubt, Jackson has more than enough athletic experience to speak with authority, but he also possesses a quiet strength of character and focus, impressive academic ability, and an occasional sense of humor.
He was born the youngest of a large family, he says, offering gratitude for his mother, Deloris, who, he says, gave birth to five children: himself, and his four older siblings: Jerome, Viritti, D'Rungo, and Jeremiah.
As is often the case, the baby of the family has many parents, and the same is true for Jackson, who, to this day, remains close to his siblings whose chosen nickname for him is as authentic as the familial bond they share.
"They always called me 'Scooter' because whenever they would put me to bed, I never stayed put," he laughed.
That name — as well as Jackson's inability to stay still — may have begun as a familial frustration, but evidence of his current daily routine, as well as the life that brought him to where he is now, and where he will go in the future, would suggest that he cannot, in fact, sit still.
As a student at Westside High School in Florida, Jackson did not just enjoy one sport; he made it a point to excel in all of them: football, track, soccer, and cross country.
His brothers, too, he added, were also gifted athletes — one, Jeremiah, competed with high school football NFL prospects Montel Owens and Jamie Harper.
For Jackson, though, while he will always love all the other sports he played, he knows in his heart that he was at his best in basketball. As a either a power forward or center, he relished in brewing the rhythm of the game, denying baskets to the opposition, and perfecting the perfectly timed art of a dramatic swoosh of net that accompanies a well-executed last minute clutch shot.
And he would excel off the court as well — both in and out of the classroom. But, like most young adults, there were contradictions which he admits he brought upon himself.
He was identified as one of Florida's Bright Future Scholars, racking up a remarkable 3.67 grade point average by the time he was a senior. But, he admits, he just never got around to writing the dreaded admissions essay, candidly describing his procrastination as "pure laziness," and, as a result, missing out on the opportunity for thousands of dollars in state funded scholarship aid.
Perhaps it is his developing sense of leadership and obligation that justify his rather harsh characterization of the one thing he did not do. But, as is true with most journeys, the whole story must be told to reveal the whole person.
The same young man whose self-described "pure laziness" took over when it came to college admission essays was the same young man who earned the rank of Eagle Scout as a member of the Boy Scouts of America — a distinction only offered to 6% of its members.
The project that earned him his Eagle Scout badge required him to address a community need, draw up a plan, predict, outline, and address possible health and safety concerns, and create a scope of work that would be accomplishable without external resources.
While his friends and fellow athletes were celebrating the conclusion of their last days of high school, Jackson had no desire to succumb to "senioritis." He wasn't planning a well-deserved vacation or framing his high school honors alongside his diploma — even though he would have had every right to.
Instead, he plunged himself quite literally into cleaning up an entire sewer system for his church. And, he says, it was every bit as disgusting as it sounds.
"I crawled through gutters, sloshed through local water ways, waded through the muck and waste collected in untended neighborhood ponds, rivers, and run off waters," he said, remarkably without evidence of a shiver.
"We found dead animals, human waste, ginormous earth worms, roaches bigger than my thumb, and a few things no one could identify," he laughed. "But I wouldn't take back a single second of it because the church and the community were so grateful."
Perhaps it was the fact that he found it rewarding to commit to and complete an act of service for his church, or perhaps it was the subtle prompting of his father and an uncle that would inform his next steps.
After graduation in 2011, he enlisted the U.S. Army, entering basic training at Fort Lee in Virginia as a supply clerk, responsible for managing all of the equipment and supplies necessary for troop movements and training.
By 2016, he had served at several places: Fort Hood, Camp Humphreys, South Korea, and Fort Campbell, Kentucky, where another life-changing event would occur. He was selected for the U.S. Army's Green to Gold (GTG) Program, which is designed to offer enlisted men and women the opportunity to become commissioned officers. And that is exactly what he will complete in less than three weeks — all while taking a full-time schedule of coursework to fulfill the A&M-Central Texas degree requirements.
If it is Monday, Tuesday, or Wednesday, Jackson is up well before sunrise, in standard military issue workout clothes, and facing any one of a half dozen workout routines before he heads to classes.
There are days, he says, when the entire company trains by doing heavy ruck marches. And, he adds, there is nothing routine about it.
In a "heavy" ruck march, each cadet puts their arms through a 40-pound backpack, slinging it across their back, gather in company formation, and jog in unison on any one of a dozen rugged trails that wind through the 672-acre terrain that surrounds the A&M-Central Texas campus. Sometimes, he adds, they even do a 1 mile elevated ruck, attacking an inclined course and stopping only when they reach Bald Knob.
More often, Jackson says, they can be found taking full advantage of the newest jewel in the crown of the ROTC program funded in 2022 by the University's Foundation: the Col. Don Higginbotham ROTC Obstacle Course. The late Higginbotham was a former Marine.
For those who might not be as intimately familiar with the torturous components of an obstacle course, cadets confront the 10,000 square feet of defiance at least three or four times a week, and challenge each other to perform on the 6-feet, 8-feet, and 10-feet tall climbing walls, six standard vaults and hurdles, a 25-foot rope climb, two X-shaped pull up bars, and 6-feet and 8-feet hanging arm apparatus.
For good measure, Jackson muses that there is also a length of monkey bars and a somewhat ironically named contraption called, of all things, an easy balancer.
Maj. Kyle Surridge, assistant professor of military science, and the military official responsible for the A&M-Central Texas ROTC program, expressed gratitude for the foundation's gift, adding that the cadets continue to rank competitively among other larger university ROTC programs — due in large part, he knows, to their commitment, the right equipment, and leaders like Jackson who are there to set an example and encourage the next wave of leaders — whether it is on the climbing wall or a semester of coursework.
"Cadet Jackson has devoted countless hours of his own time to encourage extra training with all of the cadets in the program and help them prepare for the national cadet assessment exercise at Advanced Camp this coming summer," Surridge said.
"But it is not just the physical aspects of their service that he focuses on. He has also provided training in military operations, battle drills, squad and platoon level exercises, and moral support. He is there for them unconditionally."
If any of that sounds familiar — perhaps like the role of a commissioned officer in the U.S. Army — then the fact that Jackson is scheduled to be commissioned in a few weeks should come as no surprise. He might have wanted, but was never certain, that his path would take him to where he is now.
In the coming week, he and 26 of his fellow cadets will take the oath of office and receive the bars of a U.S. Army 2nd lieutenant — his pinned to his shoulders by his wife, Talia, and sister, Viritti.
On May 13, at the university's 2023 Spring Commencement, he will graduate magna cum laude with his undergraduate degree in computer information systems.
And he already knows his assignments to follow: Basic Officer Leaders Course from June to October at Fort Huachua, Arizona, and an appointment to a military intelligence position at the U.S. Army Garrison Headquarters on Caserma Ederle in Vicenza, Italy.
The truth is, everything he has earned is now happening because of the substantial sacrifices, dedication, and commitment that officers — and officer candidates — are known for.
"Everything of value comes to those who are willing to do the right thing," he said. "I am very grateful for my family, the ROTC leadership, my professors, and colleagues. And I hope to be a good example for everyone who follows after us."